Green hydrogen, produced by electrolysis of water, is a crucial element in a large scale sustainable energy system. As an energy carrier, it enables the storage of renewable electricity produced by wind farms and solar plants. Green hydrogen thus offers a means to buffer the fluctuations in sustainable electricity production and thereby to create a robust energy system. Adding to this, producing green hydrogen is a way to make sustainable energy available to industries and transport sectors that cannot be powered electrically. And thirdly, green hydrogen offers a sustainable alternative for 'fossil' hydrogen used by the chemical industry as a feedstock for the production of chemicals.
Accelerate development in a trust-based environment
At the Institute for Sustainable Process Technology, we are convinced that the availability of green hydrogen will be of pivotal importance for realizing the energy transition in the next decades, and, ultimately, for establishing a future sustainable, CO2-neutral economy. Together with all relevant stakeholders, ISPT is involved in establishing the hydrogen infrastructure that is needed for this transition. Given the relevance for both industry and the energy sector, and the scale associated with this, the focus is on large hubs for hydrogen production at strategic locations, connecting and integrating the process industry with the energy system of the future.
ISPT makes every effort to create a trust-based environment that connects the parties involved and facilitates their sharing of expertise and know-how in joint projects. This gets development off to a flying start and accelerates the implementation of technology to actually establish the hydrogen infrastructure. Our efforts are characterized by a focus on upscaling and cost reduction, a systems integration perspective and a value chain vision for green hydrogen, and are aimed at establishing optimum collaboration between all parties involved.
Hydrohub innovation program
The ISPT activities in the field of production of hydrogen from renewable electricity are carried out in the Hydrohub Innovation Program managed by the ISPT cluster System Integration.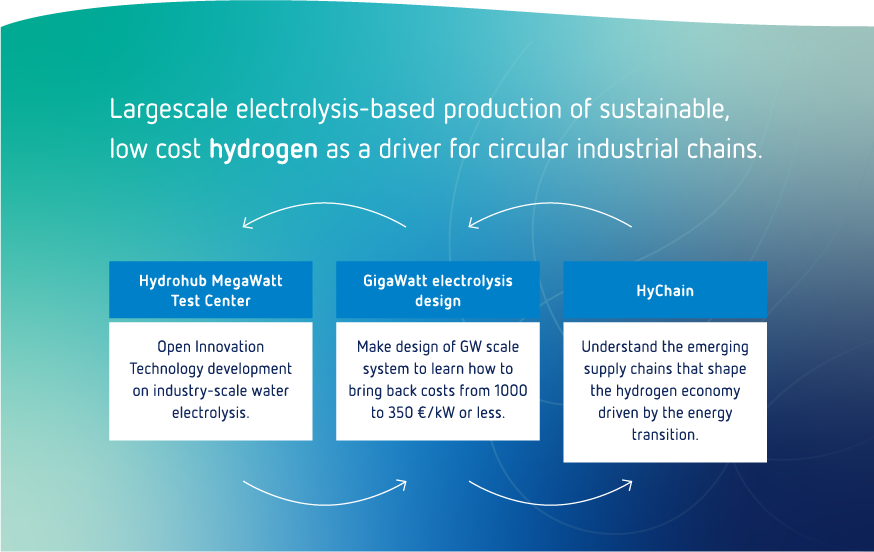 More information can be found through the Hydrohub Innovation Program webpage at the ISPT website.