The mission of the Circular Plastics Initiative (CPI) is to boost circularity in plastics on an industrial scale. We address the entire value chain from an international perspective and focus on the technological, logistic, and societal challenges lying ahead.
We live in a plastic age where society thrives thanks to developments in polymer science and technology. At the downside, plastic litter can be found all around the globe. As a society, we need to rethink plastic. It is far too valuable to be treated as waste. And it can serve as the feedstock for circularity. This calls for concerted action, in particular, to tackle plastic waste and ensure its recycling.
Circular Plastics Roadmap
In 2021 the Circular Plastics Initiative released its Circular Plastics Roadmap, which it developed in collaboration with experts from industry and academia.
The Roadmap is an interactive document that shows what steps will be needed to create a future where recycling has replaced incineration as the norm. The CPI aims to be a center of excellence for technological developments in circular plastics.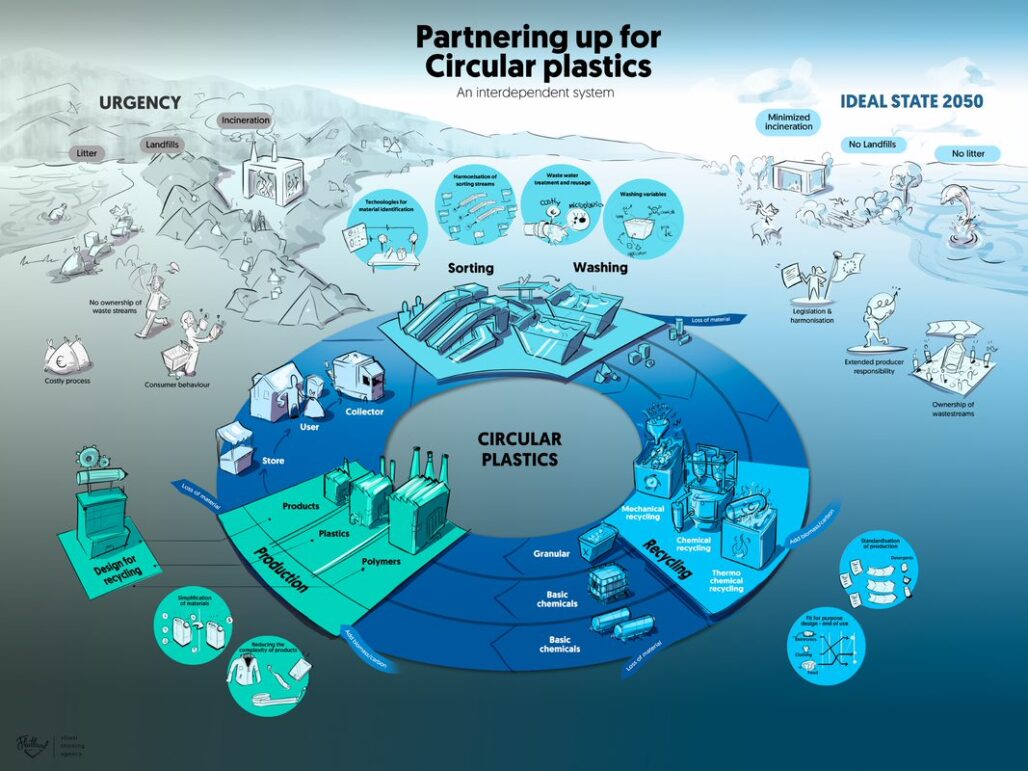 The Circular Plastics Roadmap isn't just a timeline with milestones. It also sets out a vision for the future and shows how it can be realized.
While the CPI underlines the enormous value of plastic in our society, it also acknowledges the reality of litter, landfills, and the environmental impact that plastics have. Our ultimate goal is a future in which we have moved from a linear system of production based on fossil fuels to one based around a closed circle. In that circle, plastics is made from recycled materials, and CO2 emissions are drastically reduced.
For many purposes plastics offer advantages to other materials. They often combine high performance with reduced weight, flexibility and low carbon footprint. It is therefore equally important to develop a strategy for their responsible use. Circularity will have to be at the heart of this strategy.
Mechanical recycling versus chemical recycling
Recycling plastics for circularity implies rejuvenating the plastic and obtaining fully performant virgin material.
In mechanical recycling (sorting, washing, and shredding) the polymer is retained and regranulated, with optional removal of colourants, fillers, plasticizers and other additives
In chemical recycling, the polymer is broken down into its monomers (or beyond) and resynthesized in a chemical 'bottom-up' fashion
At the Circular Plastics Initiative, we work towards a fully circular value chain, from production and use via collecting and sorting towards re-use and recycling. This is done in a concerted action involving all relevant players and addressing all relevant issues. Achieving circularity in plastics for example food packaging will therefore lead the way to achieving plastics circularity in general.
Mixed Plastic Waste requires large-scale technology
As polyolefines (PE, PP) constitute the lion's share of the MPW (Mixed Plastic Waste) stream, a focus point of the CPI projects will be the primary target of the 'chemcycling' efforts. The shear MPW volume implies that closing the loop requires technology that can be operated at a very large scale. Pyrolysis is one of the technology options here, with gasification as a possible alternative. The ultimate aim is to provide a feed for the steam crackers in existing plastic production plants.
Projects across the value chain
Our approach is to establish projects across the whole value chain and bring together all relevant parties, in particular brand owners, waste management and recycling companies, and the chemical industry. The initative also highly values input from NGOs concerned about plastic waste issues.
These are the Circular Plastics Initiative projects:
All our projects are in close collaboration with DPI, the Eindhoven-based industry-driven international collaboration platform for pre-competitive research in the field of polymers.
Join the Circular Plastics Initiative
The Circular Plastics Initiative (CPI) is open for more participants. Would you like to join the program or need more information, please contact Program Manager Klaartje Rietkerken using the contact form below.