As a society, we need to rethink plastic. It is far too valuable to be treated as waste. And it can serve as the feedstock for circularity. Our ultimate goal is a future in which we have moved from a linear system to a closed circle. In that circle, plastics are made from recycled materials, and CO2 emissions are drastically reduced.
We live in a plastic age where society thrives thanks to developments in polymer science and technology. At the downside, plastic litter can be found all around the globe. This calls for concerted action, in particular, to tackle plastic waste and ensure its recycling.
The mission of the Circular Plastics Initiative (CPI) is to boost circularity in plastics on an industrial scale. We address the entire value chain from an international perspective and focus on the technological, logistic, and societal challenges lying ahead. We aim to be a center of excellence for technological developments in circular plastics.
Circular Plastics Roadmap
The Circular Plastics Roadmap isn't just a timeline with milestones. It sets out a vision for the future and shows how it can be realized.
It was developed in collaboration with experts from industry and academia. The Circular Plastics Roadmap shows what steps will be needed to create a future where recycling has replaced incineration as the norm.
For many purposes plastics offer advantages to other materials. They often combine high performance with reduced weight, flexibility and low carbon footprint. It is therefore equally important to develop a strategy for their responsible use. Circularity will have to be at the heart of this strategy.
While the CPI underlines the enormous value of plastic in our society, it also acknowledges the reality of litter, landfills, and the environmental impact that plastics have.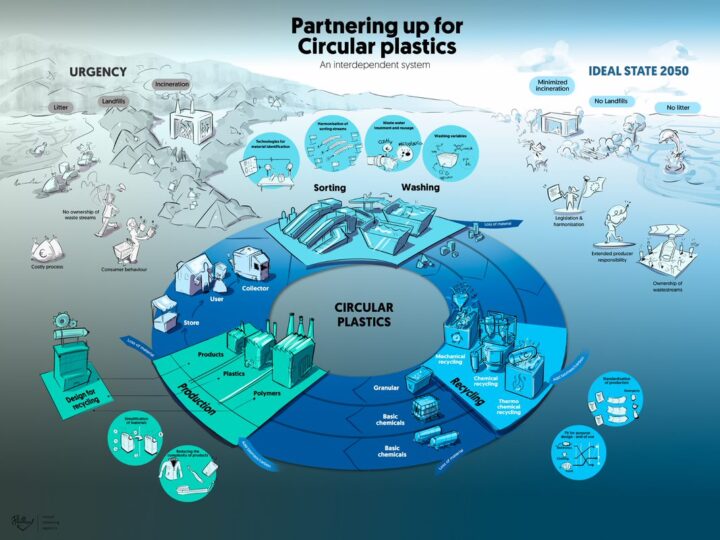 Projects across the value chain
Our approach is to establish projects across the whole value chain and bring together all relevant parties, in particular brand owners, waste management and recycling companies, and the chemical industry. The initative also highly values input from NGOs concerned about plastic waste issues.
All our projects are in close collaboration with DPI, the Eindhoven-based industry-driven international collaboration platform for pre-competitive research in the field of polymers.
Circular Plastics NL
The Dutch government is investing a total of €220 million over 8 years in a large circular plastic program, called Circular Plastics NL. Together with 150 industrial partners this amount is now more than doubled to €540 million.
This initiative was submitted in close cooperation with us, among others. We are proud to take the lead in areas we proved being strong at: organisation, coordination and communications.
Any questions or enquiries?
The Circular Plastics Initiative (CPI) is open for more participants. Please find out our contacts below.