Imagine a future where electric bikes are not only eco-friendly transportation solutions but also models of sustainable product design. In ReCYCLE we focus on creating durable circular plastic parts for the use of electric bikes, pushing the boundaries of innovation in sustainable engineering thermoplastics. Are you ready to join the ride towards a greener, cleaner tomorrow?
In short:
Development of a generic model for the repetitive processing and use of recycled engineering thermoplastics (R-ETP) in electric bikes
Toolbox development for Design for Circularity and Design for Disassembly
Establishment of a closed loop for recycling electric bikes in the Netherlands
Expansion of R-ETP applications to automotive, household appliances, and beyond
The challenge: recycling and repurposing of materials
As the demand for electric bikes continues to grow, so does the need to ensure their production aligns with sustainability goals set by the European Union and the Dutch government. By 2030 and 2050, the aim is to achieve a circular economy for plastics, but current practices fall short. More specifically, the challenge is to change the way we approach engineering thermoplastics, and create a closed loop that allows for the recycling and repurposing of materials, reducing their carbon footprint.
ReCYCLE: creating circular electric bike parts
Five parts of the e-bike, each with its own required characteristics, are under consideration within the project.
First is the coat protector, typically made from polycarbonate (PC); it requires transparency maintenance, even after multiple recycling iterations.
Next is the chain cover, which is also crafted from polycarbonate. Due to chain lubrication, the material for this part must be resistant to lubricants.
The third part is the electromotor cover, usually composed of polyamide 6 (PA6). This element needs heat resistance due to the heat generated by rotational forces.
Another key component is the battery protector, consisting of polycarbonate and a 2K injection-moulded seal of thermoplastic elastomers (TPE). It should be robust and shock-resistant while also muffling any sound from the battery for user satisfaction
Finally, the head tube plate, made with acrylonitrile styrene acrylate (ASA) + TPE, needs to be waterproof.
The selected materials may be revised throughout the project's duration, depending on how well they maintain their desirable characteristics after enduring multiple cycles. Below, an image illustrates where these plastic parts are integrated into an electric bike: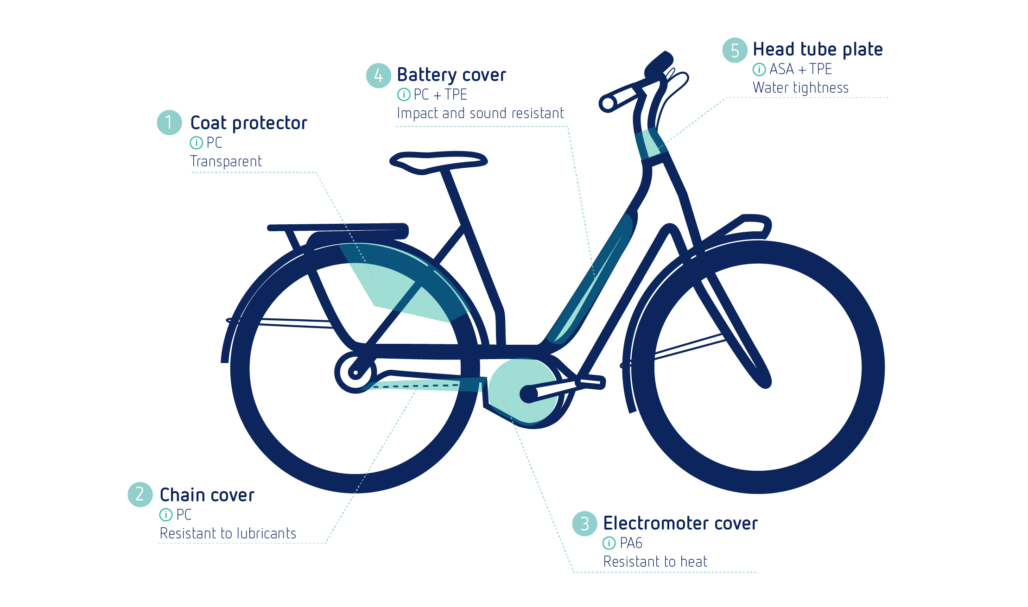 What we do
ReCYCLE will deliver:
Product requirements and test protocols for each part
Identification of available R-ETP materials in the Netherlands and potential suppliers
Validation of selected R-ETP materials against product requirements
A toolbox with practical guidelines for circular design
A model for decay of mechanical properties and recycling potential of R-ETP bike parts
A life cycle assessment (LCA) model for calculating carbon footprint reduction
These outcomes will contribute to the expansion of engineering plastic recyclates in other applications, furthering the use of circular plastics and closing the loop on engineering plastic products.
Join us
Are you as passionate about sustainable innovation as we are? Join us in advancing the electric bike and engineering thermoplastics industries and stay informed about our progress! For more information about the ReCYCLE project, read our latest articles or connect with our community on LinkedIn. Don't miss out on the latest news and updates.
This is a project of the Circular Plastics Initiative, co-founded by ISPT and DPI.
Acknowledgement
This project is co-funded with subsidy from the Topsector Energy by the Ministry of Economic Affairs and Climate Policy.
Partners