Electric bikes, or e-bikes, are a common sight during sunny days on dikes of the Dutch Riverlands as well as during the bustling commutes on bicycle highways linking rural and urban areas. Their popularity as a form of recreation or as a sustainable alternative to car travel has skyrocketed. Alongside this shift towards greener transportation, the materials used in these bicycles also evolve towards sustainability. Therefore CPI has started the ReCYCLE project together with Gazelle, Timmerije, UltraPolymers, Brisk-Kumet and Polymer Science Park.
The ReCYCLE project is focused on developing robust, circular plastic parts for e-bikes using primarily recycled engineering thermoplastics (R-ETP). These plastics are applied for their lightweight, strength and durability. Therefore, they are becoming increasingly common in a range of medical, electronic and automotive applications.
Building a recycling ecosystem
At its core, ReCYCLE is developing a generic model for the cyclical processing and use of R-ETP in e-bikes. The project is also creating a design toolbox for circularity and ease of disassembly. The goal is to build a recycling ecosystem for R-ETP in e-bikes in the Netherlands and expand the R-ETP usage to sectors like electrical appliances, and the automotive industry. A project dedicated to ETP is a first for the Circular Plastics Initiative. This will establish a closed-loop recycling system for electric bikes in the Netherlands. The five bike parts under consideration are: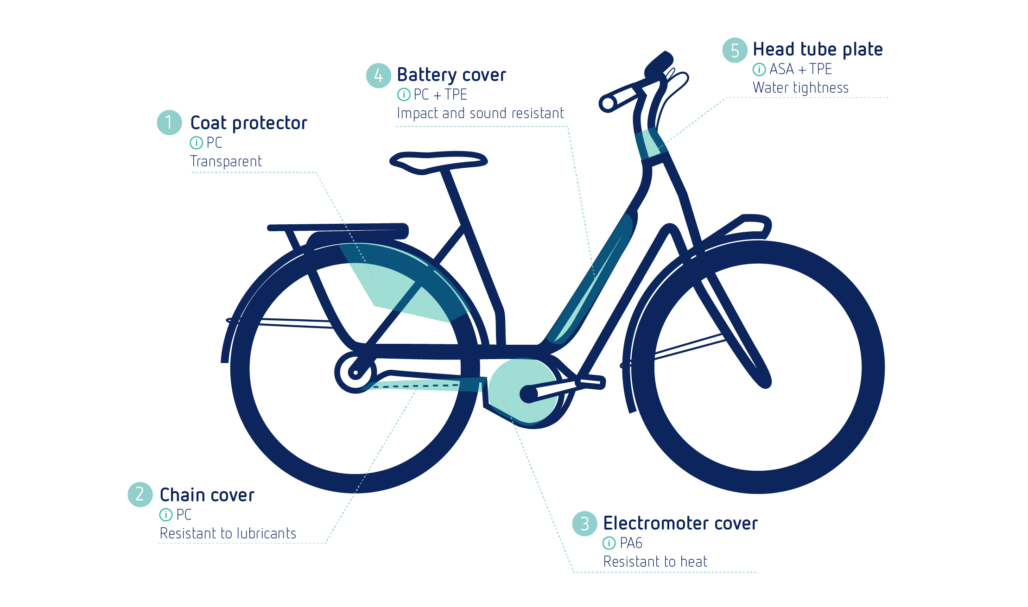 Closing the loop
Aligned with the environmental targets of the European Union and the Dutch government, the ReCYCLE project expects outcomes such as waste reduction, sustainability promotion, and circularity advancement. This initiative is a step towards closing the loop on engineering plastic products.
The ReCYCLE project offers a pragmatic approach to ETP circularity. It aims to form new partnerships in the circular polymer value chains, fostering broader adoption of circular economy principles. For up-to-date information about the ReCYCLE project, review our project page.
Acknowledgement
This project is co-funded with subsidy from the Topsector Energy by the Ministry of Economic Affairs and Climate Policy.