Portrait of PhD student Nikhil John
My name is Nikhil John and I am currently 25 years old. My PhD research focuses on the transition in the process industry towards sustainable production and artificial intelligence which is part of the ERGO project. I am carrying out this research at the Copernicus Institute of Sustainable Development, Utrecht University.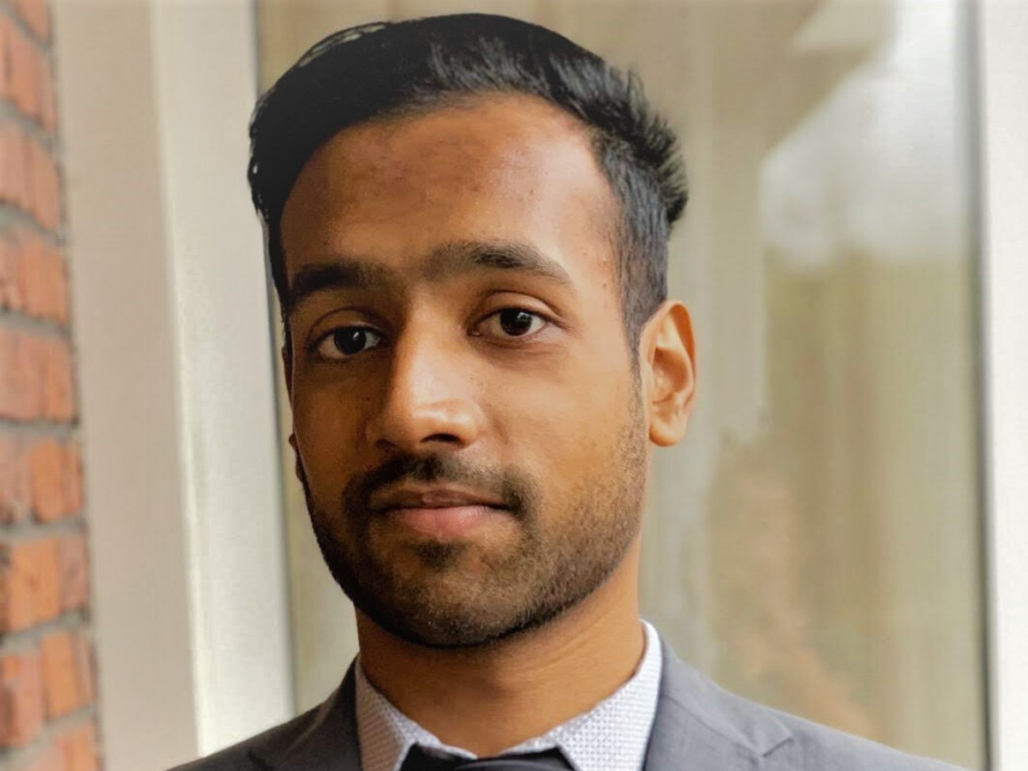 Background
I come from a very interdisciplinary and international background. My bachelor's degree was in aerospace engineering from Manipal University, India. I also did an exchange in TU Wien where I got exposure to computational fluid dynamics for process simulations and rotating equipment. This eventually led to a deep interest in energy technology and I enrolled in the sustainable energy technology master's program at TU Eindhoven. This study broadened me from a pure engineering mindset, and I began to look at the energy challenge from different approaches involving technical, economic and social science aspects.
Ambitions
For my master thesis, I worked at the Sustainable Process & Energy Systems department at TNO, Delft. My thesis focused on the challenge of decarbonization in the petrochemical industry. We provided a modelling framework for comparing different novel low carbon technology pathways for transition in industrial clusters, while considering scenarios such as variation in feedstock prices, carbon policies etc.
After completing my degree, I was on the lookout for new challenging opportunities to develop myself further in this urgent field of sustainability for industry. So, when I saw an advertisement from Utrecht University to carry out a PhD in a similar but even more exciting topic of AI in industry, I felt it aligned very well with my goals. Over the next four years I hope to become an expert on these complex, yet important, missions of sustainable development in the energy intensive processing industries.
Research
My research is part of the ERGO project where we focus on a specific innovation that could be very influential within the processing industry. Industry partner Semiotic Labs is developing an AI based condition monitoring approach for energy efficiency in AC motors and rotating equipment. While developing features and validating the savings from such a predictive maintenance tool are challenging tasks, innovations can still face further barriers during development and implementation. In order to get a more holistic picture, it is important to take an innovation systems perspective.
Part of my research will be to carry out a technological innovation system analysis which will give us useful insight on the possible systemic problems this technology may face and identify solutions to help facilitate its diffusion.
Further research involves asking broader questions about the role of AI innovations within the industry, and what exactly this means for both sustainability and economic competitiveness. It is important that we be clear about the missions the industry needs to achieve and align innovation activities to fulfil them without creating lock-in or other dangerous effects.
Energy intensive industries
The energy intensive industries are not just high emitters at the moment, but they can also offer unique solutions to solve energy issues. My time with working on industry solutions at TNO has also shown me that the transition is not just about sustainable technologies, but also how important it is to transform the socio-technical system to facilitate these technologies.
Besides this, I have always had an affinity towards IT and data. While I have never had academic training in these fields, I feel I am able to understand the potential impact that machine learning and AI can have on industrial processes. I am passionate enough about industry, innovation and AI to ask critical questions, which is an important step in the PhD journey.
Inspiration
In early days as a student, it is quite common for people to be very optimistic and idealistic about solving world issues. This only happens because we don't know enough about the complexity of real challenges. Over time I have come to learn how the energy challenge is quite 'wicked' in its characteristics. I decided to focus on the challenge of industries specifically, because I believe that the most change can come from the biggest players.
Further, almost everyone in my family has worked in the Oil & Gas sector, and I have always been inspired to understand more about these industries. Being an engineer-turned-social-scientist, I also find it important to work between the interface of academia and application-driven research. This project with ISPT sits in this exact 'sweet spot' and so it is very motivating for me.
Working with ISPT
I have always been inspired by the concept of open innovation collaboration to solve societal challenges, and ISPT is a great example of this. My first interactions with ISPT came through the strategy event for the Industry 4.0 cluster. It was very useful to see the breadth of participants from companies of different sizes and people of various academic fields. It is also exciting for a PhD student like me to grow in such a network, and this cooperation with stakeholders would be essential in gathering data for my research.