Carol Xiao is our Director Business Development. Everyday, she dedicates her efforts to create a future society and economy that run on green hydrogen, instead of fossil fuels. With her responsibility for our Hydrohub Innovation Program, her extensive knowledge in the field of green hydrogen and her ability to connect stakeholders Carol is a highly valued expert at ISPT.
Are you looking for a leading hydrogen expert on green hydrogen? In 2022 Carol was invited to several conferences, symposia and other events to talk about the current development, new innovations and the way to go towards a green hydrogen future. See below to find out where Carol has been and what she has talked about!
January: Presentation of the first advanced GW hydrogen plant
2022 started off with a bang for ISPT's Carol Xiao. On January 20th, Carol presented the very first Advanced design for a GW scale hydrogen production plant together with total installed capital costs. She explored what is needed to put the blueprint of the green hydrogen ecosystem in the Netherlands on track on the basis of the project results together with journalist and researcher Evert Nieuwenhuis.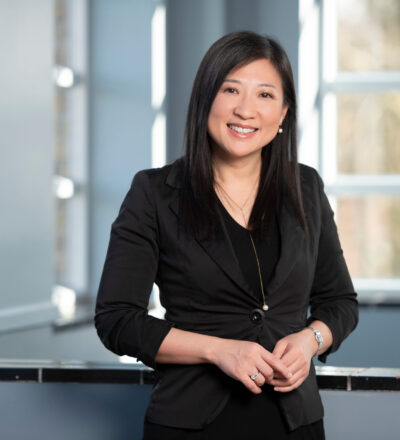 February: Which role does the electrolysis play in the energy transition?
On February 17, 2022, the Top Sector Energy Working Conference was organized under the title 'the scale leap for the energy transition'. Because the energy transition must accelerate and innovation is indispensable, all the signs are that we need to step up a gear. Despite the good intentions and many agreements: we are not there yet. Carol was invited to speak about hydrogen production in the Netherlands. She focused on what role the electrolysis manufacturing industry plays in the energy transition.
March: Deep-dive in a 1GW scale green hydrogen plant
In March, ISPT organized a deep-dive webinar into the 1GW Green Hydrogen Plant. Because, to develop a viable hydrogen economy, we must cooperate to make innovations ready for the market. In 2022 we published the report on design and corresponding investment costs of a one-gigawatt green-hydrogen plant that can be operational in 2030. Related to the publication of this report, we have received a lot of sharp questions and valuable remarks. During the deep-dive in March, Carol answered all questions.
April: Innovations on water electrolysis
In April, Carol was invited as a speaker at the Innovation day for water electrolysis. There, Carol represented our Hyscaling project. A project in which we work together with the Dutch electrolysis ecosystem for the electrolysis innovation, design and manufacturing. Carol gave a short background and goal of the Hyscaling project and she participated in the panel discussion. The Dutch manufacturing supply chain has a great potential to play an important role for the electrolyser manufacturing.
May: ISPT Hydrogen Strategy Day
The ISPT Hydrohub Innovation Program has been running for 4 years. Therefore, in May, it was time to go over the achievements and strategize for the upcomming years. Carol hosted several interactive workshops in the hope to better understand the needs of the partners. Because to make a green future happen, we must work closely with the industry, government, knowledge institute, universities, suppliers and engineering companies.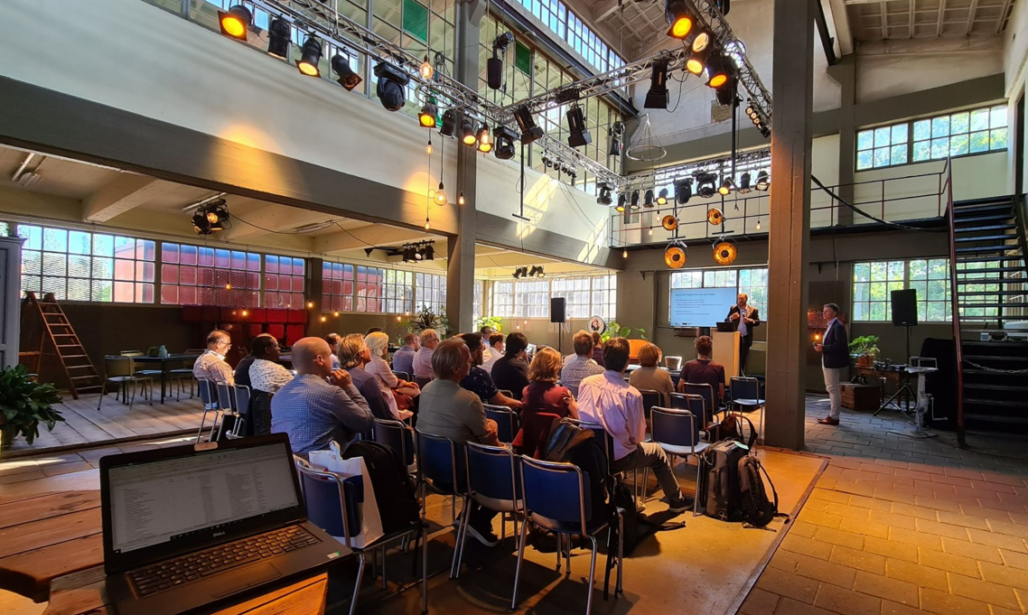 June: Scaling up the production of green hydrogen via electrolysis
At the EnTranCe site of the Hanzehogeschool, Carol presented the currently under construction Hydrohub MegaWatt Test Centre: a state-of-the-art research facility to optimize and scale up the production of green hydrogen via electrolysis. This is essential if green hydrogen is to be produced cheaply, efficiently and on a large scale. Furtmermore, it will allow the chemical industry to reduce its CO2 emissions. The goal is to achieve this before 2030.
September: Launch of ISPT Green Ammonia Innovation Platform
ISPT in collaboration with important partners from the industry launched the Green Ammonia Innovation Platform to make this European ambition a reality. The innovation platform will facilitate knowledge exchange between companies and organizations who are participating in the innovative field of ammonia. Projects are set up that will address knowledge gaps as identified by the participants of the platform. Additionally, workshops and network events will be organized. Bringing together energy producers, industry, technology providers, infrastructure operators and policymakers will enable a faster implementation of ammonia and finally allow us to implement green ammonia in the Netherlands on a large scale.
September: Launch of ISPT 's Green Hydrogen Safety Program
With the experience from the on-going Hydrogen Safety project, ISPT identified a strong need for more knowledge concerning the safety of the hydrogen economy. This workshop was organized to form a clearer understanding about safety aspects in hydrogen production plants. Carol brought together a number of partners that helped to shape the Green Hydrogen Safety Program.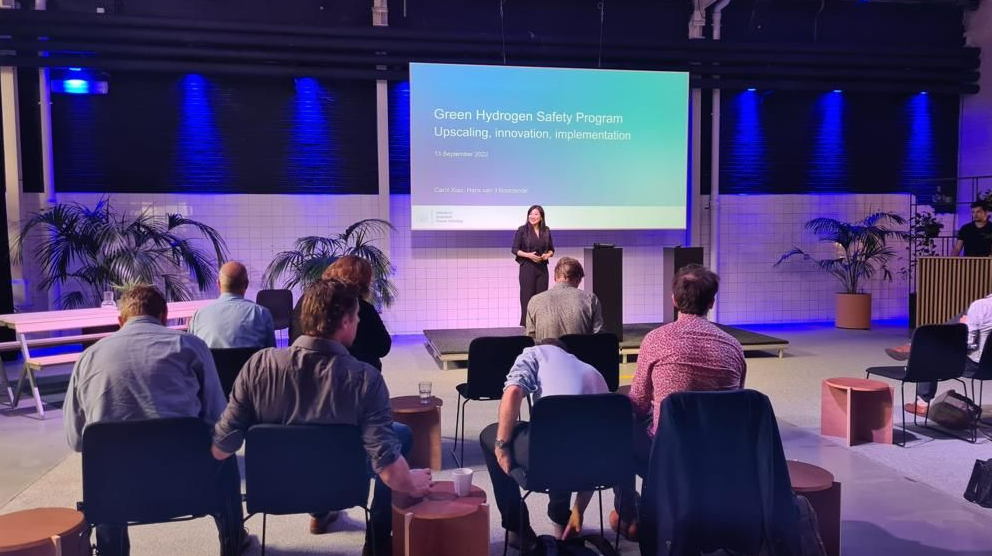 October: Opportunities and challenges of hydrogen production in the Netherlands
On October 10, during the Energia Tour, Carol Xiao spoke with Ruud de Jongh (Shell) and Marcel Galjee (HyCC) on "Hydrogen production in the Netherlands: opportunities and challenges". Carol addressed the question: how can we meet future energy demand? She took part in an interesting discussion on how to achieve the next milestones in hydrogen production.
November: AR-experience in the future green hydrogen plant
During the Dag van het Klimaatakkoord, Carol Xiao talked about the story behind the development of the 1 GW elektrolyser plant for the production of green hydrogen. At the ISPT stand visitors took part in an Augmented Reality experience in this future plant. This was realized cooperation with Royal HaskoningDHV. It was an interesting day with inspiring encounters between ISPT and the audience.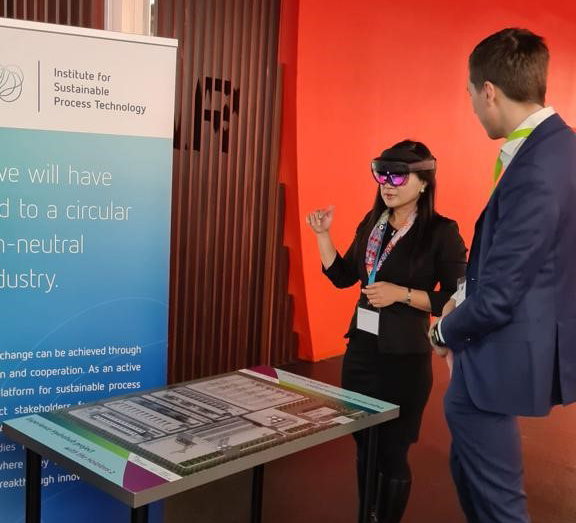 November: Challenges in moving towards a green industry
How far are we in moving towards a green industry? And where lie the opportunities for further development? At the Holland High Tech Event 2022, Carol gave a talk about what a GigaWatt Hydrogen plant could look like, and which opportunities and challenges is still has. The session was organized by TKI New Gas.
November: Costs and investments needed
November was a busy month, because Carol Xiao was also invited to the panel discussion of the Benelux Infrastructure Forum Conference, where she gave a presentation about a large scale hydrogen production plant cost and investment needed. The panel discussion was about the overall potential of green hydrogen in Europe. She addressed the opportunities promised by green hydrogen and the, the challenges in integrating and operating new technologies and investment opportunities and the path ahead.
November: Carbon and CCU
In November, Carol Xiao co-hosted a TKI Energy and Industry event during the European Industry & Energy Summit (EIES) at Brightlands Chemelot Campus. Carol helped to zoom in on the CCU theme the GrowthFund proposal FutureCarbonNL is acting on. She talked to Rob Kreiter (TKI Energy and Industry), Petrus Postma (&Flux), Matthias Heinemann (University of Groningen) and Peter Remco Vellinga (BASF).
Looking for an experienced speaker for your event?
Carol Xiao is our Director Business Development. She has a background in Chemical Engineering and has developed an extensive knowledge on green hydrogen innovation and development. Carol is an experienced speaker and loves to share her knowledge with a variety of audiences during conferences, symposia or other tech-, energy- or innovation related events.