The HyScaling project will result in reducing the levelized costs of hydrogen by 25-30% compared to current state-of-the-art technology. The project aims at enabling the Netherlands to implement up to 5 GW electrolysis capacity by 2030. And to play a key role in the global roll-out of the green hydrogen economy.
In short:
Green hydrogen is the key to establishing a circular economy
At the moment there are no large-scale hydrogen factories
Also, the price for green hydrogen is too high to be competitive
HyScaling aims to improve this, taking the Netherlands to the next level of green hydrogen production
Dutch industry will contribute to achieving climate targets and establishing a circular economy by switching from fossil to sustainable energy. Central to these efforts is the production of green hydrogen in electrolyzers powered with sustainable electricity from wind farms and solar cell arrays.
HyScaling: making better electrolyzers in a better way
An electrolyzer produces hydrogen by splitting water (H2O) into its constituents (hydrogen, H2, and oxygen, O2). Estimates are that in 2030 the Netherlands will have at least 5 GW of electrolysis capacity installed to enable an effective transition towards climate neutrality and circularity. To put this in perspective: One gigawatt, equal to one million kilowatts, is enough to supply a million households with electricity.
Even though the country has a well-performing high-tech industry, currently there is no value chain in place that is capable of realizing the large-scale 'hydrogen factories' required for this transition. What's more, the cost of hydrogen produced with current state-of-the-art electrolyzer technology is too high to be competitive. The HyScaling project sets out to improve all this and thus take the Netherlands to the next level of green hydrogen production.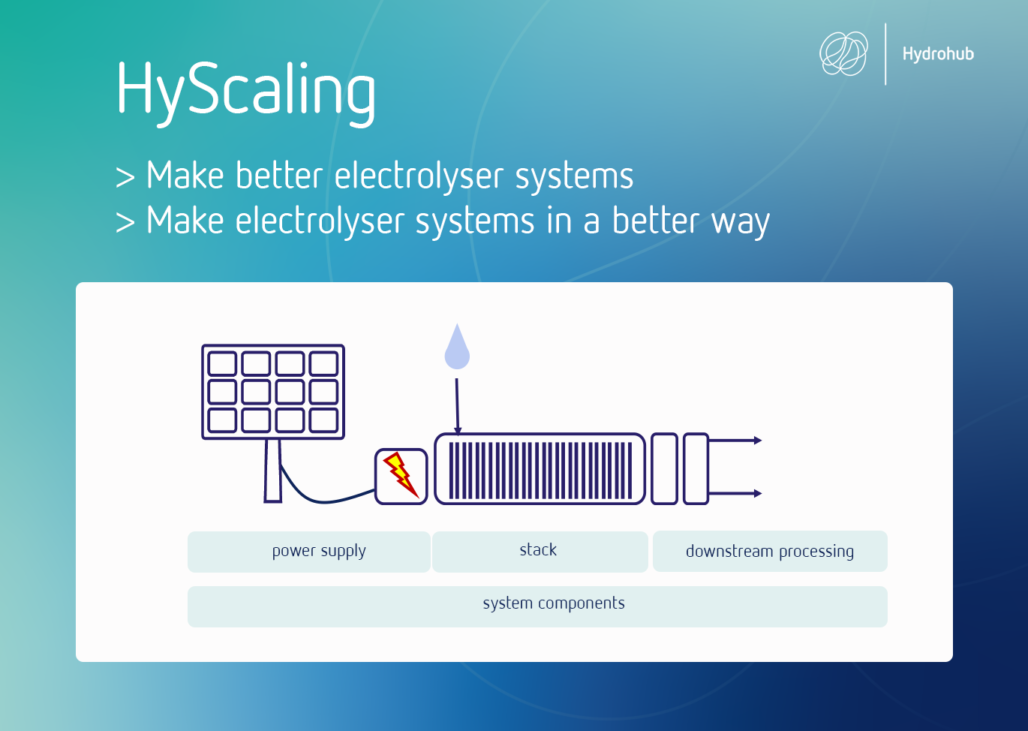 More efficient, durable, and cost-effective
To make green hydrogen a competitive energy carrier for industrial and commercial applications, the partners in the HyScaling project work on increasing electrolyzer efficiency, improving the lifetime of components, and lowering total system costs. In HyScaling novel hardware, low-cost manufacturing processes, optimized integrated system designs and advanced operating and control strategies are developed.
The specific objective is to achieve 25-30% cost reduction for levelized cost of hydrogen compared to the current state-of-the-art by bringing the HyScaling innovations to full implementation and roll-out by 2030.
HyScaling: a viable supply chain in a growing market
HyScaling lines up the Dutch high-tech industry, creating a viable Dutch supply chain for large-scale electrolyzer production with a flourishing market perspective at home and beyond. For instance, the ambition of the European Union is to have 40 gigawatts of installed electrolyzer capacity by 2030 and further increase that towards 2050. As a result, the European electrolyzer market could reach an annual turnover of one billion euros by 2030. HyScaling aims to capitalize on this market perspective and to offer the Dutch high-tech industry a key position in that market.
Green hydrogen as an economic perspective
More than half of the HyScaling consortium partners aim to enter the market by making their innovations into products. These include novel components, electrolyzer stacks and complete systems (i.e. including all supporting components and auxiliary systems). The shoulder-to-shoulder partnering in HyScaling increases trust between the parties, increasing the chance of success in the future market arena.
HyScaling is market-oriented and the uses for green hydrogen run as a red line through the project. Use cases connect hydrogen application (in industry, mobility and residential use) to renewable power supply (from offshore wind to small-scale PV system – spanning across orders of magnitude from GW to kW scale). The project offers a consistent, integral vision of the market development towards 2030 and secures that societal contribution and social acceptance are fully embraced alongside technological developments.
Acknowledgement
This project is co-funded with subsidy from the Topsector Energy by the Ministry of Economic Affairs and Climate Policy.
Partners