Status

Starting up

Start date

April 1, 2021

Runtime

36 months

Contact

Carol Xiao
The HyScaling project will result in better performing electrolyzers by improving the manufacturing and the project aims to reduce 25-30% for levelized costs of hydrogen (compared to the state-of-the-art technology) by 2030.
How to make better electrolyzers and make them in a better way
Green hydrogen as an economic perspective
To develop and promote hydrogen technology with Dutch companies, the collaborating parties in the HyScaling project have set clear goals. One of them is, that electrolysers have to be developed that perform better to produce green hydrogen. In addition, the production must also be more efficient and cheaper. The consortium wants to develop a good production chain for this. If all goes well, Dutch industry will be able to realize five gigawatts of electrolysis capacity for green hydrogen production by 2030, thanks in part to the RVO MOOI 2020 project HyScaling. This hydrogen will then also be 25 to 30% cheaper.
Enlarging hydrogen production
Given the climate targets and circularity challenge, Dutch industry must switch from fossil to sustainable energy. How can this be done? One of the possibilities is the use of hydrogen, produced with sustainably generated electricity in electrolyzers. These are systems that split water (H2O) into oxygen (02) and hydrogen gas (H2).
Key market position
Apart from a climate challenge that requires high investments, this is also a great opportunity for the Dutch manufacturing industry. The expectation is that the European electrolyzer market could reach an annual turnover of one billion euros by 2030. This market size is due to the European ambition to have 40 gigawatts of installed capacity by that year. One gigawatt is one million kilowatts, enough to supply a million households with electricity. HyScaling aims to capitalize on this market perspective and to offer the Dutch high-tech industry a key position in that market.
The Hyscaling project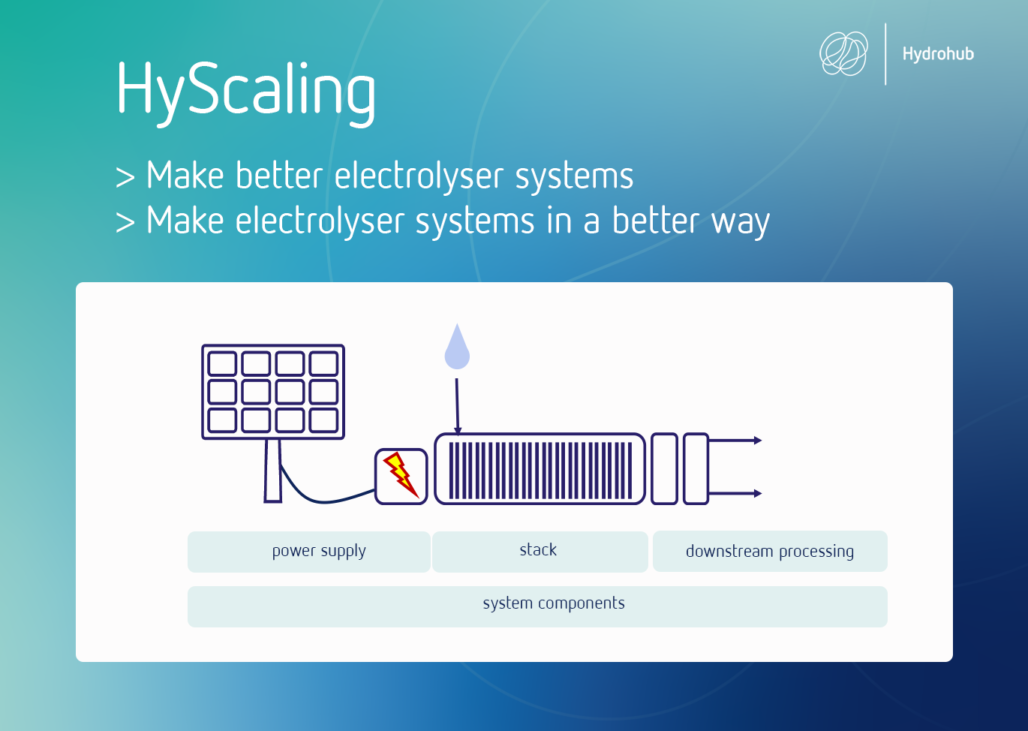 The mission of the Hyscaling project is making better electrolyser systems and making electrolyser systems in a better way. The specific objective of HyScaling is to achieve 25-30% cost reduction for levelized cost of hydrogen compared to the state-of-the-art by bringing the HyScaling innovations to full implementation and roll-out by 2030. In HyScaling novel hardware, low-cost manufacturing processes, optimized integrated system designs and advanced operating and control strategies are developed that all contribute to the overarching target. HyScaling aims to establish a Dutch electrolyzer industry. More than half of the consortium partners aim to enter the market by making their innovations into products. These include novel components, electrolyzer stacks and complete systems (stack & BoP). Some members aim at commercialization before the project end (e.g. Ionbond coatings, Veco electrodes). The shoulder-to-shoulder partnering in HyScaling increases trust between the parties, increasing the chance of success in the future market arena. HyScaling is market focused. Use cases for green hydrogen run as a red line through the project. The use cases connect hydrogen application (in industry, mobility and residential use) to renewable power supply (from offshore wind to small-scale PV system – spanning across orders of magnitude from GW to kW scale), creating a consistent vision of the market development towards 2030. This integral description of the market secures that societal contribution and social acceptance are fully embraced alongside the technological developments.
This is an initiative of the Institute for Sustainable Process Technology and TNO. The Hyscaling project is part of the Hydrohub Innovation Program.