Several partners, each representing a different part of the food chain, are working towards a 50% energy reduction by developing novel process routes in food processing.
Industrial partners of our Mild Fractionation Program are active in different parts of the supply chain. Cosun and FrieslandCampina produce ingredients and consumer products from raw materials (crops, milk). DSM produces enzymes and looks for opportunities to valorize side streams.
Unilever and FrieslandCampina want to use enriched fractions from raw materials as a new basis of functional ingredients in their food products. The drivers for all the industrial partners are sustainability in terms of reduction of energy consumption per kg food product and total use of raw materials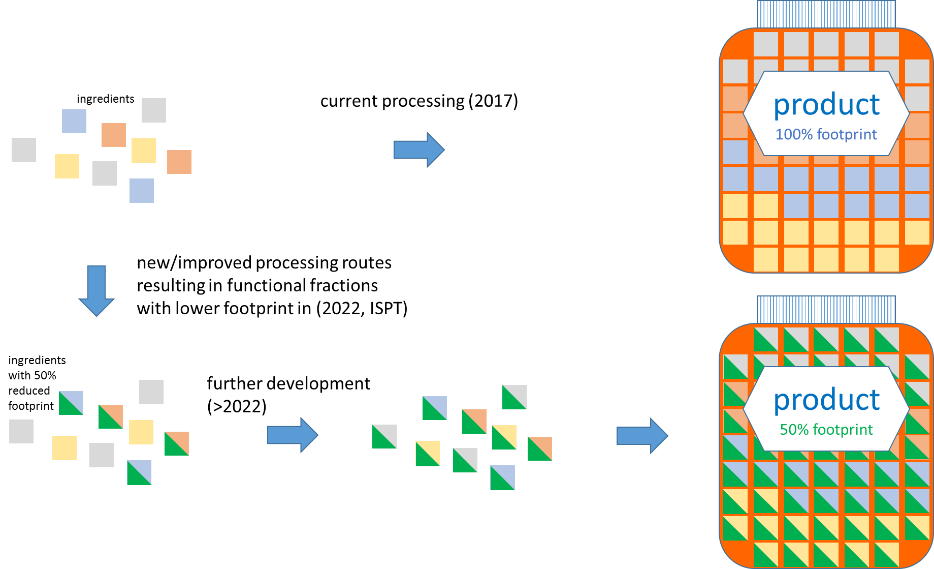 Reduction of energy use
Goal of the project is to develop and demonstrate novel processing routes or new/improved separation technologies for mildly processed fractions from crop and dairy materials generating functional food ingredients with 50% reduction of the energy/carbon footprint. Also the water footprint is expected to reduce substantially. In fact the footprint reduction is realized by replace­ment of the current ingredients by functional fractions produced by new/improved technologies and new process routes, as depicted in figure 1. This novel, revolutionary approach will in the end lead up to 50% reduction of energy consumption in food processing.
Activities
In order to get successful results the following activities are foreseen:
Investigation of portfolio of enriched fractions from dairy and crops.
Design of processing routes for production of enriched fractions with minimal energy consumption and maximal valorization of total crops/raw materials.
Design of separation technologies needed for novel sustainable processing routes.
Application and control of enriched fraction functionality in process routes.
Demonstration of successful technologies on pilot scale.
Results
Demonstration of how highly processed ingredients can be replaced by mild fractions with 50% less energy consumption.
Proven methodology to design optimal processing routes with respect to ingredient functionality, energy costs and C/H20 footprint.
New/improved design of separation technologies.
Acknowledgement
This project is co-funded by TKI-E&I with the supplementary grant 'TKI- Toeslag' for Topconsortia for Knowledge and Innovation (TKI's) of the Ministry of Economic Affairs and Climate Policy.
Partners