Follow our sequel on the case results in the project Grip on Dryers – this time part 2 of 5.
Within the ISPT Grip on Dryers project, several companies that seek to innovate their drying process, teamed up with technology providers and experts from the Dutch drying community. In each case, the combined effort and knowledge exchange led to sufficient momentum and confidence for the industrial partner involved, to move beyond the idea phase and towards actual process innovation.
Sewage sludge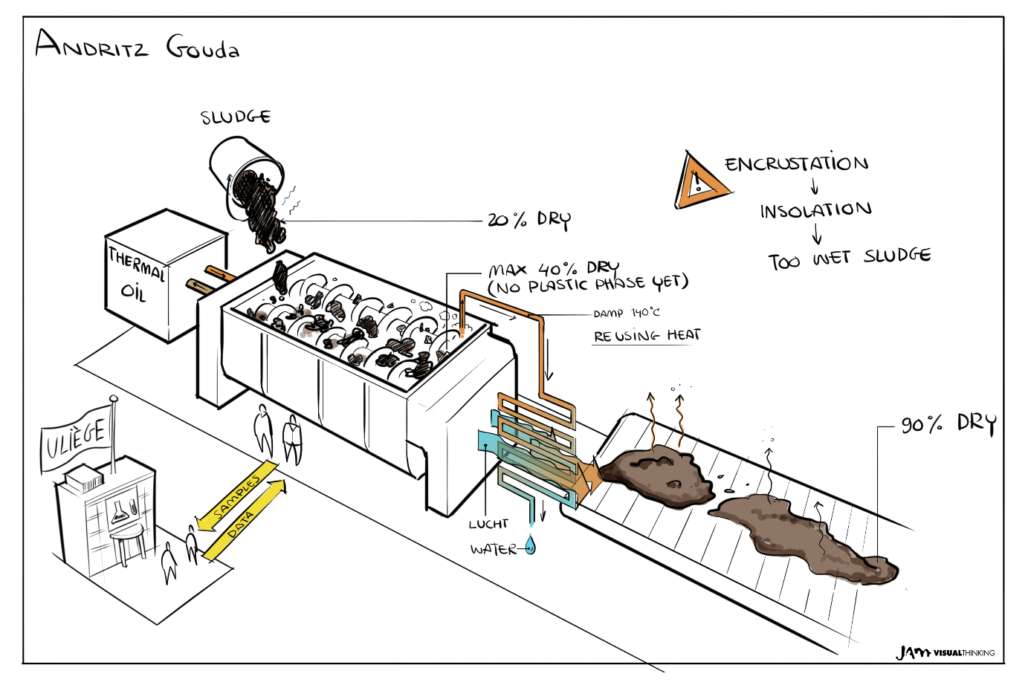 ANDRITZ Gouda BV, previously known as Goudsche Machinefabriek BV, produces paddle dryers (contact drying within a closed encasing) for drying a variety of products that results in: wet filter cake, paste, granules or powder. This technology is suitable for materials like dewatered sewage sludge from waste water treatment plants. This project focuses on sewage sludge.
The paddles in the dryer are heated with steam or thermal oil. The water vapours leaving the dryer become available at 100 oC. These vapours of the dryer could be used in another process, preferably a drying process. This is the basic idea of the two stage drying (comparable with two stage evaporation systems). Potential energy reduction is around 50%!
Paddle dryer and belt dryer
Consequently, a primary dryer operating at 145 oC would deliver 2,5 bar(g) vapours, an equivalent for low pressure steam, which makes the utilization of this heat in a second dryer more convenient. After generating concepts, the most interesting option was elaborated into a basic engineered concept consisting of a paddle dryer (first stage) followed by a belt dryer (second stage), which can be delivered by a German subsidiary of ANDRITZ Gouda.
Estimated energy savings in both heat and electricity consumption are around 50%. Potential pay back time is approximately 3 years. It turns out to be a very interesting concept.
Stage two drying
The next question to be solved is: what will be the behaviour of the sewage sludge when dried in a paddle dryer at 140 oC? Normally the sludge has to pass a plastic, very sticky, gummy-like phase. In the two stage drying process this plastic phase is expected to happen in the belt dryer, so the big amounts of electric energy to rotate the paddles through a sticky mass is avoided.
With help of the university of Liège experiments were done in a small batch paddle dryer available at ANDRITZ to scout the behaviour of sludge when dried at elevated temperature and pressure.
Several tests have been performed which have shown severe encrustation of the sludge on the paddles, resulting in a dramatic reduction of heat transfer coefficients. This is a real show stopper at this stage of development. New scientific research is required to investigate the causes of this encrustation and how to prevent these encrustation phenomena.
Feel free to share your ideas with us with regard to this encrustation.