Follow our sequel on the casus results in the project Grip on Dryers – this month part 1 of 5.
Within the ISPT Grip on Dryers program, several companies that seek to innovate their drying process, teamed up with technology providers and experts from the Dutch drying community. In each case, the combined effort and knowledge exchange led to sufficient momentum and confidence for the industrial partner involved, to move beyond the idea phase and towards actual process innovation.
Read more below about the new drying technology started at Huhtamaki.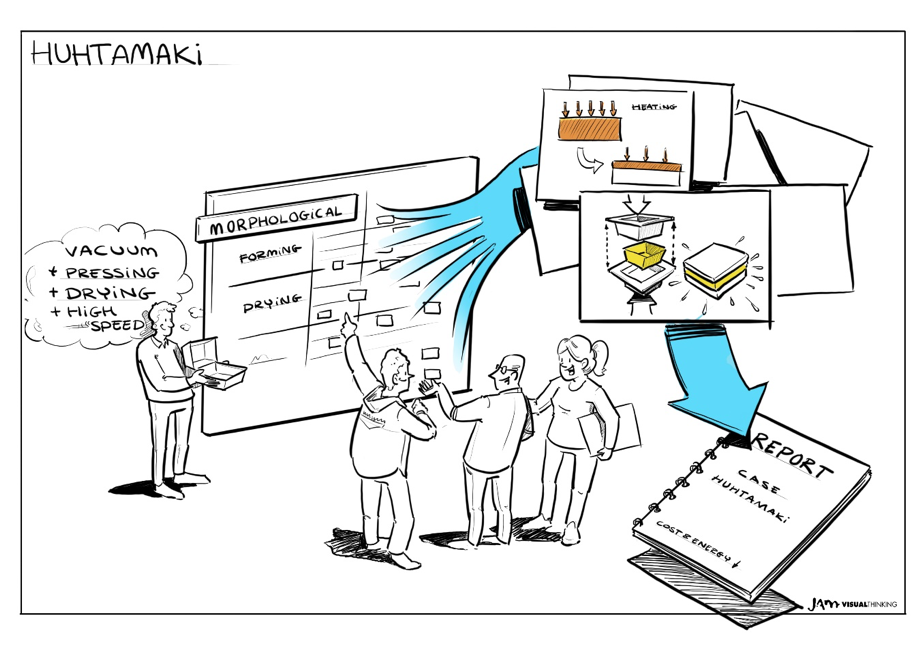 Huhtamaki in Franeker is a producer of fiber-form products such as egg trays. In Leeuwarden, they design and construct the forming and drying machinery for the concern world-wide.
There is a growing market for high quality, smooth and food grade single use fiber-form packing. The ambition of Huhtamaki is to make a new generation of machines that can produce at a much higher throughput and significant lower energy consumption than currently possible.
Several technical options where already on the table, next to a variety of wilder idea's and concept. Therefore, the team of 5 Huhtamaki with 4 experts from Grip, started to re-think the essentials and various routes in which 3D paper board shapes can be formed. This involved understanding and unraveling the in-house know-how on molding and drying, alternative process routes and ranking of requirements. The result of various discussion sessions, literature reviews and initial calculations was ordered in a morphological analysis. More importantly, it aligned the way of thinking about the specific dewatering and drying mechanisms, and thereby strengthened the design team.
It turned out that there is an interesting concept that could deliver the required high product quality at high kick-off rates with a substantial energy reduction. While the team further focused on the dynamics and efficiency, work on Huhtamaki went underway for a pilot drying line. With the experience of that facility in-house, the work on new generation of machinery is well underway, to enable the leap in the cost and energy effective production of high-quality fiber-form products.
Read more about the GRIP on drying project here.