The Probiotics project team of the project Low Energy Living Bacterial Food Formulations celebrated a breakthrough in Evelien Vaessen's PhD research on Monday the 16th of December.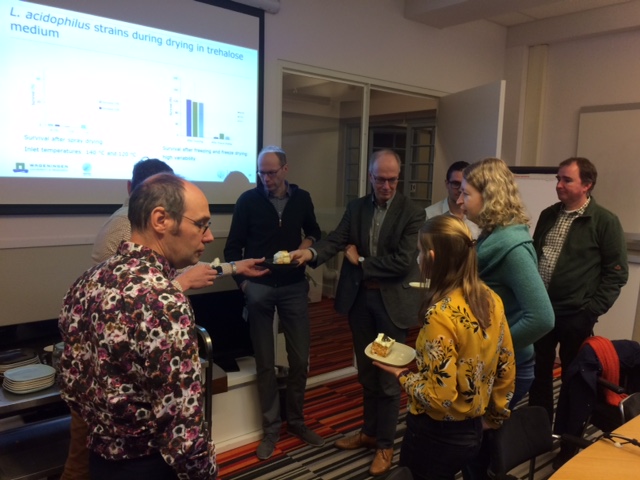 Vaessen had already found that a pulsed electric field (PEF) treatment in a trehalose solution could increase the intracellular concentration in lactic acid bacteria. This is very interesting as it is known that in nature organisms protect themselves from environmental stress (e.g. heat, osmotic and desiccation stress) by accumulation of small sugars such as trehalose. Nonetheless, no increased robustness during subsequent processing such as freeze or spray drying was observed.
However, recently Evelien demonstrated that the approach does work well when combing the PEF with trehalose and subsequent spray drying in reconstituted skim milk. The survival increased during spray drying with factor 1.5-2 compared to the control treatment without PEF.
This interesting finding not only triggers new research questions, but also opens a whole new avenue to use PEF processing for increasing robustness of bacteria towards processing rather than the common use of PEF to 'kill' bacteria.
More information
Read the academic publication here.
Acknowledgement
This project is co-funded by TKI-E&I with the supplementary grant 'TKI- Toeslag' for Topconsortia for Knowledge and Innovation (TKI's) of the Ministry of Economic Affairs and Climate Policy.