The production of green hydrogen is anticipated to scale up at an unparalleled pace in the coming years. In the Netherlands alone, plans are already in motion to construct 500 MW of large-scale green hydrogen plants by 2025, with the objective to generate nearly 0.5 million tonnes of hydrogen annually. In the EU, the aim is to produce 10 million tonnes of domestic renewable hydrogen and import an additional 10 million tonnes of renewable hydrogen by 2030. This ambitious production ramp-up, must not only be done rapidly, but also safely, posing an important challenge to the industry.
Current knowledge of hydrogen safety-issues – such as the risk of fires and explosions – is limited. Electrolyser suppliers, operators and owners have limited operating experience, and therefore there exists only limited data on the safety aspects related to novel large scale water electrolysis installations. Meaning that safeguarding process safety in the design, implementation and operation phases is a complex task. For this reason, the Institute for Sustainable Process Technology and partners from industry started a one year project 'Green Hydrogen Inherent Safety Practices on large industrial scale' to adress process safety aspects. The results of this project are discussed in the report aiming at a more uniform approach for risk assessment of large-scale green hydrogen production.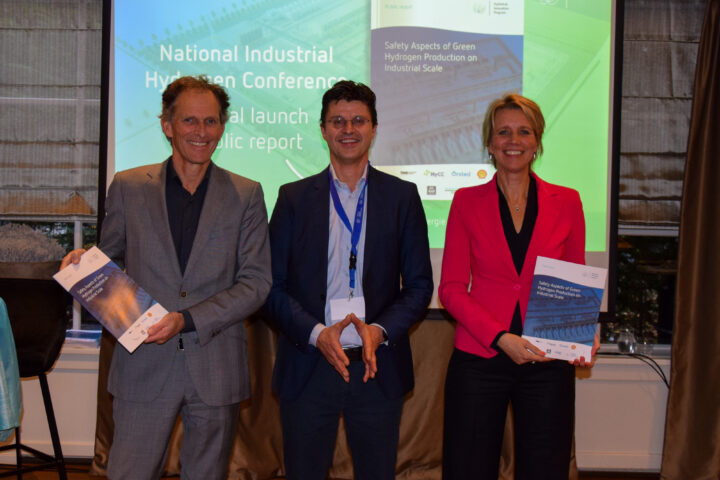 Addressing the safety knowledge gap
In the process industry the safety aspects of fossil-based hydrogen production are already well-known, but there is limited experience with operation and maintenance of large-scale water electrolysis following wind and solar profiles. The lack of historical data and validated models of failure frequencies and consequences means that electrolyser systems suppliers, asset owners and authorities have only limited data and knowledge on specific fire and explosion hazard scenarios. A lack of a common understanding and standardised approach creates the risk that different stakeholders will make different choices for safeguarding. This eventually may lead to delays in design and authorisation processes, and potentially also to underestimation of the risks involved.
Project results

To meet the need of an uniform risk assessment methodology, safety experts from partners HyCC, Ørsted, Shell, Yara, DNV, Royal HaskoningDHV, TNO and the Institute for Sustainable Process Technology (ISPT) have been cooperating during more than one year to assess safety aspects concerning large-scale production of green hydrogen. The industrial partners, also involved in developing projects as owner-operator of green hydrogen systems, were interviewed to identify existing knowledge gaps and find common grounds for risk assessment.
Project partners emphasized the need for scenario-based thinking, in combination with the common process safety methods and tools used in the process industry. This was done by generating typical scenarios and potential barriers related to two specific hazards, namely hydrogen and oxygen mixing in-equipment and loss of containment inside a building.
Some methods and approaches used in the chemical industry can be applied to large-scale green hydrogen production to achieve the required safety levels. However, the property differences between hydrocarbons and hydrogen mean that input data for risk analysis cannot always be relied upon.
In addition, data and corresponding models for deflagration and detonation are not as well developed for hydrogen as they are for hydrocarbon systems. Validation of models and data collection and sharing, e.g. on failure frequencies and probabilities, are needed. Meanwhile, a conservative approach is recommended in assumptions and models for the design and operation of upcoming large-scale deployments. Detailed risk assessments require specific knowledge of the process and plant being built.
Towards uniform methodology

This report proposes a consistent risk assessment methodology for large-scale green hydrogen plants. A two-year follow-up project on safety standardisation has since been started with the existing consortium, selected electrolyser suppliers and the Netherlands Standardization Institute (NEN). This new project builds on the results of this report.