My name is Kevin Rouwenhorst and I'm on an ammonia adventure, working with others across the disciplines towards a carbon-neutral world. The contributions I hope to make are to the hydrogen economy, and more specifically to realizing ammonia's potential as an energy carrier. "I'm on a research path that is quite challenging but just as rewarding. I love the open exchanges at conferences with people from academia, industry, institutes, and government. It's great to be able help one another along the road to a carbon-neutral world."
My research is focused on plasma-catalytic ammonia synthesis. I study how plasma technology and metal catalysts can be combined to make ammonia from hydrogen and nitrogen.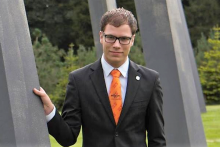 Making ammonia with a plasma: a surprising choice
That choice of topic might be surprising to some people, because, from a process perspective, making ammonia with a plasma is probably not the best idea: synthesizing ammonia from hydrogen and nitrogen entails an exothermic reaction. That is, adding energy in the form of electrons leads to further heat losses.
However, ammonia is an interesting choice when it comes to plasma-catalysis, because the reaction mechanism is relatively simple and—special bonus—there are no byproducts. And it doesn't hurt either that there's a lot of good literature out there on heterogeneous catalysis. Concepts from plasma-catalytic ammonia synthesis can also be applied to other plasma reactions, such as direct NOX synthesis from the air.
Disciplinary breadth
There's another aspect to the research I'm doing that I really like. Yes, it's specialized, but it's also complex in the particular sense that it requires a multi-disciplinary approach. Fortunately for me, I have just the background for that. The BSc in Advanced Technology I have from the University of Twente is a broad engineering degree that brings together a range of science and engineering disciplines. It's turned out to be a great platform to build on in disciplinary terms, and just what's needed given the multi-disciplinary character of plasma catalysis.
So I suppose you'd say that working with others from outside my immediate disciplinary silo is both an intellectual must and a whole lot of fun.
The fun factor…and FIFA
The fun factor is only enhanced by one particular aspect of Doing Science that's especially true in this case: if you think of the Paris Agreement, getting to net zero emissions, and so on, you might think about a straight or perhaps a zig-zag line tending towards zero—some kind of linear progress. But the truth is that, at the level of specialized technologies, we still don't know just how we're going to get there. "Fun factor"? Sure: the novelty of plasma-catalytic ammonia synthesis as a research field is a big part of what makes it interesting. Every year, researchers get to make new discoveries, and keeping abreast of all these developments is key.
In my case, there are two particular areas where I need to make sure I have the concepts straight: first, I have to have a solid understanding of the fundamentals of how nitrogen molecules and atoms interact with solid surfaces. Plasma catalysis is super-complex, and reaction pathways may be different from conventional heterogeneous catalysis. And then there are the process considerations, which you must take into account in order to be able to set operating targets for experimental research. So aside from requiring an interdisciplinary focus, the work also calls for a broad palette of skills.
One other nice thing about my PhD programme is that, when I'm not focusing on my primary research area, I can also go off on one or another productive tangent every now and then, and work on promising ideas that are percolating within the ammonia energy community.
Oh and speaking of skills: did I mention that I love applying the analytical skills I picked up in university to watching women's football, and changing the stats of women footballers in the FIFA football video game? It's another hobby of mine, and a good distraction from ammonia research. It can't be all work and no play. Ammonia human. (Ba-de-bam!)
ISPT provides neutral grounds for a more sustainable future
I'm just delighted to be involved with the ISPT through the work I'm doing as a PhD researcher. I particularly like the reports it puts out on the hydrogen economy. They're often co-written by renowned companies and institutes, so that alone gives them quite some clout. And the ISPT is coordinating the organizational side of the project I'm working on.
Overall, I think the Netherlands is really lucky to have an institute like the ISPT. It provides a forum for companies to come together on neutral ground, so to speak, where they can assess novel technologies that can help get us all to a more sustainable future.