Follow our sequel on the case results in the project Grip on Dryers – this time part 4 of 5.
Within the Grip on Dryers project, several companies that seek to innovate their drying process, teamed up with technology providers and experts from the Dutch drying community. In each case, the combined effort and knowledge exchange led to sufficient momentum and confidence for the industrial partner involved, to move beyond the idea phase and towards actual process innovation.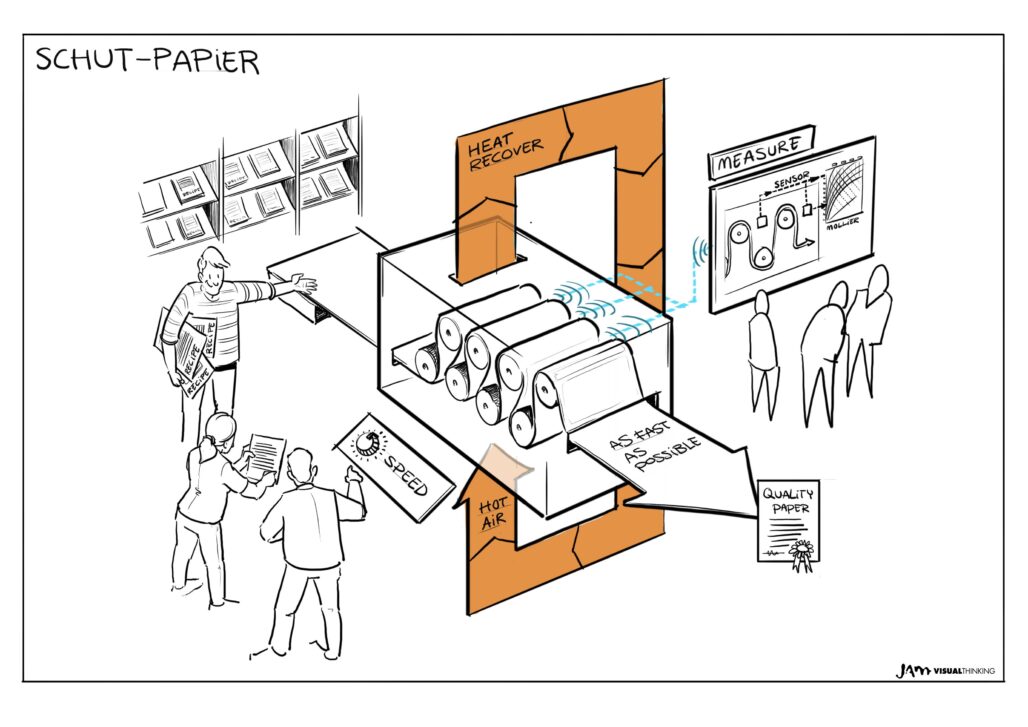 Schut Papier is a small company in the world of paper manufacturing. It is unique in its capability to produce high quality paper on very diverse specifications with regard to fiber composition, structure, color and paper weight. Schut Papier can respond to the most diverse market needs using different ingredients and custom formulations. As they say it: "we can make anything!".
In a regular year, around 1000 different types of paper are being produced. Schut is a very flexible paper manufacturing company. If necessary, paper can be produced in a limited quantity of only two tons. Because of its small scale and flexibility, and having an innovative plant manager, try-outs and tests can be performed. As a result, the new insights gained with Schut Papier provide a huge advantage for bigger paper production plants.
Furthermore, Schut has already implemented several heat recovery systems in their machine. In addition, their specific energy consumption is low: 1,09 ton steam per ton water removal.
During the years that GRIP was running, Schut aimed to increase its production capacity with 40% while remaining an even better energy performance.
Up-grading their machine includes the following renewals:
• Increase of steam pressure from 3 to 3,8 bar.
• Exchange of the headbox: the device for even spreading of paper mass on the wire.
• Modifications to the wire section.
• New surface finishing treatments.
The big diversity in products has a large impact on process operation due to the regular changes in products. The main challenge for Schut Papier is how to realize production increase while keeping the high quality standards and how to reach an optimum performance in both operations and energy consumption.
KCPK (Kenniscentrum Papier en Karton) has developed a process model which is used to get "grip" on the complex heat balance of a paper machine. In the GRIP project this model has been improved and expanded. It was used to evaluate the heat balance before, during and after up-grading. By using this model it was possible to identify how the energy performance with increased pressures end temperatures could be maintained or even reduced. To that end additional and diverse measurement equipment was installed. By combining the data acquisition results with the process model the required insights were gained which guided the up-grading of the machine.
Schut has installed moving scanning equipment, which monitors paper temperature and paper humidity over the width of the paper sheet. This provides insight in humidity profiles in the paper sheet and how to prevent over-drying of the sheet.
Temporary wireless measurement equipment has proven to be useful and can easily be installed in several pockets, which provides measurement data on the state of the air in the pockets of the paper machine which is used to realize high dewpoints in order to minimize air consumption and to improve heat recovery.
Together with KCPK, Schut Paper did a successful implementation of their up-grading. It resulted in an increase in production capacity of 40%, increased product quality, increased product diversity and increased flexibility without increase of the specific energy consumption.
Schut Papier continues to innovate in order to improve their production facilities to meet the future requirements on production, such as utilization of fibers from (agricultural) waste streams and further reduction in energy consumption. New projects in this field have been started already.
In the meantime the combination of sensors and the KCPK model proved to be successful on the level of optimizing paper and board machines in three other mills in the Netherlands. The use of cheap temporary sensors in combination with the KCPK model gives the required information about where fixed sensors should be installed and how to adapt control which results in 1-3 % energy saving in the drying section of the machine. This has potential for the entire paper sector in the Netherlands, which counts for a total annual energy consumption of 26 PJ/a is 0,2 – 0,4 PJ/a.