FutureCarbonNL wants to build a world-leading carbon-tech sector in the Netherlands. As ISPT, we are proud to be part of FutureCarbonNL, a program consortium that submitted a project proposal to the National Growth Fund on February 3, 2023, for a total of more than 1.4 billion euros. FutureCarbonNL is a partnership of universities, knowledge institutions, startups, SMEs, industry and the Ministry of EZK and IenW.
With a 10-year innovation programme for concepts and technologies it is building on new materials, food and fuels from CO₂ and CO. These technologies fall under the heading 'carbontech' or Carbon Capture and Utilization (CCU). FutureCarbonNL's total innovation programme amounts to €1.43 billion. A contribution of €663 million is requested from the Growth Fund. Private parties invest €767 million, and public parties contribute €4 million.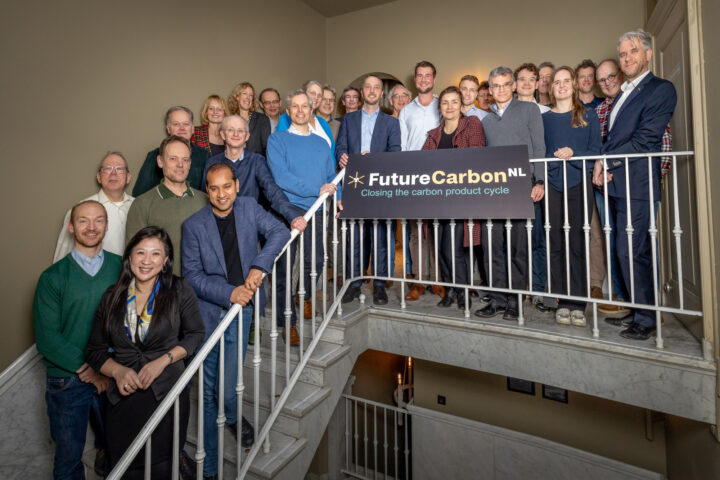 Capitalise the opportunities of carbontech
With a contribution from the National Growth Fund, the Netherlands can capitalise on opportunities and accelerate the development and demonstration of carbontech. Erik Verbrugge, Innovation Manager Royal Dutch Chemical Industry Association (VNCI): "The Netherlands has everything it needs to become a frontrunner. We have excellent scientists, a strong technological and chemical industry willing to innovate and invest, and we have green energy. Moreover, the Netherlands has a unique culture of collaboration between science and industry."
FutureCarbonNL enables new partnerships to develop and emplement technologies

Tjeerd Jongsma, director ISPT
We're open to all parties, including private and public
FutureCarbonNL is focused on the most innovative, novel ideas and concepts to reduce CO2 and CO back into the carbon cycle. "Our innovation programme is open to all parties from the private and public sectors," says Verbrugge. "It's not a closed shop of the proposers of this proposal. It provides an open and fair platform for competition among the best ideas, concepts and approaches to solve the grand challenges together."
More than 50 parties have now joined with initial proposals. And still companies can apply. Tjeerd Jongsma, director ISPT, adds: "FutureCarbonNL enables new partnerships to develop and emplement technologies. Together we can accelerate the impact towards circularity."
Join us
Read more about ISPT's Circular Carbon Program. In this program we contribute to FutureCarbonNL. Please contact Carol Xiao if you want to know more about FutureCarbonNL and/or our Circular Carbon Program.