My name is Mohamed Hany Abokersh and I am a Sustainability Analyst holding a PhD in Sustainable Energy and Environmental Engineering from Universitat Rovira i Virgili as a part of Marie-Sklodowska Curie call. Currently, I'm a research scientist in SUSCAPE group at Universitat Rovira i Virgili in collaboration with TNO. Prior to my current work, I was an energy analyst for the renewable energy market in the middle east at Fraunhofer ISE. Professionally I am experienced with hands-on sustainable energy research work at micro and macro scales with knowledge in machine learning, operational research, techno-economic analysis, and Life cycle assessment. I recently started as a PhD student in ISPT's project Towards improved circularity of polyolefin-based packaging which is the first project of the Circular Plastics Initiative.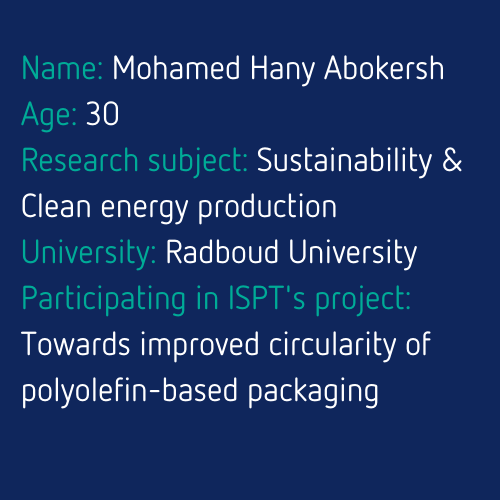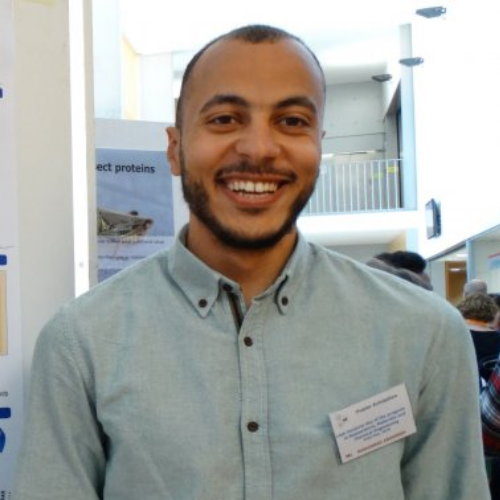 My knowledge regarding the project starts from my working period in TNO, where I had the chance to attend a couple seminars regarding the circular economy of municipal waste at TU Delft which contributed to developing clear ideas about the next steps in my career. In an opening call from Radboud University for a Circular Economy Analyst to work in this project, I believed my previous experience and knowledge would perfectly match the project objectives. In addition, the project would be a great asset in building my career as a Sustainability Analyst.
Regarding my expectation for the coming years, I believe the knowledge and experience of working in this project can be utilized as way to improve the sustainability position of different plastic manufactures shortly. Furthermore, this project and the Circular Plastics Initiative that is it part of, has the possibility to improve the recycling situation in different countries in Europe while attempting the proposed technologies to my original country (Egypt).
Modeling and optimization of renewable energy systems
Aligning with the ambitious EU 2030 climate and energy package for cutting the greenhouse emissions and replacing conventional heat sources through the presence of renewable energy share to achieve net-zero-energy community, the stakeholders at different sectors are facing several technical, economic and environmental issues to meet the EU targets in the near future. In my research, I'm tackling these challenges through using modeling and optimization of renewable energy systems incorporated with machine learning and data analysis to develop Computer-Aided Process Engineering (CAPE) tools. These tools would help in addressing the stakeholder's challenges, thus contributing to the transition towards a more sustainable future.
Plastic industry
The plastic industry is an important sector of the European economy. The European plastics demand reached above 50 million tonnes in 2018, with packaging, building and construction, and automotive markets being the most dominant ones for plastics. The biggest source of plastic waste is packaging, and consequently, it makes up 62% of all the collected plastic waste in Europe. In this context, the EU proposes a new target of 55% recycling for plastic packaging waste by 2030.
This target will push the European plastics manufacturers to ensure high rates of re-use in the near future. Thus, I found this subject of working in plastic circularity will be a natural path toward developing my career as substantiality analyst since it will serve the current market demand. Furthermore, it will give me an opportunity to contribute towards the EU targets to build a sustainable future for next generations.
Source of inspiration
My country Egypt has a huge plastic waste problem, with at least 970,000 tons of plastic waste produced annually. The plastic pollution primarily affects tourism, maritime trade and fisheries sectors, which are important to the Egyptian economy. More worrisome; however, seabirds and many marine species are highly vulnerable to the waste, posing both an ecological and human threat, given that fish that eat harmful plastics are consumed by humans. During my master studies at the American University in Cairo, I got an opportunity to volunteer at a governmental initiative to collect waste and clean up the Nile River from plastics. Within the first week of working, I was so surprised. The Nile river is extremely polluted with plastics, especially due to the limited efficient recycling techniques in the Egyptian market. Thus, I found that my participation in the Circular Plastic Initiative by the ISPT would be a great chance to contribute toward improving the current situation.
Expectations
During the meetings at TU Delft, many researchers were referring to the ISPT efforts in improving the waste circularity situation in the Netherlands. Thus, I have thoroughly researched the organization and saw that the ISPT team is working at different projects to connect stakeholders across sectors and disciplines in a trust-based environment, to accelerate innovation and provide a driver for the sustainability transition. I found that the ISPT vision is very ambitious, and I am excited to have the opportunity to learn even more by joining the ISPT.