Steel2Chemicals is a project about connecting the chemical industry and the steel industry in order to produce synthetic naphtha, create a circular value chain and thus reduce CO2 emission. After overcoming a number of technical hurdles, a new pilot unit for converting syngas to chemicals has been started by Dow at the first attempt at a steel mill owned by ArcelorMittal in Ghent, Belgium.
The production from the unit will slowly be ramped-up to design capacity in the coming weeks. The main objective of the project is to demonstrate the technical and commercial feasibility at scale of converting waste gas generated by the steel industry into feedstock for the chemical industry. It also aims to validate the lab performance at a larger scale of the catalysts (show-tube), and to generate data that can be used to design a commercial demonstration unit.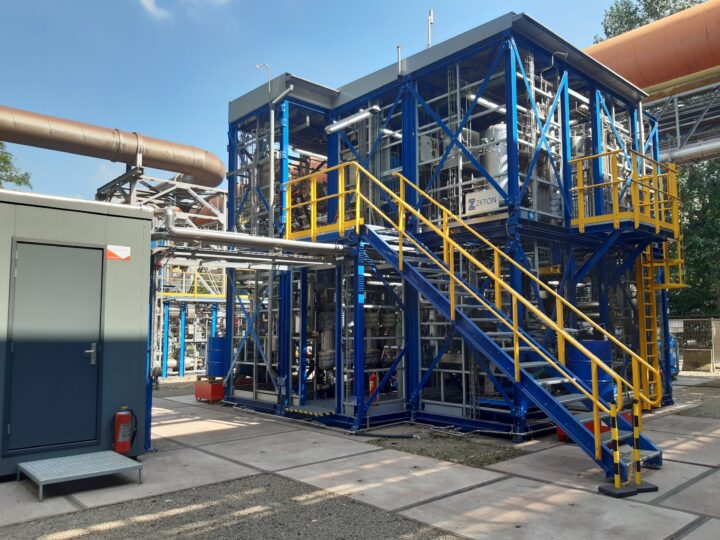 The pilot unit and the catalysts used in it were developed by Dow, and the unit was built by Zeton, After the validation phase with bottled CO and H2, the unit will be tested with feed from the Carbon2Value, which uses amine-based UCARSOLTM technology, also developed by Dow, to separate CO2 and H2S from flast furnace gas from ArcelorMittal in Ghent.
In 2023 Dow will take complete ownership of the pilot unit, which will then be used to validate and scale-up other types of syngas technologies — all of this, of course, with the aim to contributing to a low-carbon circular economy.
The Steel2Chemical-project is co-funded by the Dutch government under the auspices of a TKI Energy grant to a consortium that was put together by ISPT. The consortium includes ArcelorMittal, Tata Steel, Dow, TNO, and the University of Ghent.
Acknowledgement
This project is co-funded by TKI-E&I with the supplementary grant 'TKI- Toeslag' for Topconsortia for Knowledge and Innovation (TKI's) of the Ministry of Economic Affairs and Climate Policy.