The Circular Plastics Conference '21 showed us that when leading minds come together we can come a long way in tackling problems and hurdles. Yet, the question how we can make plastics circular remains complicated and multifaceted. Therefore, we're partnering up once again and hosting a two-day live conference.
On the 18th and 19th of May, 2022 the Circular Plastics Initiative (CPI) will host a two-day live conference full of new keynote speakers, interesting talks and panel discussions: the Circular Plastics Conference '22.
CPC'22: Partnering up for circular plastics in 2022
The program of #CPC22 will be built around the CPI Roadmap. This roadmap was designed together with our community during the CPC'21 and discusses challenges on themes, including:
Design for recycling, sorting & washing
Mechanical & (thermo-) chemical recycling
Social and governance challenges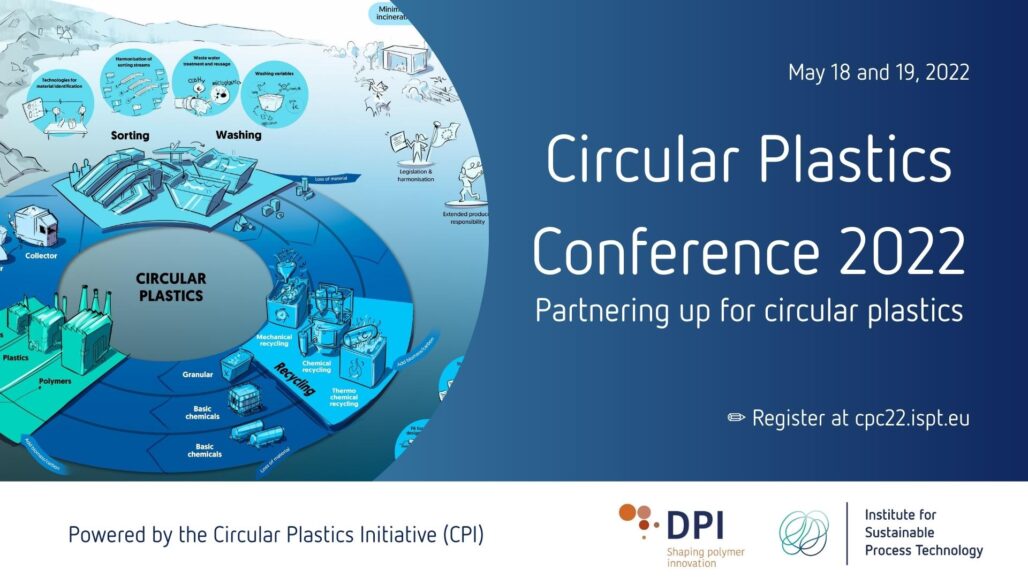 CPC'21: what was covered
The Circular Plastics Initiative (CPI) is founded by the Institute for Sustainable Process Technology and DPI, the Polymer Research Platform. Last year, we proudly organized the first edition of the Circular Plastic Conference, offering a series of online sessions.
All online recordings are still available in our YouTube-playlist on CPC'21. Researchers, regulators and key plastic producers talk about the latest technological, regulatory, and socio-economic developments within the world of circular plastics.
More information will follow shortly, so please keep an eye out for updates in our newsletter, LinkedIn or Twitter.