Energy use in the industrial sector is dominated by the use of heat from fossil fuels, whilst a low-carbon economy requires a transition to more sustainable sources. This transition can be partly achieved by recycling waste heat, through the use of heat pumps. These pumps enable the upgrade of the temperature levels of waste heat to heights needed to be reintegrated into industrial processes. The broad implementation of heat pumps in the Dutch industrial sector can annually save a staggering 87PJ of energy.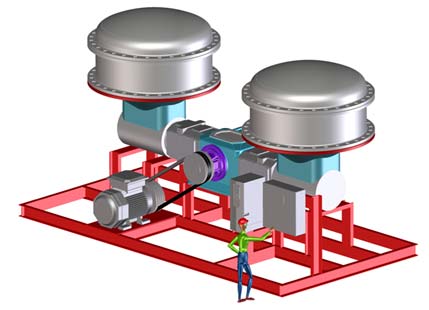 "As much as 70% of the energy used by the Dutch industry consists of heat. Hence making the Dutch industry more sustainable should include the (re-)use of this energy", according to Cees Biesheuvel, director of ISPT's Utilities and Heat –cluster and Technology Innovation Manager at Dow Benelux. "The heat pump technology corresponds to this need of the industry but challenges towards this technology's cost effectiveness remain."
To realize the full potential of the heat pump technology, partners from across the Dutch industry have joined hands in the CRUISE-project. The broad range of partners, consisting of AkzoNobel, Bronswerk Heat Transfer, DOW, IBK groep, LambWeston, Royal Cosun, Smurfit Kappa, Tata, ECN, FME and ISPT, aim to develop 50% less expensive heat pump technology that generates heat in an economically feasible way for industrial applications, using waste heat and (renewable) electricity. This technology can be applied cross sectoral and offers large energy savings.
To achieve this, on the one hand the specific needs of the industrial end-users and the specific requirements of heat pump integration will be mapped in close cooperation between industrial end-users and technology providers. On the other hand options for cost reduction are identified by the technology providers, FME and ECN. This research will result in two heat pump concepts that will make industry more competitive and energy efficient with a wide support from the different sectors.
At the same time, technology suppliers develop these new products for a (worldwide) market, which enables them to be more competitive and extend their product portfolio. Based on the information that is obtained early in the CRUISE project, the program will be further developed for a full-scale compression heat pump, meeting the cost targets. This ensures that momentum is maintained and the tremendous potential of the heat pump technology towards sustainable industry will be realized.