The famous ISPT course is back in 2021, on March 10, 18, 24, and 31.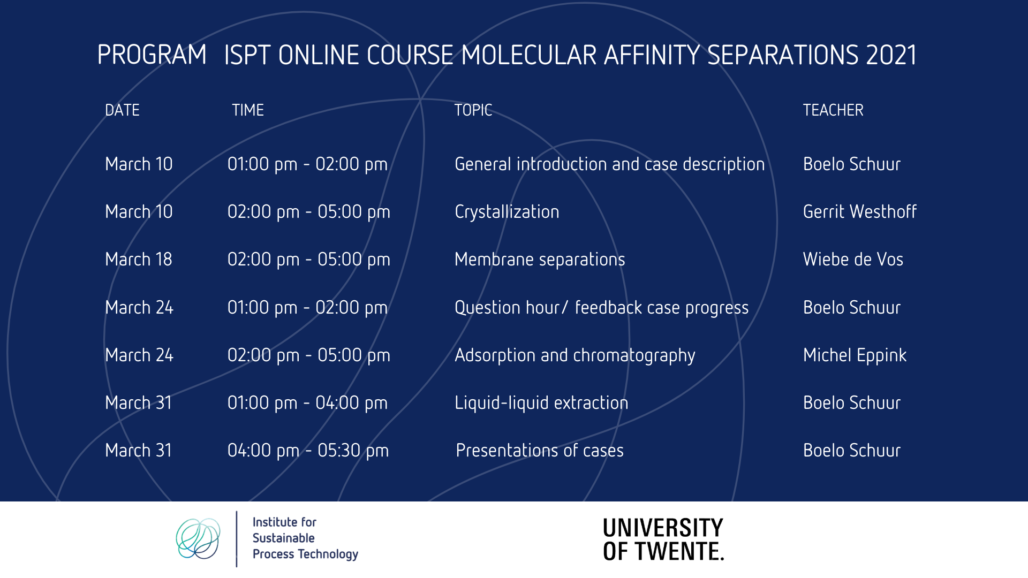 During this course several affinity separation techniques will be discussed by teachers from University of Twente, Wageningen University/Byondis and Friesland Campina. Each teacher teaches on the affinity separation techniques of his expertise. In a group of four students, you work on a separation case study.
This year, the course will be online, and it has been decided to only present one topic per week, so the course is spread over four weeks.
Course coordination: Boelo Schuur, b.schuur[at]utwente.nl
Course information
VENUE: Online, MS Teams will be used.
DATES: 10,18,24, 31 MARCH 2021
COSTS: For PhD-students and PDEng students from the OSPT-universities participation is free, as well as for members of ISPT.
REGISTRATION: via email to Yvonne Bruggert (y.c.h.bruggert-terhuurne[at]utwente.nl), please mention – registration OSPT course MAS – in the topic line of your email.
Teachers
Boelo Schuur (University of Twente): liquid-liquid extraction, case studies
Gerrit Westhoff (Friesland Campina): crystallization
Wiebe de Vos (University of Twente): membrane separations
Michel Eppink (Byondis, Wageningen University): adsorption and chromatography