Imagine it is 2042, the energy transition is in full swing. Offshore windfarms are supplying green electricity which is used to power households, industrial sites and to produce green hydrogen. Flexible grids and operating systems have been designed to support peaks in supply and demand.
The future energy system is based on renewable power, bringing about new challenges to be tackled today, in 2021. Important decisions need to be made on how the complex future energy grid, connected power supply and industrial electrification can be implemented and operated. ​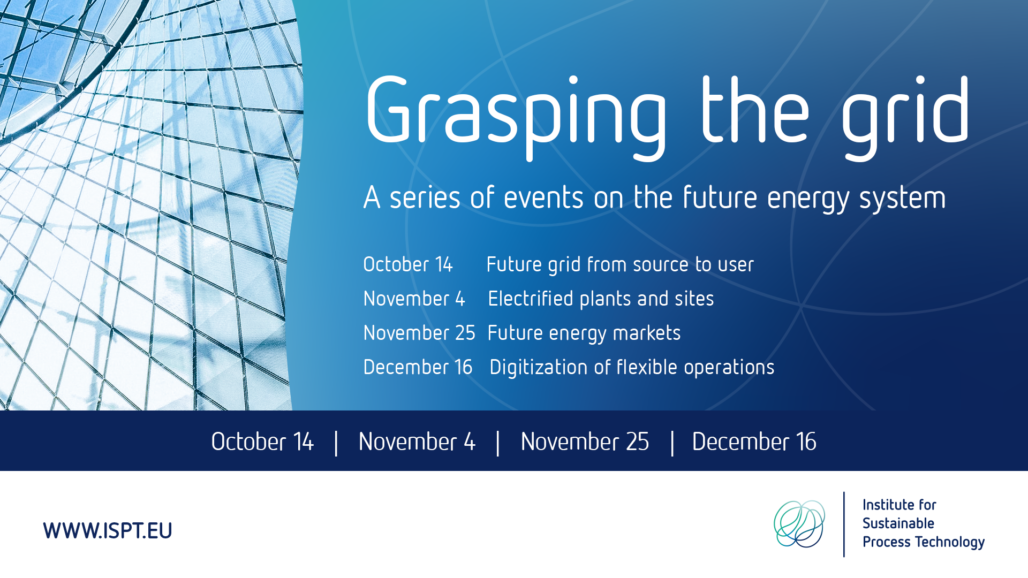 Let's jointly develop new and highly needed integral insights of requirements and capabilities of a future power grid and an electrified industry sector in a novel energy system!
ISPT organizes the Grasping the Grid knowledge exchange sessions. We bring together stakeholders along the chain of power production, transport, storage and use that drive innovation in a CO2-neutral future energy system and look at it from all different perspectives.
Large-scale electricity generation and electrically driven processes bring new dynamics across the chain from electricity generation to use. Digitization is an important enabler in this transition. Digital technologies such as data-driven models provide insights in system interactions and can be used for optimization of industrial sites. Opportunities, challenges and needs for the digitization of flexible operations are addressed in the final event of the Grasping the Grid series.
Speakers
Program
09:00 – Welcome and recap by Andreas ten Cate (ISPT)
09:10 – Introduction to ISPT Industry 4.0 program by John Harinck (ISPT)
09:20 – Flexible process operations by Bart de Groot (Siemens Process Systems Engineering)
As the share of wind and solar PV in our energy supply increases, so does the variability and intermittency of supply. Also, the Netherlands is weaning itself off natural gas, increasing its reliance on the same renewable electrical power for domestic purposes. This is likely to lead to variations in energy prices, providing clear incentives to putting in place appropriate buffer capacity. Opportunities exist for the process industries to absorb some of the variations in energy supply, thereby itself benefiting from market dynamics. Since many large-scale facilities are designed to run at a predictable constant load, this would imply a significant change from the current modus operandi. This requires careful consideration of physical process behaviour, transient effects, and the impact on process performance, product quality and safety. Digital design and real-time operations decision support tools for process systems can play an important role in coming up with an optimal allocation of risk, give real-time insights to operators, and provide reassurance to all partners along the energy chain.

09:45 – How energy, money and information flows are transforming in the new sustainable energy system by Michiel Kuiper (Energy21)
10:10 – Break
10:20 – Delivering net zero savings faster by Arturo Banderas Fuhrmann (Siemens)
10:45 – Data sharing in the energy value chain by Gerard van der Hoeven (iSHARE)
11:10 – Break
11:15 – Break-out-sessions
11:45 – Wrap-up and closure by Andreas ten Cate & John Harinck (ISPT)
October 14: Future grid form source to user
The 1st session was engaging and a big succes: a jam session of ideas.
November 4: Electrified plants and sites
In our second event we talked about an electrified future. We took a closer look at how renewable power can be integrated in industrial sites and plants that transform from fossil-driven to carbon-emission-free. For more information, please contact andreas.tencate@ispt.eu.
November 25: Future energy markets
In a growing renewable-energy system the economics are determined by market design. The 3rd event will evaluate what a future flexible energy market should look like and how it affects the operation of the industry. For more information, please contact andreas.tencate@ispt.eu.
Speakers