9h00 to 12h00 (CET) – online – October 14 | November 4 | November 25 | December 16
Imagine it is 2042, the energy transition is in full swing. Offshore windfarms are supplying green electricity which is used to power households, industrial sites and to produce green hydrogen. Flexible grids and operating systems have been designed to support peaks in supply and demand.
The future energy system is based on renewable power, bringing about new challenges to be tackled today, in 2021. Important decisions need to be made on how the complex future energy grid, connected power supply and industrial electrification can be implemented and operated . ​
ISPT organizes the Grasping the Grid knowledge exchange sessions. We bring together stakeholders along the chain of power production, transport, storage and use that drive innovation in a CO2-neutral future energy system and look at it from all different perspectives.
Let's jointly develop new and highly needed integral insights of requirements and capabilities of a future power grid and an electrified industry sector in a novel energy system!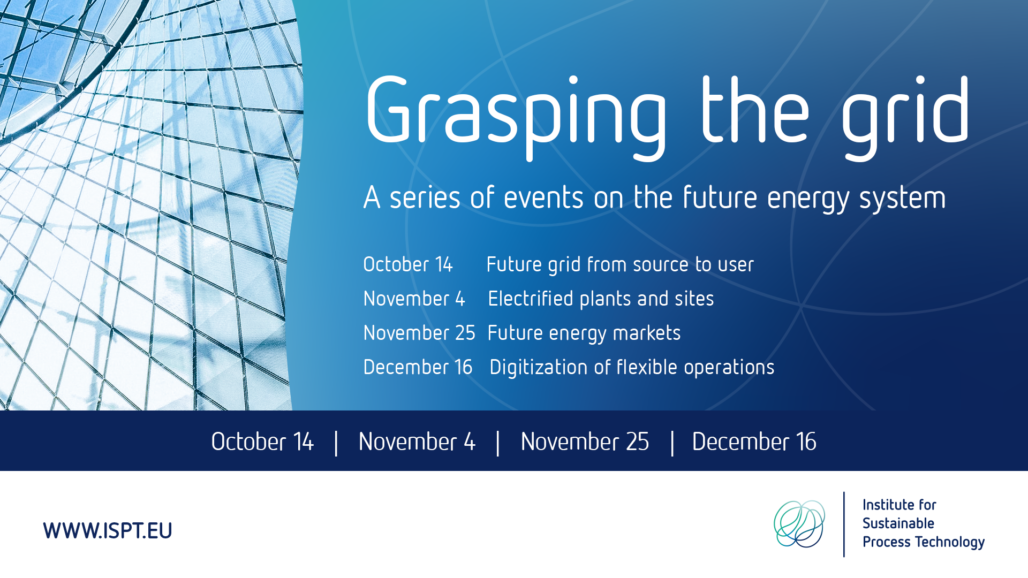 October 14: Future grid from source to user
A future HV grid will connect many high-power assets: windfarms, hydrogen plants, chemical industries, but also batteries and green powerplants. How is this system going to operate and how are new power production, consumption and storage facilities going to interact on the grid when the scale of renewable power production grows to many gigawatts? In this first session, we will start from the roadmap for industrial electrification, presented by Rob Kreiter from TKI Energie and Industrie and then look at it from different viewpoints – With Feikje Wittermans (VOPAK), Rob Kreiter (TKI Energie & Industrie) and Andreas ten Cate (ISPT) and more speakers to be announced soon.
November 4: Electrified plants and sites
In an electrified future, plants and sites will have to deal with a system with variable power supply. In this session we take a closer look at how renewable power can be integrated in industrial sites and plants that transform from fossil-driven to carbon-emission-free. Dick Weiffenbach from Netbeheer Nederland will kick this session off with a vision of how the grid operator looks at industrial transformation. Randolf Weterings will then take us to the Port of Rotterdam industrial region and share his viewpoint of what happens on the ground when industrial electrification really kicks in. In follow-up presentations then viewpoints from the power electronics sector, the industry and the grid operator are discussed. With Dick Weiffenbach (Netbeheer Nederland), Randolf Wetering (Port of Rotterdam), Kees Biesheuvel (DOW), Aaldrik Haaier (Water & Energy Solutions) and Heleen Groenenberg (Tennet).
November 25: Future energy markets
In a growing renewable-energy system the economics are determined by market design. The third event will evaluate what a future flexible energy market should look like and how it affects the operation of the industry. In a future energy market the role of power procurement and operations as well as regulatory and legislative considerations are further explored. With Jeroen Tap (DOW) and Marco Rine (VDL), and more to follow.
December 16: Digitization of flexible operations
Large-scale electricity generation and electrically driven processes bring new dynamics across the chain from Large-scale electricity generation and electrically driven processes bring new dynamics across the chain from electricity generation to use. Digitization is an important enabler in this transition. Digital technologies such as data-driven models provide insights in system interactions and can be used for optimization of industrial sites. Opportunities, challenges and needs for the digitization of flexible operations are addressed in the final event of the Grasping the Grid series.