Op 2 maart van 14:00 – 15:30 uur gaan vier politici in debat over actuele onderwerpen op het gebied van water, energie en klimaat. Dit gebeurt onder leiding van onderzoeker en publicist Remco de Boer.
CCESG 2021 is an ideal platform for keeping up with advances and changes to a consistently morphing field.
Energie Nederland organiseert een reeks ontbijtsessies over het energiesysteem van de toekomst. Op 23 maart van 8.00 tot 11.00 uur staat het onderwerp 'een schone industrie in 2050' op het programma.
To take the scope, quality and impact of data collection, data analytics and data visualization to a new level in the process industry.
Incentive
Process-control,-monitoring and predictive maintenance are well-known concepts. However, their usage must be broadened and improved to realize the near-future energy transition goals, since they can reduce energy usage in existing processes by 5-25% and their usage is currently still limited.
Corporate sustainability is a convoluted performance indicator, embedded in constraints of economic performance and consistency of production. Losses in Key Performance Indicators (KPIs), such as environmental impact, often relate to operational process anomalies: deviations in the process from the Normal Operating Conditions that harm process performance. Multivariate Statistical Process Control may observe and even predict such operational faults, but currently mostly focuses on the KPI Quality predictions.
Operational process data may however also predict other KPIs for economy, sustainability and operational consistency. Disclosing the effect of process faults on different performance indicators will enable the operator to avoid high-value process faults, leveraging indicators of economic performance with environmental impact and operational consistency. The same disclosure allows management to associate performance losses to specific historical faults in process operation, enabling avoidance of expensive future faults through process innovation.
Objectives
The consortium aims to take the scope, quality and impact of data collection, data analytics and data visualization to a new level in the process industry. We want to use human-centered design methods and replicate and exploit the insights to practitioners and scientists.
Engineering Business Intelligence (EBI) will create a new digital method to detect how sub-optimal process operation measured within the process data, affects sustainability, quality and economic value of the process to provide input in mitigation and consequently leverage economics with environmental performance. This novel method will provide detailed insight into the effects of process anomalies, both incidental faults and expected drifts in routine operation (e.g. process fouling), on environmental, economic and consistency performance losses.
The disruptive, descriptive and predictive capabilities of such new technology may be implemented as a novel information source with a specific role for the workforce. This not only requires a technological transition, but also a transition throughout the organization in which the workforce internalizes the digital technologies in order to identify process failures. These new technical possibilities, fully internalized by the workforce, may considerably reduce the environmental impact of the process industry whilst maintaining economic and operational excellence, using already existing data streams. Engineering Business Intelligence (EBI) brings a Digital Operations and Management Assistant (DOMA) to the process industry that will predict and thereby reduce the environmental impact of process faults within economically (more) profitable boundaries.
Activities
Investigating a novel context-based statistical identification and description of process anomalies that can be quantitatively explored, stored and associated with performance.
Investigating a method to develop and implement a Key Performance System that associates performance losses with process anomalies, on sustainability, economic performance and production consistency with a specific focus on environmental performance.
Investigating human-centered design methods to enable internalization of digital methods for value-based fault mitigation by and with the workforce. For this, we will also develop specific social guidelines to create the appropriate work floor/ boardroom boundary conditions for the digital solutions to have optimal effect.
Investigating the operational validity of the developed methods in industrial case studies, among others related to predictive cleaning of heat exchangers, as well as studying infrastructure approaches for integration of data collection, analytics and visualization into the existing industrial infrastructures.
Define Key Performance Indicator sets and visualization approaches that are intuitive, concise and complete.
Exploit results by using innovative dissemination approaches.
Results
This project results in a generic and novel digital technology, DOMA, that will be disseminated to practitioners and scientists. The industrial case studies illustrate the potential and diversity of the developed methods: for each relevant case study, we co-develop an integration policy and workable visualization methods for data, enabling their workforce to internalize the digital solution.
Our technology providers will innovate their value propositions and enlarge their customer and knowledge base. The industrial users can use the DOMA approaches and insights to improve their efficiency, lower costs and make new steps in their digital process routes.
Op de InnovatieExpo 2021 zie je wat ons land allemaal in huis heeft, word je creativiteit geprikkeld en ontmoet je toonaangevende spelers die jouw idee verder helpen.
Wat heeft u aan een EED energie-audit, wat zijn de alternatieven en hoe kunt u de EED verplichtingen aanpakken? U leert de ins en outs tijdens ons gratis webinar van 25 juni 2021.
Vakbeurs Energie is hét jaarlijkse zakelijke live evenement voor professioneel betrokkenen bij duurzame energieopwekking en -besparing.
From September 22th till 24th the Springtij Forum takes place. The forum is an influential meeting place for everyone committed to a sustainable future in the Netherlands.
The year is almost over. It was an unusual year in which we learned that our capabilities are beyond what we ever thought.
We can simultaniously work from home, teach our children and maintain contact with our network. Admittedly, it was not easy. But it has made us realize that we are capable of more than we sometimes think.
Due to this strange time, digitization has accelerated. We started with online meetings, and shortly afterwards we initiated the online panel discussion Industrie in Gesprek. Little did we know at the time that we would be hosting many more major events later this year – all fully online.
The annual ISPT Conference, the GigaWatt webinar and the NPS17 webinar series are a few examples of how we have been able to connect with you, our network. We really enjoyed that and we want to thank you for your involvement. We hope to continue this contact in 2021 and hopefully soon there will be opportunities to see each other in person once again.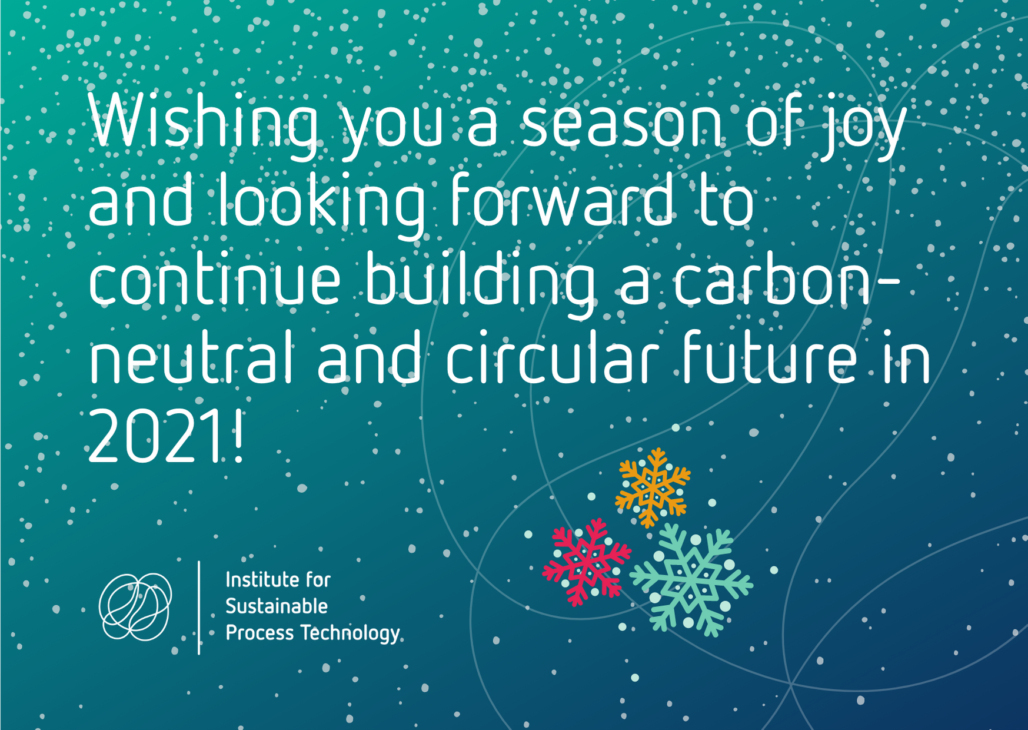 Overview
Due to covid-19 the Netherlands Process Technology Symposium, that was to be held at the TU Delft this year and organized by TU Delft with support of ISPT, had to be postponed to 2021. But since climate change does not wait, the event is replaced by a series of four webinars in November with the overarching theme of 'Sustaining the Future'.
Explore the webinars
The ACHEMA World Forum for the Process Industries is the driving force and groundbreaker for the international process industries and their suppliers.
ISPT Conference 2020 session on industrial processes and societal ecosystems
What is the role of the industry in the current society under transition? Enabler, innovator, driver of transition, source of the problem or solution to the problem?
Carolien Gehrels was clear on this one: 'Let's not forget that the Dutch industry is the engine of our economy. We have strong captains of industry who are very aware of their responsibilities to create a more sustainable industry. Industry is part of the solution, not the problem and we can share good examples of that.'
System integration is key
Andreas ten Cate, Program Director System Integration at ISPT, agreed: 'We need to comprehend what the industry means for society, what it actually takes to make things, and how to do that in a sustainable way.' According to Ten Cate system integration is the key to everything. 'The start of everything is a transition of power supply. For that industry will benefit from decision support tools to gain insight in the impact of their decisions, on their own company, on the region, on the country and even globally.'
The role of data
To provide such tools, data are needed. Frans van den Akker, ISPT Program Director Industry 4.0, Social Acceptance and PTTP, added: 'In the new infrastructure for a sustainable industry a data infrastructure should be included. Data enable us to integrate systems. And we need to use new data to base the new world upon.'
According to Gehrels the most important step to take – before the Dutch elections in March 2021 – is to make a list of no regrets with 10 decisions to be made by governments. For example: more room for technical engineering students at universities. Ten Cate stressed the importance of trial and error. 'Industry needs room for experimentation, to try things. The government should make this possible by regulations and financing.' Experimentation and sharing knowledge is already happening in learning communities. Van den Akker: 'For this transition we need well educated people and we need to learn together.'