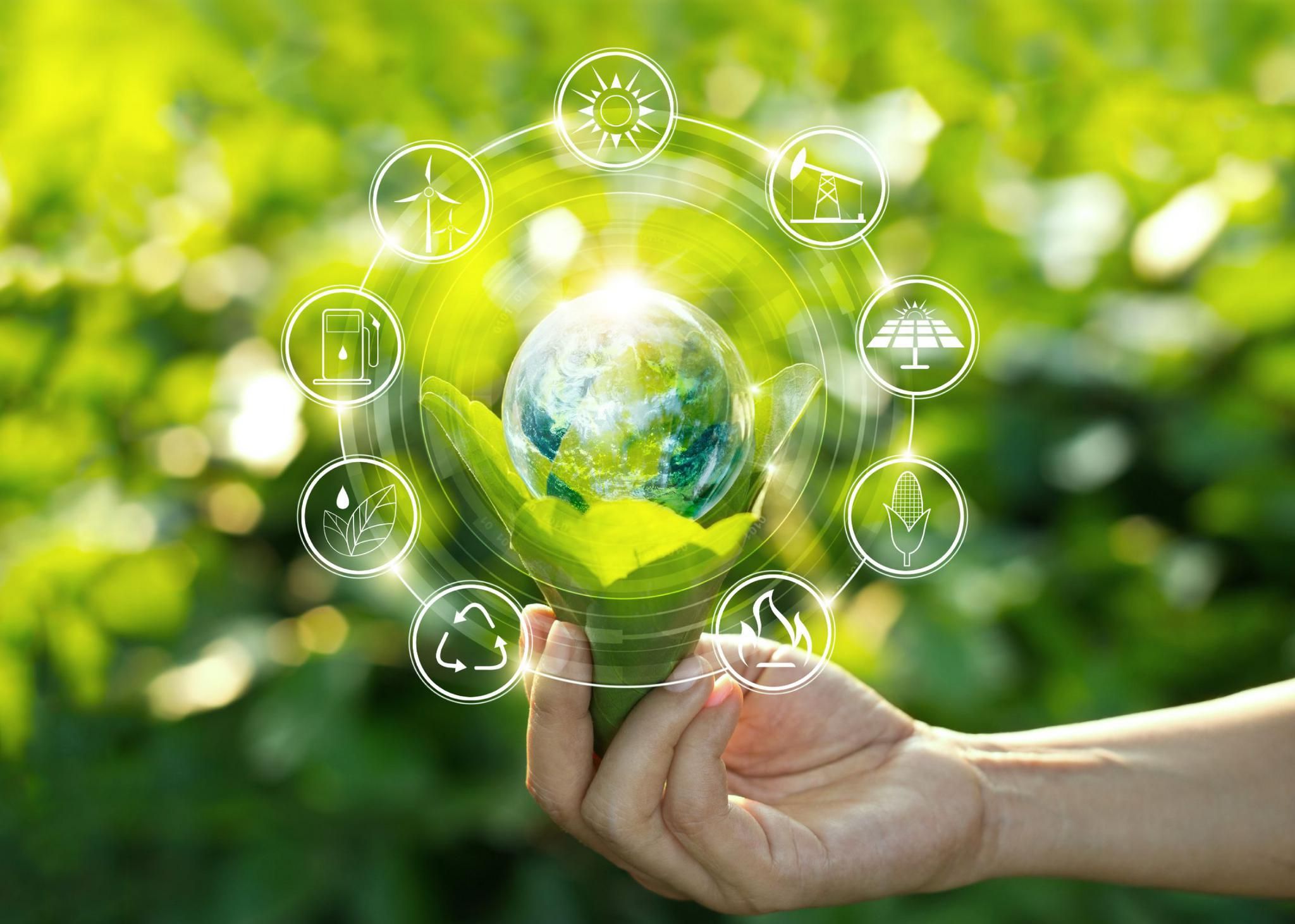 The Greener Manufacturing Show is the must-attend event for any sustainability focused company looking to design and manufacturer their products from more sustainable materials, limit and eliminate the use of toxic chemicals, and reduce the impact of their industrial and manufacturing processes on the environment and global climate change. 

Time for a live event? An event for the process engineering community in the Netherlands? Yes, we are proud to announce to you the next Netherlands Process Technology Symposium NPS17, where the needs, challenges, and solutions for a sustainable world and the role of process engineering will be conferred. 
 
NPS17 was postponed last year due to COVID-19. But we were glad to provide a series of webinars on the theme 'sustaining the future' which created a platform to connect and exchange ideas.  In line with this, the theme of NPS17 is 'Together more sustainable'. The goal of the conference is to highlight academic research in sustainable process technology and connect it with needs from society, SMEs, and industry. Therefore, this will be a great opportunity to share and absorb sustainable ideas by meeting process engineering enthusiasts from these sectors in the Netherlands and beyond. 
 
NPS17 will be held on April 4th and 5th 2022 on the campus of Delft University of Technology, Delft, The Netherlands. Save the dates now! 
 
More information will follow after the summer break. We hope to see you all in Delft in April 2022!  
To develop and promote hydrogen technology with Dutch companies, the collaborating parties in the HyScaling project have set clear goals. One of them is, that electrolysers have to be developed that perform better to produce green hydrogen. In addition, the production must also be more efficient and cheaper. The consortium wants to develop a good production chain for this. If all goes well, Dutch industry will be able to realize five gigawatts of electrolysis capacity for green hydrogen production by 2030, thanks in part to the RVO MOOI 2020 project HyScaling. This hydrogen will then also be 25 to 30% cheaper. The HyScaling project is part of ISPTs Hydrohub Innovation Program.
Enlarging hydrogen production
Given the climate targets and circularity challenge, Dutch industry must switch from fossil to sustainable energy. How can this be done? One of the possibilities is the use of hydrogen, produced with sustainably generated electricity in electrolyzers. These are systems that split water (H2O) into oxygen (02) and hydrogen gas (H2).
Key market position
Apart from a climate challenge that requires high investments, this is also a great opportunity for the Dutch manufacturing industry. The expectation is that the European electrolyzer market could reach an annual turnover of one billion euros by 2030. This market size is due to the European ambition to have 40 gigawatts of installed capacity by that year. One gigawatt is one million kilowatts, enough to supply a million households with electricity. HyScaling aims to capitalize on this market perspective and to offer the Dutch high-tech industry a key position in that market.
Underground storage and wind farms
The basis is there. The Netherlands has an extensive network for the distribution and underground storage of (hydrogen) gas. We are going to generate a lot of electricity in large wind farms at sea, while large-scale process industry is located close by on land. These industry companies can use the electricity generated to produce hydrogen. Decentralized clean energy hubs are also important, where sustainable energy can be linked to the local energy system with hydrogen as an energy buffer and product for various applications. Moreover, we have a very strong high-tech industry that can build the necessary electrolyzers.
Better, better, better
Cost reductions in all links of the production chain are already significantly improving the competitive position of green hydrogen. But the efficiency of conversion must improve even further. The production costs of the electrolyzers must be reduced even more. Subsequently, the robustness of the 'stacks' – stacked electrolysis cells as part of an electrolyzer – must be improved.
Scaling up production
If this can be done successfully, the Netherlands will have a formula for success. Then large-scale production of electrolyzers for domestic use as well as exports can be set-up. This is exactly what the HyScaling consortium of the Institute for Sustainable Process Technology (ISPT) and TNO with industry partners intends to do within a cohesive program.
"We are going to produce electrolysers with more efficient conversion and more robust stacks at lower cost"

Andreas ten Cate, program director system integration ISPT
The HyScaling consortium
The Hyscaling project is based on intensive collaboration. It consists of a very diverse, strong consortium of large companies, SMEs and start-ups with their own innovations. It stems from various Dutch regions, and from Germany and Belgium. The consortium has everything it takes to scale up unique knowledge and technology and bring it to the market.
The consortium consists of Teijin, MXPolymers, VDL Energy Systems, Veco, MTSA, TU/e, Brainport Development, BOM, SALD b.v., Hauzer, Ionbond, TU Delft, TNO, Zero Emission Fuels (ZEF), Delft IMP, Hydron Energy, Frames, SALD, VSL, FME, TNO, DotX Control Solutions, Danieli Corus, Greenberg Traurig, Institute for Sustainable Process Technology, Hanze Hogeschool-EnTranCe, VONK, Fraunhofer IPT and Borit.
For 12 years now the Springtij Forum has been bringing together politics, government, business, knowledge institutes and societal stakeholders to contribute to making the Netherlands more sustainable. It is a place where difficult themes are explored in depth, dialogue is entered into and a better understanding of 'the other' is created.
The Springtij organization recognizes the importance of the industry in the transition towards a sustainable society. The industry is already fully engaged in plans and initiatives relating to electrification, large-scale sustainable
generation of energy, hydrogen, CCS, infrastructure, system integration and chain cooperation. These plans are driven in particular by the climate problem and the raw materials transition. Also, many companies see their relationship with society changing and want to play a bigger role in solving societal problems.
With many plans, the question is not only what we are going to do, but also who is going to be involved in the
implementation and what is required to make them happen. This gives rise to questions and dilemmas that we would like to explore in more detail at Springtij.
Industry program at Springtij
Three sessions will focus on the question of how businesses, government, science and society see each other. What images do these different parties have of each other? What role can companies play in solving these problems? What are the mutual relationships and what can we do to improve them and move forward together?
A number of other sessions will address the following themes:
Governance in the energy transition: what does corporate collaboration and direction and systems integration in the energy transition entail? Who is involved, how do we fill in the details and what problem are we solving?
Biobased feedstock: dilemmas surrounding upscaling of biobased feedstock in chemistry. If the demand for biobased raw materials increases, the supply will focus on it. The economy teaches us that where there is a paying demand, there will be supply. In the past, this has often not gone well, resulting in a stalemate over biomass for energy. How can we make sure this time these 'raw materials' are produced sustainably and not at the expense of biodiversity and nature?
Legalization of climate policy: in a session we will map out the consequences of the court ruling in the Shell case and answer the question of whether and how this can contribute to solving the climate problem.
Producer Responsibility for Carbon: we are tackling CO2 emissions by reducing them, but at the same time we keep extracting fossil resources, much of which eventually ends up in the atmosphere. That can and must change. We are going to look at what solutions there are. We are working on instruments that make companies that take carbon 'out of the ground' responsible for ensuring that carbon does not end up in the atmosphere. This idea has been worked out with companies from the gas sector and there will be discussions on whether and how this can be applied more broadly.
The theme of circular economy will also be discussed in several sessions.
The perfect moment to start a dialogue
Springtij Forum 2021 will take place from 22 to 24 September on the island of Terschelling. With an expected 800 participants. For you as a representative of the industry, this is the perfect time to enter dialogue with 'the other'. It is a place where you can openly and confidentially share and test your vision and experience in an open and confidential manner. It is an opportunity to show the great ambitions of the industry to a wide audience. We would therefore like to invite you, just like ISPT and TKI E&I, to be present with some representatives. If you would like to contribute to the industry program, please contact organizer Hans Wiltink.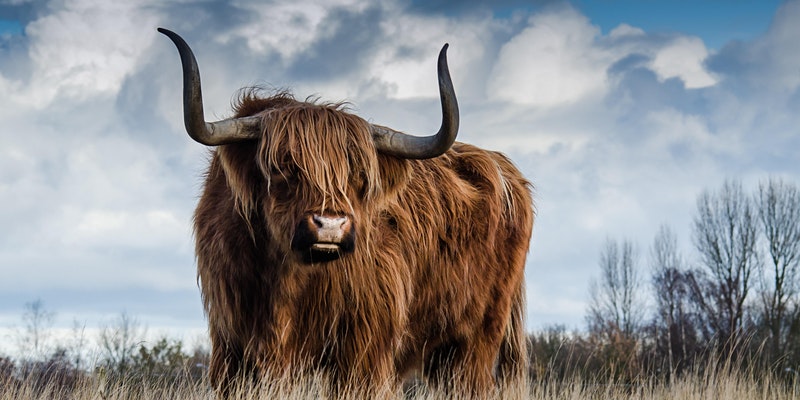 TopQuants – the networking organisation for quants by quants, organizes an online TopQuants Spring Event 2020 on Energy transition, climate change and finance. ISPT's Andreas ten Cate will talk about the complexity of the energy transition, and show how quant modelling can be used to support the decision-making process. 
Court cases against oil producers, negative electricity prices on sunny summer days, oversubscribed green bonds issuances: It has become common ground that energy and climate topics challenge business models in finance.
But what about quantitative models? How do they help us understand the energy transition? Despite the inherent uncertainty of long-term forecasts, which concrete steps can we take today to make financial models and risk management more future-proof?
This innovation project aims to develop two technological routes that lead to the electrification of the steam cracking process to enable the production of low-carbon olefins. The project is supported by the MOOI subsidy scheme.
The challenge
Currently, the production of olefins in large-scale cracking furnaces is a prominent source of carbon emissions. Within the Netherlands alone, the emissions for cracking are 5 million ton CO2 per year, out of which our industrial partners Shell and Dow emit 68%. In the current steam cracking process, oil gasses are incinerated to achieve the high temperatures that are required for the process. Electricity from renewable sources is an alternative opportunity to fuel this process. By fueling the process with green electricity rather than fossil fuels, it is possible to reach an emission free process.
Activities
Within e-Missi0n MOOI the consortium works together to research two different routes that lead to the electrification of the cracking process of olefins. The first route is the drop-in solution, where the current process is used as a basis, with the aim to replace the current burner with an electrical equivalent. The second route is the development of a completely new heating concept. The latter route is more complicated, but gives us the opportunity to get rid of, or dodge current process technological barriers
Results
With these two routes we aim to develop steam cracking technology that can convert the electrical energy towards heat, as well as an approach where we develop electrification technology that focuses on thermo-molecular physics. Simultaneously we aim to optimize the heat-integration of the oven section to reduce the energy footprint of the process.
The research done in the first route may lead to the construction and start-up of a demonstration plant in 2025, subject to investment support.
ISPT coordinates the project and investigates the requirements for system integration of preferred e-cracker concepts, connecting the dynamics of breakthrough technologies with those of utilities and infrastructure in the chemical industry, and the market through the energy transition.
The industry is in transition. How can current employees find their way in a changing environment? And what is expected of the future generation of smart employees? During Deltavisie we want to gain more insight into this through talks and discussions.
At ISPT we believe that radical change can be achieved through technological innovation and cooperation. An important part of our work is supporting and promoting SMEs and startups by connecting them to the industry. This with the goal to stimulate the breakthrough innovations that are desperately needed to transform to a CO2-neutral industry.
Funding opportunities
For SMEs and startups the funding opportunities are enormous, whereas the application procedures and expectations are often unclear. To aid SMEs and startups in the process we are organizing an exclusive online workshop on the 24th of June from 11:00 – 12:00. During the workshop we will provide hands-on guidance on grant schemes and successful applications, regulations and subsidies. Experts Tjeerd Jongsma (ISPT) and Rob Kreiter (TKI) will be present for a discussion about expectations from grant providers, the ISPT network and the TKI.
How can I register?
Send an email to Dewi Mooij at dewi.mooij@ispt.eu to register. You will receive a link to participate on Wednesday June 23 the latest.
Sign up before June 18. This is a small-scale webinar and have set a maximum of 30 participants. Participation in the workshop is free of charge. No-shows are not appreciated.
ADCHEM 2021 will bring together researchers and practitioners from all over the world, to facilitate discussions of recent developments in the control and modeling of chemical, biomedical, and other process systems.
Reducing CO2 emissions through integral innovation of heat driven processes
In the agrofood, paper and specialty chemicals industries 40 to 80 % of CO2 emissions is related to heat driven processes. By developing and implementing an innovative process design for dewatering, drying and heat integration, the recently granted industry driven innovation program The Heat is On will reduce fossil fuel consumption and increase energy efficiency. This leads to more than 3,0Mton CO2-reduction in 2030.
Within The Heat Is On partners in the agrofood, paper and specialty chemical industries collaborate to increase process efficiency through optimizing separation and drying processes and to increase the heat upgrading potential. Digital twinning, making an exact digital copy of a process, is used for smart process optimization and control. The Heat Is On has been developed with industrial partners, SMEs, research institutes and universities, and is coordinated by the Institute for Sustainable Process Technology (ISPT).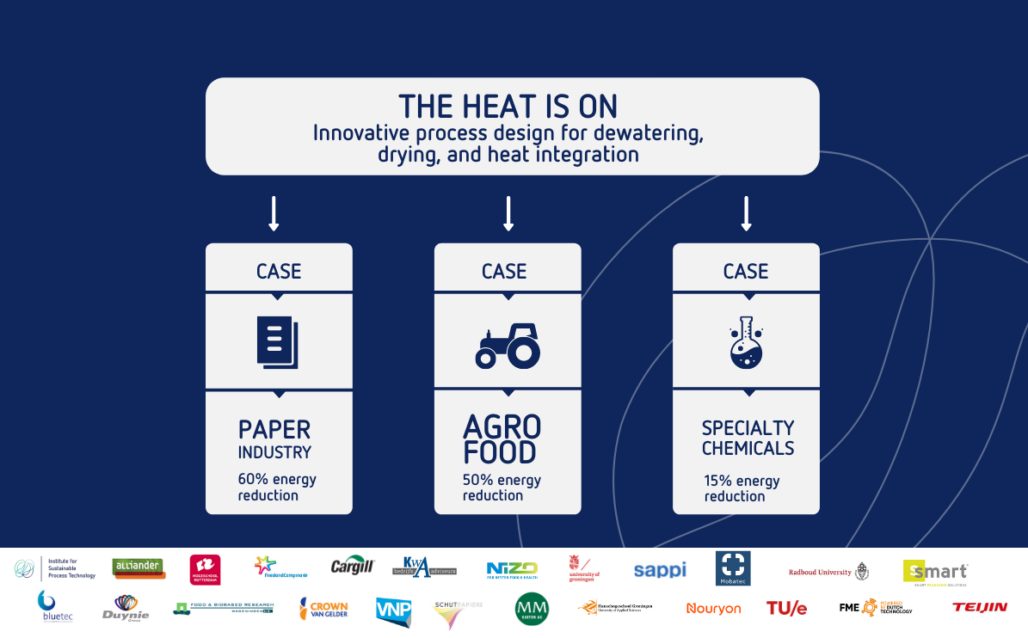 Many innovative technologies for energy reductions in heat driven processes have been developed on lab or small pilot scale. However, due to the complexity and cohesion of processes in companies, translation to industrial application remains difficult. This project aims to accelerate the application of innovations through a case-based approach for integration into the existing process industry.
The Heat Is On will especially look at a combination of the following efforts:
Efficient dewatering and drying using high solids technologies that result in 10% less water to be evaporated/dried and subsequent energy reduction.
Combined heat integration and drying innovation concepts that result in 50% less fossil fuel consumption for drying.
Smart manufacturing solutions that result in 10% energy savings due to improved process control.
The Heat is On is supported by the Multi-year Mission-driven Innovation Program 7: A CO2-free industrial heat system.
Energy reductions in heat driven processes through integration of drying technology, ICT, heat pumps and other technologies.
Motive
For industries like agrofood, paper and specialty chemicals, some 40-80% of the CO2 emissions is related to the energy that is needed for heat driven processes like separation and drying. Heat is now mainly generated from fossil fuels and cascades through processes from high to low temperature. Heat integration is a balancing act between heat generation and use/reuse. As a result, a small change to achieve more energy efficiency in one part of the process, can have substantial effects.
Actions
In The Heat is On parallel efforts are being be made to increase process efficiency in unit operations, through efficient separation and drying processes that decrease the amount of water to be evaporated and increase the heat upgrading potential and smart process optimisation and control through digital twins. THIO applies a case driven system approach integrating these three innovations to achieve a significant savings in the amount of heat needed at the industry.
To obtain an optimal integral approach, the project innovations are organized from two perspectives:
Increasing the technological readiness levels: Technology development teams develop required individual dewatering and drying technologies, methods and concepts needed.
Increasing the innovation readiness levels: Case development teams focus on the realization of the impact at the industry partners, by integration of the technological solutions in the total heat reduction plan, ensuring appropriate business models and energy infrastructure, trained personnel, process control, etc.
This integrated system is supported and accelerated by a third perspective:
Increasing the operational readiness levels: an Exploitation and impact team aims to accelerate the uptake and implementation of insights from the project by professionals and students by an online learning environment and organization of Learning Communities.
Impact
Expected impact: 30% energy reduction in 2030 on average in the three industry sectors (paper, agrofood and specialty chemicals): >3,0 Mton CO2 reduction in 2030 when implemented by all.
The Heat Is On aims to have the following impact on the technical development:
Efficient dewatering and drying using high solids technologies that result in 10% less water to be evaporated/dried and subsequent energy reduction.
Combined heat integration and drying innovations concepts that result in 50% less fossil fuel consumption for drying.
Smart manufacturing solutions that result in 10% energy savings due to improved process control.
Through these technologies, we aim to make the following impact on three cases in the industry.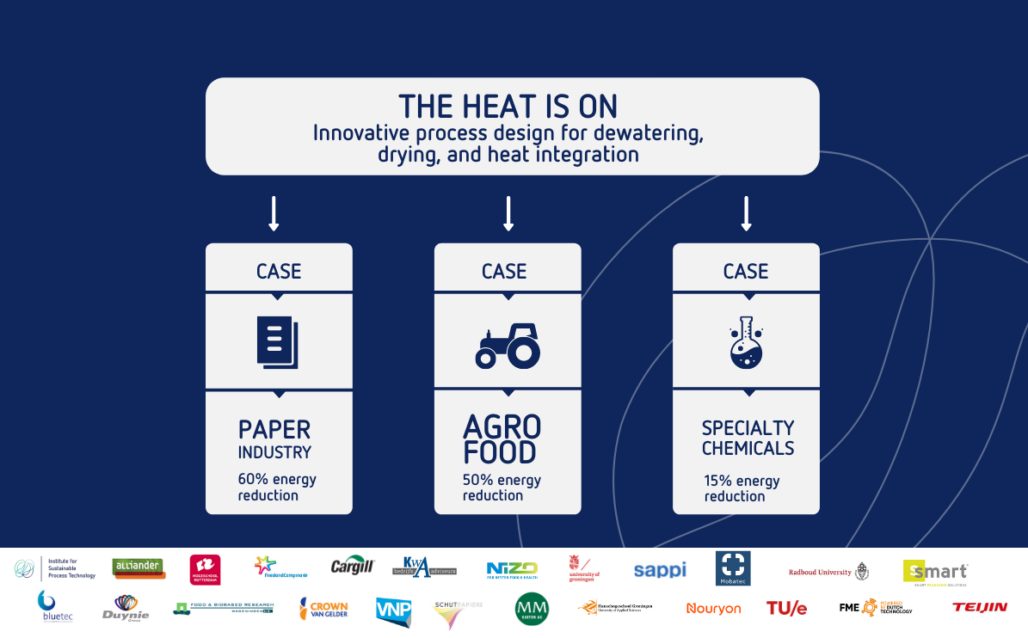 An amazing project team
This project covers a broad range of stakeholders with representatives from the industry and input from scientists and researchers.
Participating companies with heat driven processes from the paper, agrofood and specialty chemicals industry.
Knowledge, research and system integration partners develop the technological solutions and convincing cases for the industry (e.g. finding, designing & testing innovations).
Component / machine / energy suppliers.
Industry organizations.
Replacing large-scale high-temperature cracking processes with electrically driven thermocatalytic dehydrogenation of alkanes to alkenes.
Achieving CO2 emissions targets
Satisfying the ever-increasing global demand for energy and materials, while achieving the ambitious CO2 emissions targets of the EU for 2030 on climate change, requires the utilization of renewable resources (e.g. wind, solar) in the fuels and chemical industries.
The German-Dutch Amazing project has set itself the task of making the cracking processes employed to produce building blocks for plastics manufacturing more sustainable. By replacing large-scale high-temperature cracking processes (e.g., steam cracking of naphtha and/or ethane) driven by fossil-based fuels with renewable electricity to conduct thermocatalytic dehydrogenation of alkanes to chemical building blocks (alkenes), the CO2 emissions associated with energy-intensive cracking reactions can be reduced significantly.
Dehydrogenation of alkanes to alkenes
To achieve the project goals, the Amazing project team will design and fabricate proton conducting ceramic membranes and catalytic coatings for the dehydrogenation of alkanes to alkenes. The resulting membranes will be employed to perform hydrogen (proton) transport and thermal stability studies to understand the interplay between the membrane topology structure and chemical composition with the proton transport mechanisms, thermo-mechanical stability and possible interaction between the catalyst and the ceramic proton conducting membrane. The most promising membranes and catalyst coatings will be selected for an exploratory study on 3D manufacturing of the self-supported membranes.
By leveraging computation modeling of the 3D-printing process and the thermo-mechanical properties of the ceramic membrane it will be possible to identify possible mechanisms of failure during fabrication and operation. The feedback from this analysis will be critical to optimize the design and composition of the membranes. The performance of the membranes will be evaluated for the conversion of light alkanes to alkenes on a bimetallic catalyst supported on the ceramic membrane to create an integrated ceramic membrane reactor.
Utilization of catalytic membrane reactors
Finally, Amazing will explore the fabrication of a new type of membrane that is capable of conducting only protons in which the proton transport is driven by an electrical field. These membranes will be tested for the separation of hydrogen from the reaction mixture. The results from these activities will lay down the foundations for the utilization of catalytic membrane reactors, proton conducting membranes and 3D printing technology to create multi-material micro-/ macro-structured membrane systems for the production of chemicals using renewable electricity.
From alkanes to alkenes with electrical heating
The Amazing project will deliver a unique family of self-supported catalytic ceramic membranes and the technical feasibility of using 3D printing technology for the manufacturing of ceramic membranes with well-controlled chemistry and topology. This will allow the development of a membrane-stack reactor for the conversion of alkanes to alkenes using electrical heating. Furthermore, this project will provide the first examples of 3D printed proton conducting membranes for electrically driven hydrogen separation.