Op 2 maart van 14:00 – 15:30 uur gaan vier politici in debat over actuele onderwerpen op het gebied van water, energie en klimaat. Dit gebeurt onder leiding van onderzoeker en publicist Remco de Boer.
CCESG 2021 is an ideal platform for keeping up with advances and changes to a consistently morphing field.
Energie Nederland organiseert een reeks ontbijtsessies over het energiesysteem van de toekomst. Op 23 maart van 8.00 tot 11.00 uur staat het onderwerp 'een schone industrie in 2050' op het programma.
Lessons learned at the first session of the Circular Plastics Conference 2021
Last week Thursday the first session of the Circular Plastics Conference 2021 took place. Over 100 participants gathered to set the stage for what is to come: the path forward to realize a circular plastic society.
It is of utmost importance that as a society we rethink plastic: it is far too valuable to be treated as waste. It should serve as the feedstock for circularity. Boosting circularity in plastics on an industrial scale is the mission of the Circular Plastics Initiative. By bringing together relevant parties working on circular plastics at the Circular Plastics Conference 2021, the Circular Plastics Initiative aims to unite the community and map the next steps to be taken in realizing this mission.
Setting the stage: starting principles
The Circular Plastics Conference 2021 offers a series of online events, diving deeper into specific subjects. At the first session representatives of the academic world, government and the business world talked about the progress and hurdles they experience and what they need from each other. Dr. Kestutis Sadauskas, Director Circular Economy of the European Commission's DG Environment, Prof. Kim Ragaert, Circular Plastics professor and Associate Professor Ghent University and Dr. Gerald Rebitzer, Director Sustainability at Amcor gave clear presentations what is done in their field of work and how this should move on. A vivid discussion with the moderator followed, involving the answers the public gave on poll questions and direct questions of participants. A panel discussion concluded this key-note session.
It was striking that panel members and audience all agreed on the following starting principles:
It is necessary to make plastics fully circular. We are not moving fast enough: we should talk less and act more.
This can only be reached through dedicated collaboration of government, industry and research.
We must move to fewer different types of plastic. This is a though challenge, as every type of plastic offers its own unique set of advantages and applications.
The big players throughout the value chain need to form a coalition of the willing, take on leadership and work on pre-competitive collaborations.
Other key elements are money (especially for waste collection), harmonization and good standards
Speakers at the first session of the Circular Plastics Conference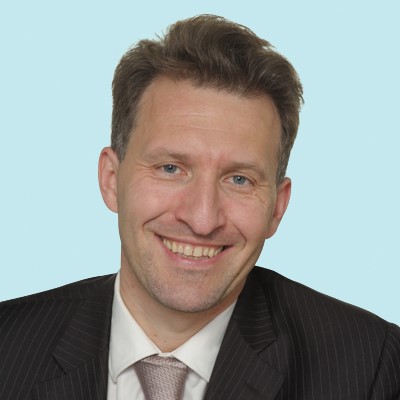 Dr. Kestutis Sadauskas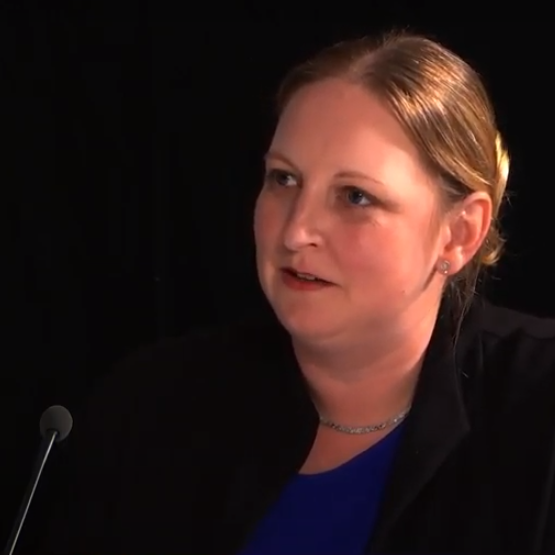 Prof. Kim Ragaert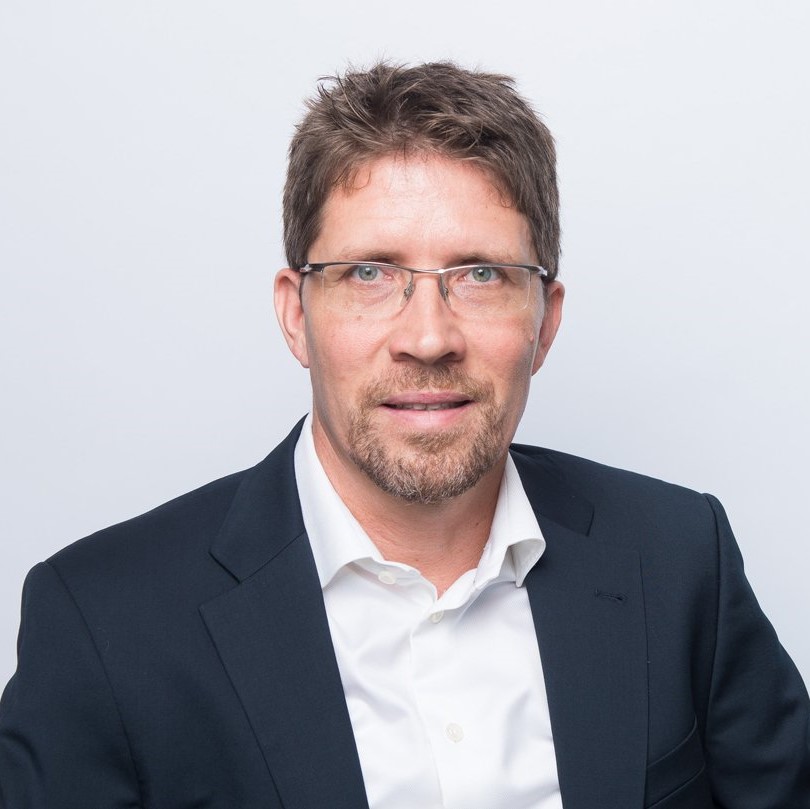 Dr. Gerald Rebitzer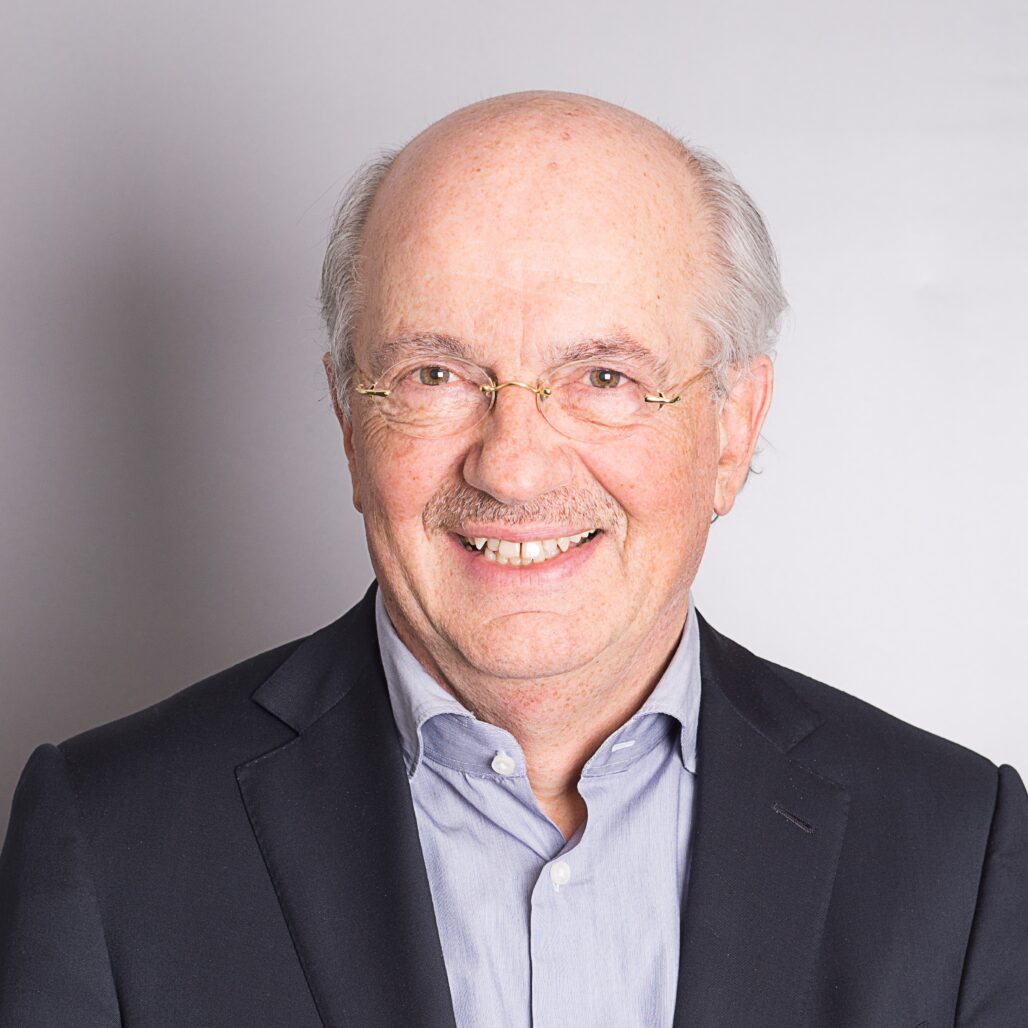 Dr. Emmo Meijer
Launch of the National Platform Plastics Recyling
The most important take-away is that not technology, but collaboration is the big hurdle to take. For example, design for recycling only makes sense when the entire value chain is set up to recycle different types of plastic.
As the session came to this conclusion, it was just the right time to welcome Emmo Meijer, Chairman of the TopSector Chemistry in The Netherlands, on the digital stage. Dr. Meijer took the opportunity to officially announce the launch of the National Platform Plastics Recycling, a national point of contact, coordination and communication for public-private partnerships within plastics recycling. By mapping the white spots in the current state of the art, new ground-breaking collaborations and an acceleration of scaling up and implementation are within reach throughout the chain. In this Platform the Circular Plastics Initiative will be active by taking on its role in organizing, managing and coordinating projects in a programmatic way.
Don't miss out: upcoming sessions and networking at the Circular Plastics Conference 2021
Up until May 20 the Circular Plastics Conference will dive deeper into the different challenges we face in realizing circularity in plastics, with sessions organized by CEFLEX, PlasticsEurope, TNO and experts from our community. As the Conference is set in Networkapp, it also offers participants the possibility to network with each other, engage in break-out sessions set up in a network carroussel, visit the digital exhibition and collaborate in formulating the steps forward.
My name is Mohamed Hany Abokersh and I am a Sustainability Analyst holding a PhD in Sustainable Energy and Environmental Engineering from Universitat Rovira i Virgili as a part of Marie-Sklodowska Curie call. Currently, I'm a research scientist in SUSCAPE group at Universitat Rovira i Virgili in collaboration with TNO. Prior to my current work, I was an energy analyst for the renewable energy market in the middle east at Fraunhofer ISE. Professionally I am experienced with hands-on sustainable energy research work at micro and macro scales with knowledge in machine learning, operational research, techno-economic analysis, and Life cycle assessment. I recently started as a PhD student in ISPT's project Towards improved circularity of polyolefin-based packaging which is the first project of the Circular Plastics Initiative.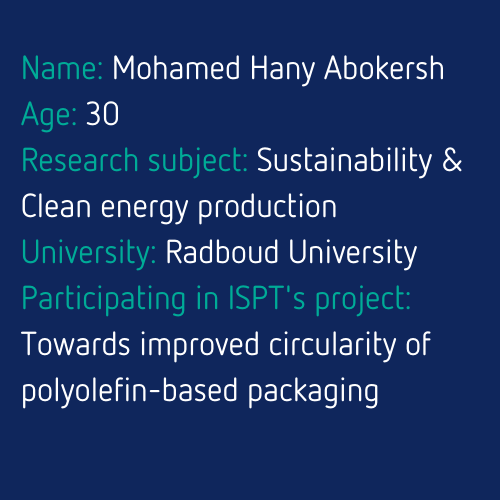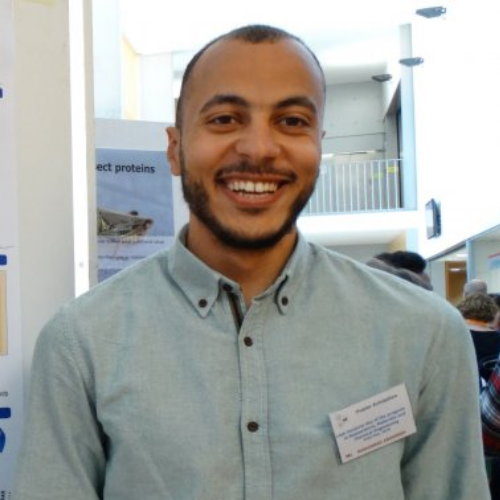 My knowledge regarding the project starts from my working period in TNO, where I had the chance to attend a couple seminars regarding the circular economy of municipal waste at TU Delft which contributed to developing clear ideas about the next steps in my career. In an opening call from Radboud University for a Circular Economy Analyst to work in this project, I believed my previous experience and knowledge would perfectly match the project objectives. In addition, the project would be a great asset in building my career as a Sustainability Analyst.
Regarding my expectation for the coming years, I believe the knowledge and experience of working in this project can be utilized as way to improve the sustainability position of different plastic manufactures shortly. Furthermore, this project and the Circular Plastics Initiative that is it part of, has the possibility to improve the recycling situation in different countries in Europe while attempting the proposed technologies to my original country (Egypt).
Modeling and optimization of renewable energy systems
Aligning with the ambitious EU 2030 climate and energy package for cutting the greenhouse emissions and replacing conventional heat sources through the presence of renewable energy share to achieve net-zero-energy community, the stakeholders at different sectors are facing several technical, economic and environmental issues to meet the EU targets in the near future. In my research, I'm tackling these challenges through using modeling and optimization of renewable energy systems incorporated with machine learning and data analysis to develop Computer-Aided Process Engineering (CAPE) tools. These tools would help in addressing the stakeholder's challenges, thus contributing to the transition towards a more sustainable future.
Plastic industry
The plastic industry is an important sector of the European economy. The European plastics demand reached above 50 million tonnes in 2018, with packaging, building and construction, and automotive markets being the most dominant ones for plastics. The biggest source of plastic waste is packaging, and consequently, it makes up 62% of all the collected plastic waste in Europe. In this context, the EU proposes a new target of 55% recycling for plastic packaging waste by 2030.
This target will push the European plastics manufacturers to ensure high rates of re-use in the near future. Thus, I found this subject of working in plastic circularity will be a natural path toward developing my career as substantiality analyst since it will serve the current market demand. Furthermore, it will give me an opportunity to contribute towards the EU targets to build a sustainable future for next generations.
Source of inspiration
My country Egypt has a huge plastic waste problem, with at least 970,000 tons of plastic waste produced annually. The plastic pollution primarily affects tourism, maritime trade and fisheries sectors, which are important to the Egyptian economy. More worrisome; however, seabirds and many marine species are highly vulnerable to the waste, posing both an ecological and human threat, given that fish that eat harmful plastics are consumed by humans. During my master studies at the American University in Cairo, I got an opportunity to volunteer at a governmental initiative to collect waste and clean up the Nile River from plastics. Within the first week of working, I was so surprised. The Nile river is extremely polluted with plastics, especially due to the limited efficient recycling techniques in the Egyptian market. Thus, I found that my participation in the Circular Plastic Initiative by the ISPT would be a great chance to contribute toward improving the current situation.
Expectations
During the meetings at TU Delft, many researchers were referring to the ISPT efforts in improving the waste circularity situation in the Netherlands. Thus, I have thoroughly researched the organization and saw that the ISPT team is working at different projects to connect stakeholders across sectors and disciplines in a trust-based environment, to accelerate innovation and provide a driver for the sustainability transition. I found that the ISPT vision is very ambitious, and I am excited to have the opportunity to learn even more by joining the ISPT.
I am Liron Zada, I am a 38-year-old Postdoc at the Vrije Universiteit Amsterdam. I am married with three children, living in the Netherlands for more than 8 years. I recently started as a Postdoc in ISPT's project Towards improved circularity of polyolefin-based packaging which is the first project of the Circular Plastics Initiative. My research is about plastic sorting with Raman spectroscopy for recycling. The subject is aligned with my personal interests on one hand (environmental), and with my professional skills on the other (Raman techniques).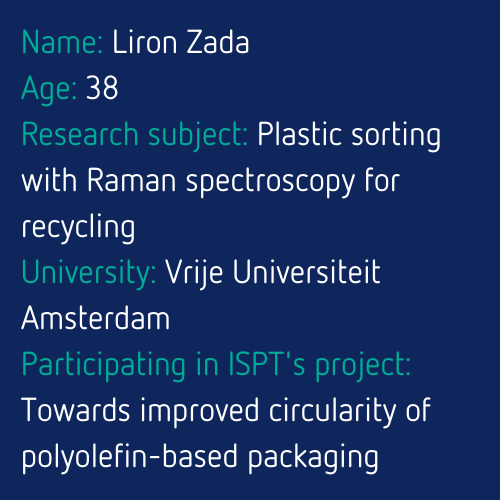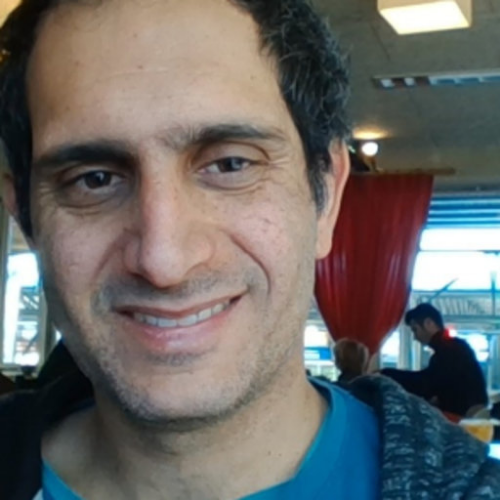 Microplastics detection
I am trained as a physicist focusing on (Raman related) applied spectroscopy and imaging techniques. A part of my PhD was dedicated to the development of microplastics detection methods in samples from the environment or in human tissue (histology slices) with stimulated Raman scattering microscopy.
Future ambitions
I intend to use deep UV Raman, since it presents some advantages over Raman in the visual spectrum, especially for industrial environment. Hopefully the instrument would provide additional information of the plastics in the stream such as if the plastics are layered. In addition, current limitations, such as the difficulty to identify colored plastics, should not apply for this method.
This is a postdoc project only for two years. The project was introduced to me by Freek Ariese, who is my PhD supervisor. So far, I am impressed by the ambitions and enthusiasm of the people I met. My ambitions in this project are to develop a Raman based sorting sensor which can deliver unique data over the sampled stream.
My name is Juraj Petrík, I am 26 years old, and my research topic is focused on the circularity of plastics and life cycle assessment (LCA). I was introduced to ISPT by my supervisors dr. Li Shen and prof. dr. Gert Jan Kramer. I have recently started working with ISPT as a PhD student in the project Towards improved circularity of polyolefin-based packaging which is the first project of the Circular Plastics Initiative.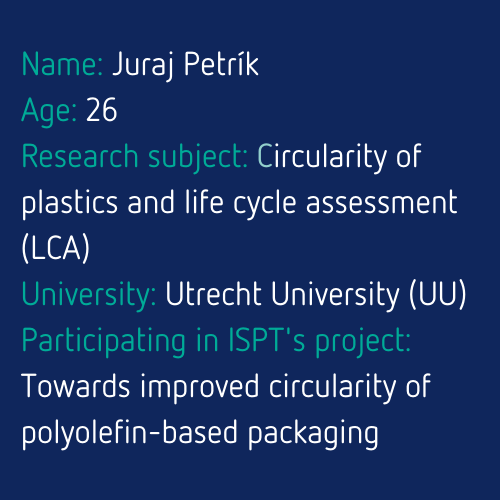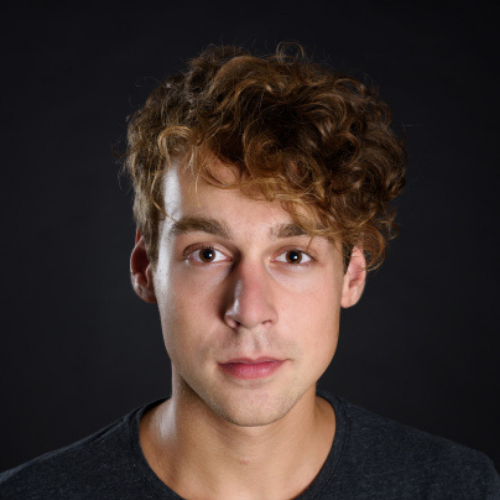 I am originally from Slovakia, but after high school I moved to Prague where I obtained my bachelor's degree in chemical engineering with a focus on nanotechnology and colloid chemistry at the University of Chemistry and Technology (UCT). After finishing my bachelor's degree, I decided to continue with a more sustainability-oriented master program, but still with a touch of chemistry and engineering. I started the master program Industrial Ecology, also at UCT Prague. During my studies, I was part of an exchange program and later also an internship at UU.
Influence
My study background in industrial ecology with strong emphasis on petrochemical industry together with my interest in this subject have naturally led me to study and research more about circular economy and circularity of materials, in particular plastics. During my exchange program at UU I took a course of Science and Technology in Sustainable Development. The course was taught by my current supervisor dr. Li Shen. Li has definitely influenced my academic path. Her course and lecturing style have raised in me an interest of environmental sustainability and life cycle assessment method.
Circularity of materials
Does 'circular' mean by default sustainable? How far are we from being circular? How can a circularity performance be effectively measured? These are the questions I try to address in my research. I work with several circularity metrics and methods such life cycle assessment (LCA) or material flow analysis (MFA) which I use to assess environmental sustainability of circular strategies as well as to assess how circular our society is in certain sectors. At this moment, my research is focused on a chemical recycling of polyolefin-based packaging.
Ambitions
Since last year, I have been working as a university lecturer in Energy & Resources group at Copernicus Institute of Sustainable Development at Utrecht University (UU). A few months ago, I was offered to participate in this project due my prior knowledge of the LCA method. Therefore, my job profile has changed to a combination of research and education. My ambitions for the coming years are to obtain a basic teaching qualification for higher education and to do valuable research during my PhD in the field of circular economy.
Op de InnovatieExpo 2021 zie je wat ons land allemaal in huis heeft, word je creativiteit geprikkeld en ontmoet je toonaangevende spelers die jouw idee verder helpen.
Wat heeft u aan een EED energie-audit, wat zijn de alternatieven en hoe kunt u de EED verplichtingen aanpakken? U leert de ins en outs tijdens ons gratis webinar van 25 juni 2021.
From September 22th till 24th the Springtij Forum takes place. The forum is an influential meeting place for everyone committed to a sustainable future in the Netherlands.
Accelerating decarbonisation in hard to abate sectors. Roadmaps, pilot project intel and cross-sector partnerships.
For the 2021 European edition, the conference will explore the on-going & future CO2 utilisation projects, the importance of creating partnership through industrial clusters, best practices of LCAs, as well as the policy & regulations that can help strengthen the industry and the latest technology developments.