Op 2 maart van 14:00 – 15:30 uur gaan vier politici in debat over actuele onderwerpen op het gebied van water, energie en klimaat. Dit gebeurt onder leiding van onderzoeker en publicist Remco de Boer.
CCESG 2021 is an ideal platform for keeping up with advances and changes to a consistently morphing field.
Energie Nederland organiseert een reeks ontbijtsessies over het energiesysteem van de toekomst. Op 23 maart van 8.00 tot 11.00 uur staat het onderwerp 'een schone industrie in 2050' op het programma.
Hoe verhouden zakelijk gewin en verduurzaming zich tot elkaar wanneer het gaat om ontwikkelingen in waterstof? Luister naar de meningen van  Floris van Foreest van Port of Amsterdam, René Schutte van Gasunie, Hyung-Ja de Zeeuw van de Rabobank en Sjoerd Delnooz van Kiwa tijdens deze Industrielinqs LIVE op 3 maart om 10.00 uur.
Vakbeurs Energie is hét jaarlijkse zakelijke live evenement voor professioneel betrokkenen bij duurzame energieopwekking en -besparing.
Accelerating decarbonisation in hard to abate sectors. Roadmaps, pilot project intel and cross-sector partnerships.
For the 2021 European edition, the conference will explore the on-going & future CO2 utilisation projects, the importance of creating partnership through industrial clusters, best practices of LCAs, as well as the policy & regulations that can help strengthen the industry and the latest technology developments.
The conference is one of the oldest and most established worldwide and has developed into a unique meeting place for the entire Carbon Capture & Utilisation (CCU) and Power-to-X industry and its customers.
The year is almost over. It was an unusual year in which we learned that our capabilities are beyond what we ever thought.
We can simultaniously work from home, teach our children and maintain contact with our network. Admittedly, it was not easy. But it has made us realize that we are capable of more than we sometimes think.
Due to this strange time, digitization has accelerated. We started with online meetings, and shortly afterwards we initiated the online panel discussion Industrie in Gesprek. Little did we know at the time that we would be hosting many more major events later this year – all fully online.
The annual ISPT Conference, the GigaWatt webinar and the NPS17 webinar series are a few examples of how we have been able to connect with you, our network. We really enjoyed that and we want to thank you for your involvement. We hope to continue this contact in 2021 and hopefully soon there will be opportunities to see each other in person once again.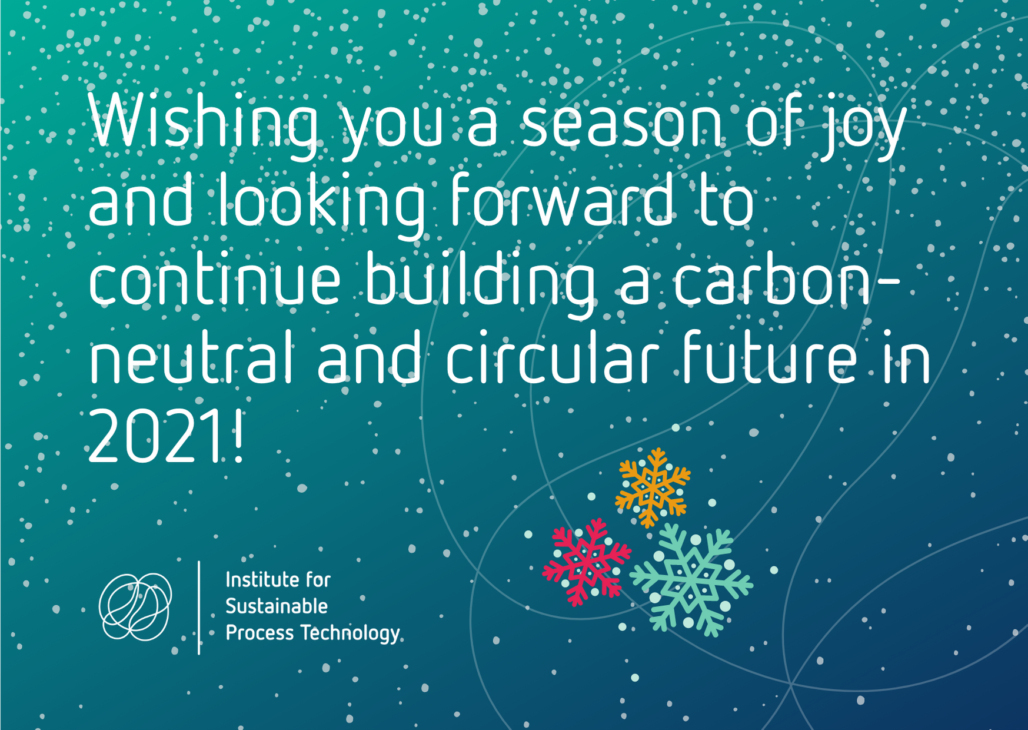 TKI Energy & Industry is developing a roadmap to give direction and speed to electrification in industry. What does electrification mean for large chemical complexes such as Chemelot? And what technologies are needed and what are the challenges? TKI Energy and Industry discussed this during the European Industry & Energy Summit on December 9.
The electrification roadmap is designed to help industry make the transition from fossil to renewable electric energy and eliminate CO2 emissions. Rob Kreiter, director of TKI Energy and Industry: 'The roadmap helps to outline the path to the climate goals of 2030 and 2050. The development of new technologies is of crucial importance.'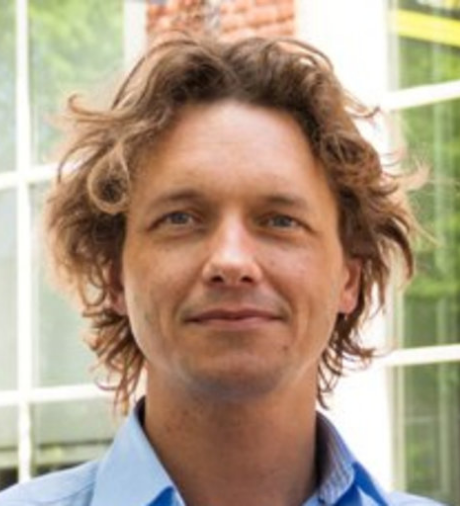 "'Many technologies are already available, including electric heat pumps, electric boilers and green hydrogen."


Sebastiaan Hers, TNO
More support mechanisms
The session during the second day summit on electrification of industry went deeper into the exact technology options and challenges that exist. From his position as a senior energy consultant at the TNO research institute, Sebastiaan Hers is daily working on promising technological innovations for the electrification of industry and realizing their potential. 'Many technologies are already available, including electric heat pumps, electric boilers and green hydrogen,' he said, 'but these innovations still need time to become suitable for large-scale use in industry.' Another challenge was highlighted by Hers during the session and concerns the volume of renewable electrical energy: this is currently too low and must grow in order to enable electrification of industry. The costs of sustainable electrical energy will also have to be reduced in the future. In addition, according to Hers, it is also necessary to strengthen the development of the infrastructure for electrification. In short, in Hers' words, 'more support mechanisms are needed to fully electrify industry.'
Electric crackers
Asked which relatively unknown technologies are expected to play a major role in electrification, Hers mentioned electric steam crackers. 'This technology is still new to companies and not yet fully developed. In order to realize electric steam cracking, various parties will have to work closely together and coordinate their actions. TNO tries to facilitate that process by gathering input from stakeholders and bringing them together. This way they can exchange ideas and arrive at a common vision.'
Chemelot has turned into a sustainable complex by 2050
After Hers' presentation, the focus shifted to Chemelot, a large chemical complex in Limburg where all kinds of products are made from natural gas, electricity and naphtha. René Slaghek, senior consultant at Chemelot-Brightsite: 'Chemelot is unfortunately one of the largest CO2 emitters in the Netherlands, but we believe that Chemelot will have turned into a sustainable complex by 2050.' The company wants to achieve this in two ways. Firstly, through the transition from fossil to sustainable raw materials, including sustainable molecules, sustainable hydrogen and sustainable or circular carbon.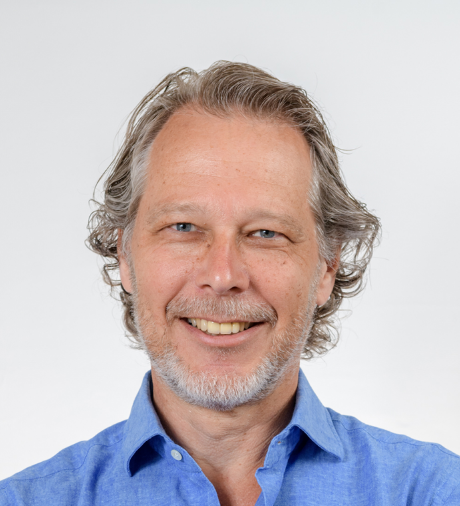 "The most interesting technological options for electrification at Chemelot are electric boilers, electric steam turbines and electric crackers and reformers."


René Slaghek
Costs of green electricity must be reduced
Second, through electrification. Slaghek: 'The most interesting technological options for electrification at Chemelot are electric boilers, electric steam turbines and electric crackers and reformers. The availability of green electricity is a major challenge in this respect: can the Netherlands generate enough of it? And is there also the infrastructure in place to get it to the industry?'Slaghek emphasized that it is crucial to find a correct business case for the electrification projects in the future. He confirmed Hers' statement that the costs of green electricity will have to be reduced for this. The fact that the various components of the Chemelot complex are deeply integrated with each other also makes it more challenging to implement electrification, according to Slaghek.
Collaboration across the value chain is key
The Chemelot-Brightsite case was further discussed in a panel with Slaghek, Hers, Kreiter, Program Director system integration Andreas ten Cate of the Institute for Sustainable Process Technology (ISPT) and Michiel Dorresteijn, senior consultant at Energy21. Both Ten Cate and Dorresteijn are engaged daily in realizing the electrification of industry. ISPT mainly tries to do this by bringing stakeholders together and developing options for them. Energy21 focuses primarily on offering solutions to major players in the energy sector. Following on from the previous session, Ten Cate and Dorresteijn are also convinced that cooperation throughout the value chain is the key to the electrification of the industry.
Electrify through small steps
The panel discussion also produced a clear conclusion: the vision and the will to electrify industry are present among all parties involved, but it is difficult to take the next step because so many things have to be thought of at the same time. The solution, according to Slaghek? 'Try to set up small projects and do them well. Take, for example, the electric boilers that we are working on at Chemelot-Brightsite: compared to the electrification of a steam cracker, that is a relatively small step, but it is one. By taking small steps you also learn what kind of limits you encounter. That provides important insights.'
Different sources of renewable energy
In the closing words of the session, TKI director Rob Kreiter indicated that he had learned a lot from the Chemelot-Brightsite case: energy. We will certainly include the findings of this session in the roadmap for the electrification of the industry, which will be delivered in March.
The broadcast can be watched here.
Electrification in industry, or the transition from fossil to renewable electrical energy and the elimination of CO2 emissions: it is easier said than done. The electrification roadmap is a good first step, sustainable hydrogen one of the possible routes. But above all, it is important that the entire value chain works together.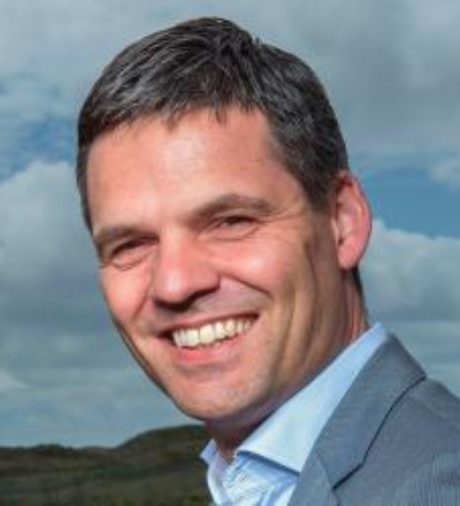 "'The industry and the sector for renewable energy really need to find each other in the future."


Rob Kreiter, TKI Energy & Industry
During the European Industry & Energy Summit 2020, TKI Energy & Industry Director Rob Kreiter introduced the roadmap for electrification in industry: 'The industry and the sector for renewable energy really need to find each other in the future. Both parties would like to know which steps and preconditions are required for this. To this end, we are developing the electrification roadmap. 'Industry and the renewable energy sector are at the heart of the roadmap, but there are also important roles for the government and infrastructure companies'. The roadmap offers five different perspectives on electrification: technological, economic, commercial, organizational and public. Kreiter: 'For each of the five areas, the roadmap shows who should take which steps at what time, and which technologies will be available at what time at scale.'
Electrification to achieve climate goals
Various parties consider the roadmap as a valuable way of accelerating electrification of industry. For example, David Pappie, Director of Top Sector & Industrial Policy of the Dutch Ministry of Economic Affairs and Climate, described it as crucial that there is a good and realistic picture of the supply and demand for sustainable energy in the future: 'This way companies can now make the right choices about what kind of technologies they invest. 'And that's important, agreed Alice Krek of Deltalinqs, the company that represents the interests of 95% of the logistics, port and industrial companies in Mainport Rotterdam:' Without electrification it will be difficult to achieve the climate goals.'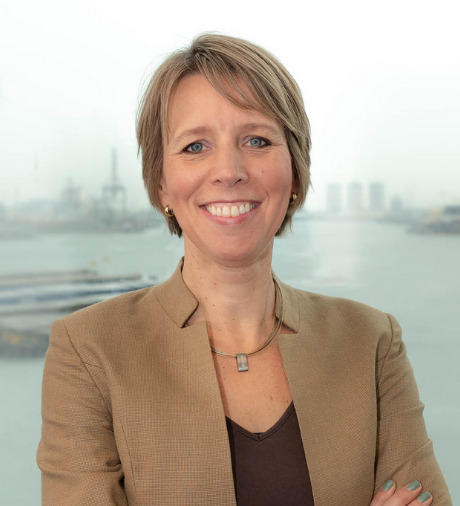 "Without electrification it will be difficult to achieve the climate goals"


Alice Krekt, Deltalinqs
Steven Engels, general director Benelux of the energy company Ørsted, immediately indicated where he thinks the problem lies: 'The biggest challenge for electrification is a chicken and egg problem: the offshore wind industry says that there is no demand for sustainable electricity, while the industry says that there is no offer to realize electrification. According to TKI director Kreiter, cooperation in the entire value chain is therefore the keyword in accelerating electrification: 'Industry and the renewable energy sector need security. That is why they need to get to know each other's world and learn to speak each other's language. TKI Energy & Industry (E&I) is convinced that the potential of electrification is greater than it is now emerging, and therefore wants to bring the two worlds together through the roadmap.' TKI E&I is doing this together with DNV GL and TNO, who map out the exact potential of electrification for Dutch industry.
'We must act together'
That joint action of sectors is crucial was also evident in the panel discussion with Kreiter, Groningen Seaports CEO Cas König, Eveline Otten of the Energy Transition Team of Shell Netherlands and Director of Public Affairs of Eneco Ron Wit. Shell and Eneco recognize the potential of electrification and are actively looking for ways to achieve that goal. According to König, it is important not to wait for each other: 'We really have to take joint action now and make the full choice for electrification. In our port we invest millions in infrastructure for green hydrogen and biochemistry. Companies will automatically follow. '
Hydrohub Innovation Platform
A concrete example of a green route that emerged in the session is the Hydrohub Innovation Program of the Institute for Sustainable Process Technology. Program manager Carol Xiao explains that the ISPT tries to bring industry clusters and stakeholders together: 'You first have to understand each other before you look for your own interests.' For example, ISPT is working on sustainable green hydrogen on a gigawatt scale for use in industry. The hydrogen is generated by electrolysis at costs comparable to fossil hydrogen. Xiao: 'The roadmap helps us to see what steps are needed for this. I am confident that we will be able to solve the technological challenges of green hydrogen and that in the coming years large plants for electrolysis will arise, including infrastructure to get the energy to industry. '
"I am confident that we will be able to solve the technological challenges of green hydrogen and that in the coming years large plants for electrolysis will arise, including infrastructure to get the energy to industry."


Carol Xiao, ISPT
Accept trial and error
Marieke Visser of Wind Meets Industry and Afkenel Schipstra of energy company Engie also consider cooperation to be of decisive importance in closing the gap between industry and the sustainable energy sector. The panel discussion they had with Xiao also revealed that it is time for action. Schipstra: 'We need a vision and a strategy, but also someone who says: come on, let's really do it. Otherwise, it will remain merely a vision.' Visser also addressed the idea that we have a chicken and egg problem: 'We should no longer be paralyzed by the chicken and egg idea, but instead breaking out of it. It is time for innovation, which also includes trial and error. We have to accept that.'
In his closing words about the session, Rob Kreiter broadly agreed with Visser's words: 'We may have a chicken and egg problem, but sufficient solutions have also been discussed. Many parties are already doing what they have to do, now it is important to initiate the electrification of the industry on the basis of trust from the value chain as a whole. As soon as someone takes the first step, it will create more confidence and more steps from others will follow. The roadmap is a good starting point, but it will not be the end of the electrification process.'
You can watch the entire broadcast here.
On Wednesday November 11, 2020 the NPS17 Webinar on Circularity was being held. It was the second one in a series of four webinars on the over-arching theme 'Sustaining the Future', organized by the TU Delft with support from ISPT to compensate for the physical event, that was postponed to 2021 due to Covid-19.
Moderator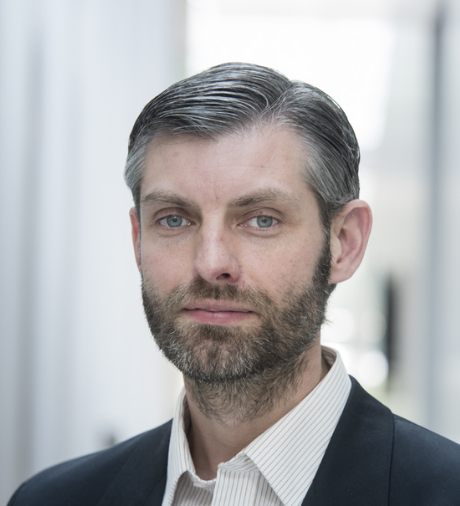 Kees Roest
KWR, ISPT
Keynote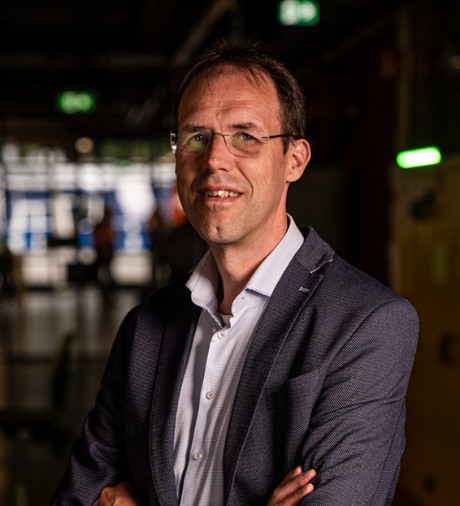 Wim Brilman
University of Twente
Circularity is a familiar concept in nature that has evolved into a guiding principle for society and industry. The webinar on circularity is moderated by ISPT's Kees Roest and the keynote speaker is professor Wim Brilman from the University of Twente.
Drivers
When do we call something circular? According to Brilman circularity is about how we sustainably use and re-use the planet's resources without compromising the biosphere. He thinks that there are two drivers for circularity, scarcity in the economy and climate change, 'and the first prerequisite is data collection. Data that is not only accurate, but also up-to-date.'
Not all industries will be able to adapt easily to renewable resources. 'In construction much can be done with biobased and recycled material, but for others we need to design for recycling. We also need to change from ore mining to urban mining.' Consumer behavior is crucial, but there are other vital aspects, 'like avoiding mixed waste, especially metals, that are very difficult to separate. That is why we need to design for more concentrated waste streams. Still, there are large differences, even within Europe, so you have to make a decision on the geographical level you want to realize your recycling system on.'
There are also huge differences in the various materials. Iron and steel, paper and glass all have a high recycling percentage, whereas plastics (19%) and indium (9%) still have large potential for gain. 'In Europe we reduced our plastic use, but worldwide the plastic production is still growing. Challenges are the collection, the sorting of mixed plastic waste, impurities, too many non-plastics or wrong plastics, because the technologies aren't good enough yet to process that.'
Direct air capture
And then there is our carbon production. Brilman's view is clear: 'We don't need all the carbon we are currently emitting, and to get away from that system we need to remove fossils from the energy mix, and store any excess carbon that we do produce.' Europe is doing well in that area, but to close the carbon cycle we need negative emissions.'
Brilman's main area of expertise, direct air capture, 'is a very intense way of harvesting carbon from the atmosphere, that also has a many other recycling applications, like greenhouses wherein direct air capture can replace fossil energy completely, or to ease the Dutch energy transition by replacing natural gas with synthetic gas.' His main question: can direct air capture solve the climate change issue? 'To capture all carbon emissions we will need an installation ten times as long as the Chinese Wall,' he says. 'We can also achieve a lot by reducing our energy use, but nevertheless, it's not impossible. A prerequisite is that all carbon dioxide must be stored.'
Panel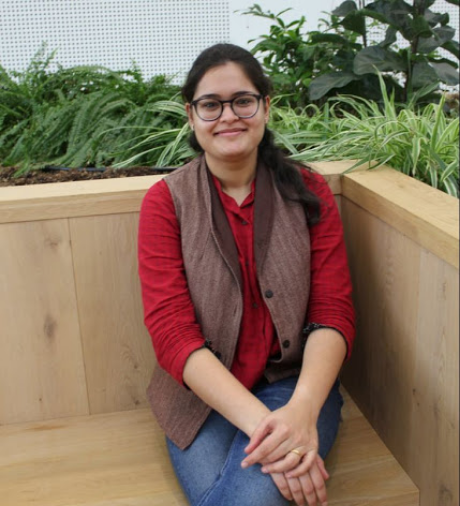 Divya Bohra
TU Delft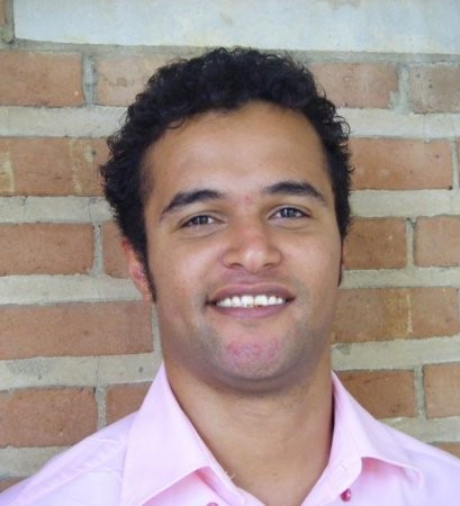 Natnael Behabtu
DuPont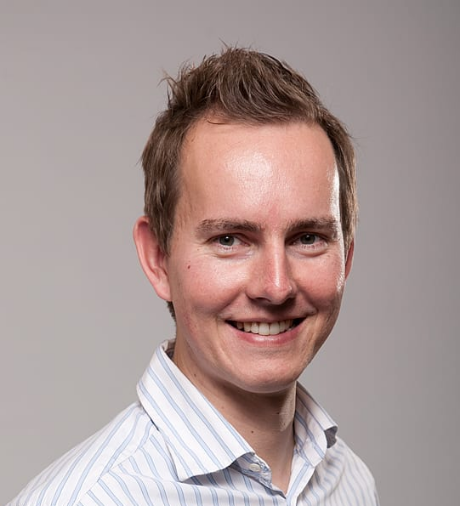 Chris Slootweg
University of Amsterdam
Panel discussion
Brilman joins the panel with Chris Slootweg (University of Amsterdam), Divya Bohra (TU Delft) and Natnael Behabtu (DuPont). They will discuss three multiple choice questions, starting with what is most important for circularity. Possible answers are biobased materials, designing reusable products, (plastic) material recycling, carbon capture and utilisation, and minimizing the use of scarce materials.
The audience chooses designing reusable products. Bohra agrees, but she also believes that not emitting carbon is even more important. Slootweg thinks that not emitting carbon is quite difficult as a society, instead he would choose a full synergy between designing reusable products and recycling of materials. Attendee Andreas ten Cate also likes to add another answer: sufficient renewable energy, 'because recycling takes a lot of energy. And we can only apply the solutions at large scale if we can power them.'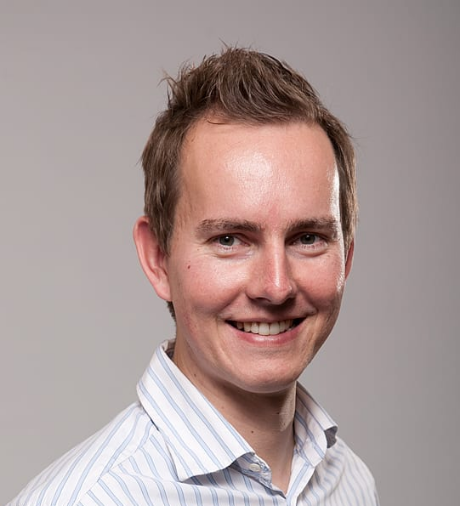 "We need to add value, then the customer will return it".


Chris Slootweg, University of Amsterdam
The second question concerns the main issue that we have to overcome in the re-use of materials. Behabtu wonders if we need to be circular in everything, because the free market hampers such an effort so much. Slootweg says that we need to be as circular as possible, 'definitely to solve global waste issues connected to carbon, and nutrient imbalances.' Attendee Onno Kramer says that we also have to look beyond industrial solutions, such as looking at how citizens behave. 'I like all answers, but it's an issue of mentality. We can see it with covid as well, it's really hard to change from a linear to a circular economy.' Moderator Roest agrees that a combination of solutions is needed. Attendee Kroeze thinks it starts with setting rules, like with bottle deposits. Slootweg answers that we need to add value, 'then the customer will return it.' Bohra pleads for an integrated recycling system.
The final question is the big one: how does a future circular economy look like? Will we have learned everything from nature? Are all stages considered in R&D projects? Do we have full transparency on the composition and recyclability of products? Is a different appearance of recycled products is fully accepted in society? Or will production meet demand, instead of driving demand? Attendee Arjen van Nieuwenhuijzen thinks we need more data to achieve any circular future. Brilman agrees, 'data will show us the right pathways, and like with the other questions we will need a combination of several answers.' He also stresses the importance of bioplastics, 'because of the accumulation of micro plastics.' Attendee Joe Zaher thinks that aiming to learn everything is too optimistic, but that bio-inspiration will guide us to learning more from nature. 'And nature does most of the things very efficiently.'
The webinar is followed by a networking session and a presentation by Nazila Yaghini (TU/ Eindhoven) on mechanical recycling of plastics. It sparks a lively discussion on where the main responsibility lies: with the consumer or the producers, 'who should just roll out the technology that is needed,' concludes Slootweg.
Watch the full webinar here