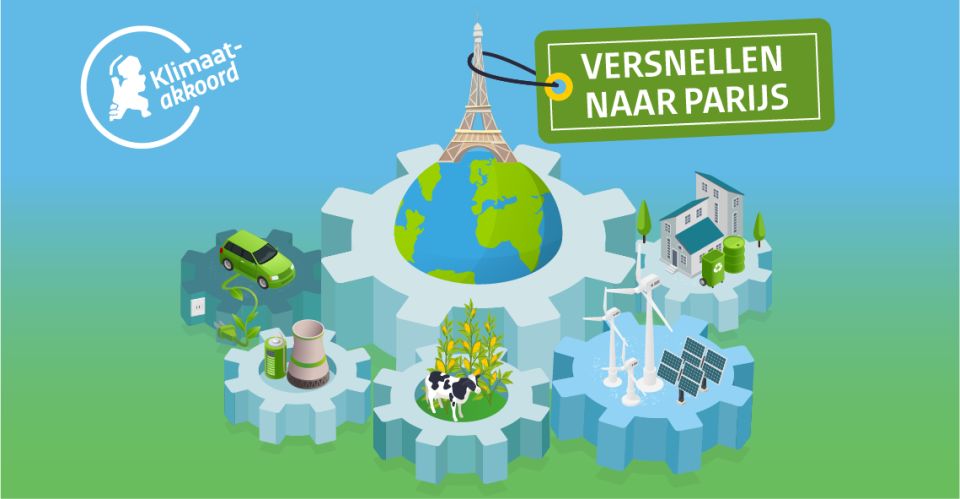 Op de Dag van het Klimaatakkoord praten we met experts over de slagingskans van innovaties voor de energietransitie. Hoe kunnen we de uitstoot van broeikasgassen sneller omlaag brengen?
Dutch industry has a major ambition: to be fully sustainable by 2050, and to meet tough intermediate targets along the way, most particularly in 2030. To do this, it will need to play a leading transformational role.
But let's face it: society at large may have some qualms about industry having such a key role. So industry will need to show that it recognizes fully what's at stake, and that it's ready to make the investments required and work with stakeholders across the board to make the energy transition happen.
To explore these – and other – urgent issues at this watershed moment, we're inviting representatives from the world of government and politics, as well as from NGOs, SMEs, and industry to share their points of view and join the conversation at our annual ISPT Conference on November 2. The theme this year is "Industry in Society".
Now that COVID-19 restrictions have been relaxed, the ISPT Conference will once again be in-person: please be welcome at the Prodentfabriek, a major event complex in the heart of Amersfoort.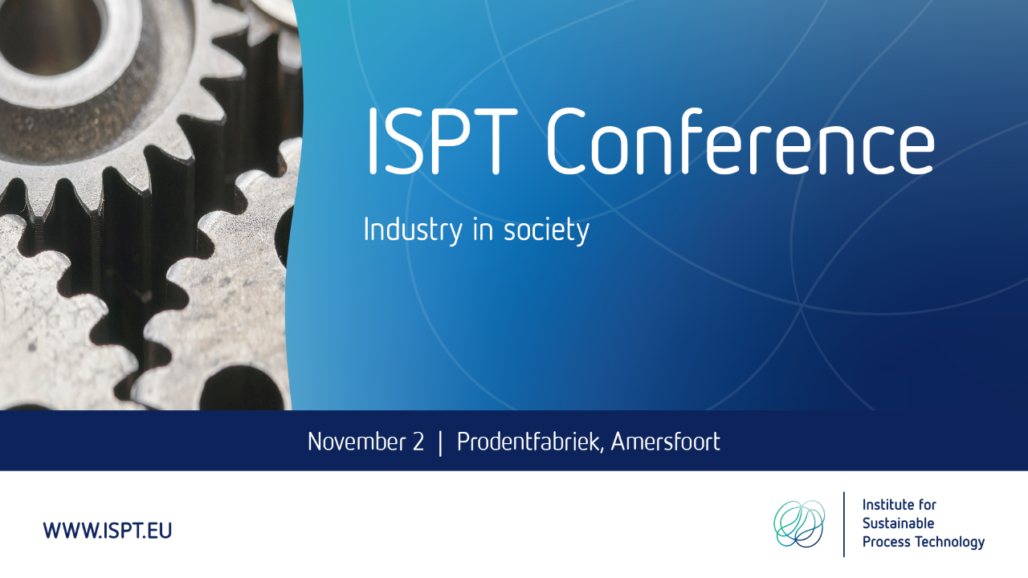 Part of the program will be in Dutch, though of course questions can be put in English, and every effort will be made to accommodate those who would prefer to communicate in English.
What to expect: ISPT Conference 2021
We're pleased to line up an impressive roster of speakers. The ISPT Conference will be moderated by Dick Weiffenbach, Managing Director at Netbeheer Nederland.
After Dick's opening remarks, the program will kick off with a video on green industry policy by journalist and researcher Evert Nieuwenhuis, who has worked with the scientific branch of the political party GroenLinks on an ambitious climate plan.
After that you are invited at 3 roundtables where discussions will be commented on by Jan Terlouw, the well-known physicist, former politician, and writer of essays, thrillers, and children's books. Since as far back as the 1970s, Jan has been actively involved in nature conservation, and in recent years he has been a committed advocate of a greener earth.
Program
12:30 Coffee and conference registration
13:30 Welcome and opening – by Dick Weiffenback
13:45 Roundtable 1: green industry policy (plenary)
14:30 Breakout sessions
15:45 Roundtable 2: sustainable energy (plenary)
16:25 Roundtable 3: circulair raw materials (plenary)
17:05 Wrap-up and closure
17:15 Drinks and talks
Roundtable 1: Green industry policy
The first roundtable discussions will take its cue from the opening video. The discussants will be: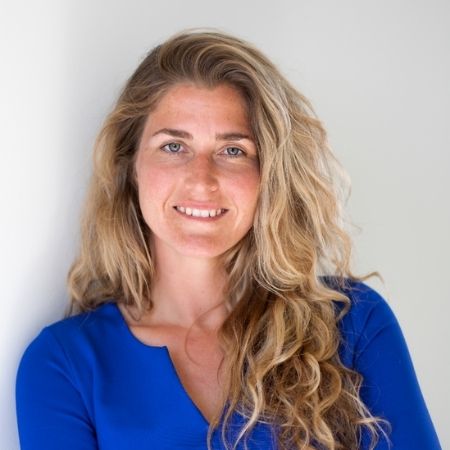 Sanne van Keulen
Director a.i. at the Wetenschappelijk
Bureau GroenLinks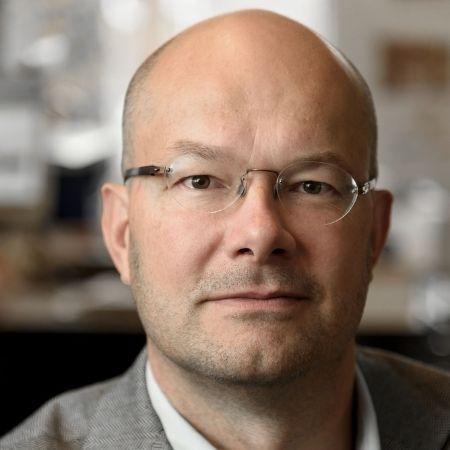 Donald Pols
Director, Milieudefensie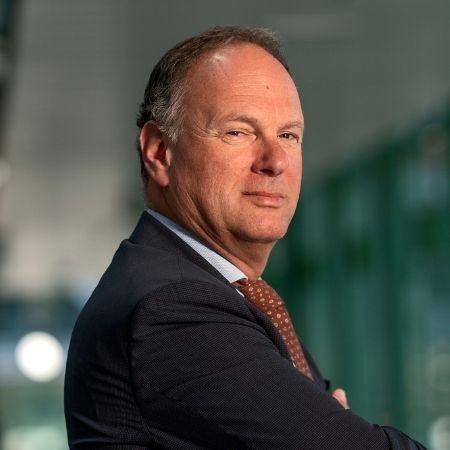 David Pappie
Ministry of Economic Affairs and the Climate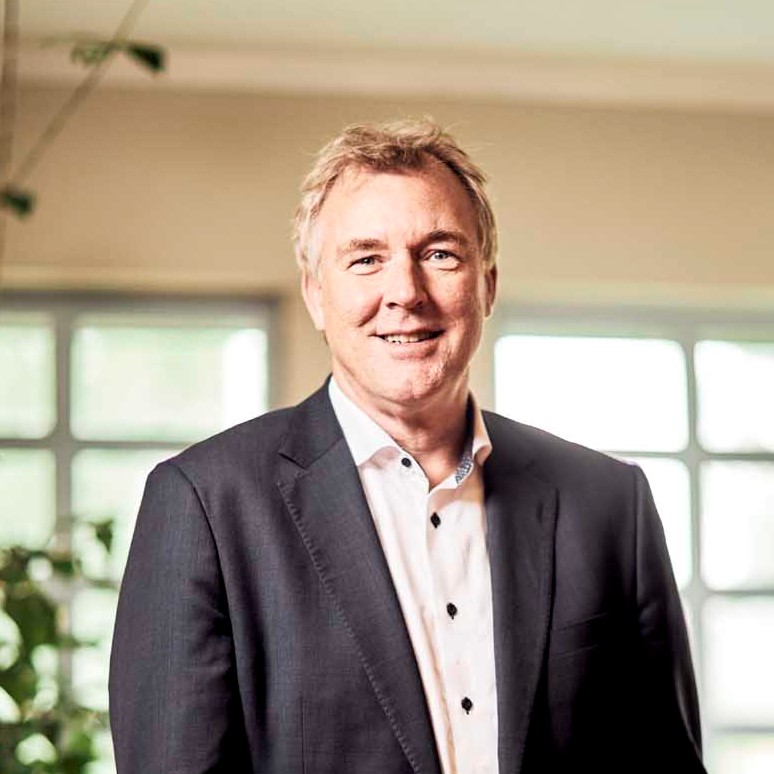 Tjeerd Jongsma
Director ISPT
Each roundtable will be reprised and commented on by Jan Terlouw, former politician and a committed advocate of a greener earth.
Breakout sessions
After this first discussion, which will be held in plenary session, there will be a number of breakout sessions, organized by theme. This will give ISPT's consortium partners a chance to discuss key issues in person for the first time in a long time (or in some cases, ever).
Roundtable 2: Sustainable energy
There will then be a return to the plenary session, for the second roundtable discussion. Discussants will be: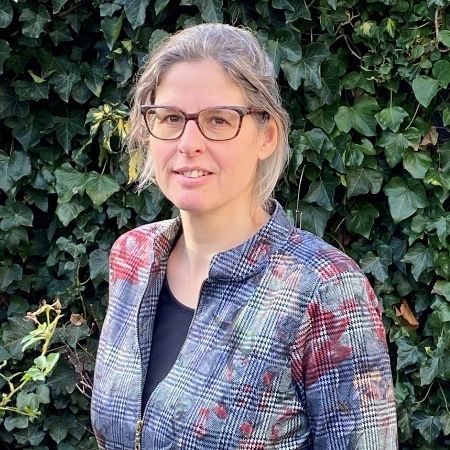 Martine Hoeksma
Energy Transition Program Manager at Shell Nederland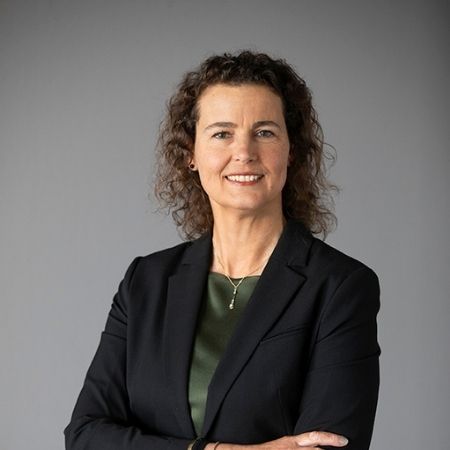 Yolanda Verbeek
Plant Manager at Uniper Maasvlakte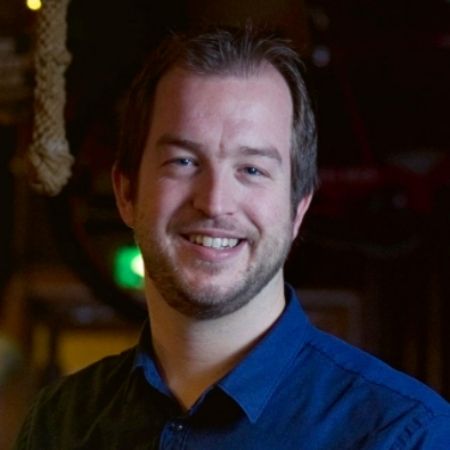 Benny Bakker
Area Sales Manager for the Netherlands, Belgium, Spain and Portugal at DMT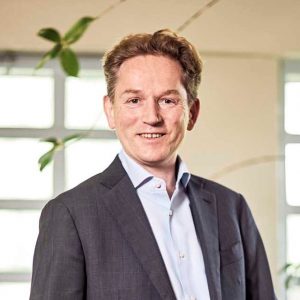 Andreas ten Cate
DirectProgram Director System Integration ISPT
Roundtable 3: Circular raw materials
The third roundtable will feature the following discussants: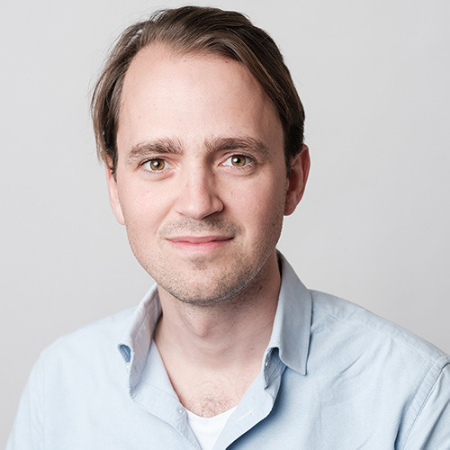 Aaike van Vught
CEO VSPARTICLE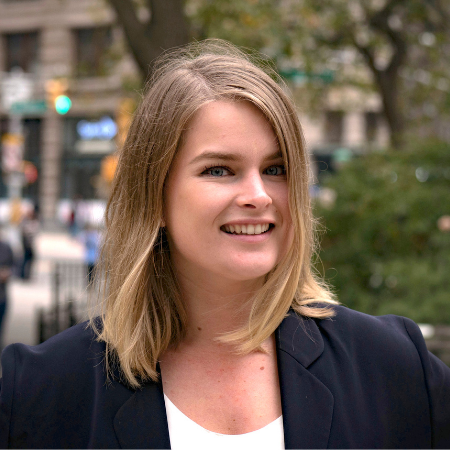 Eva Helmond
Toekomstonderzoeker at Stichting Toekomstbeeld der Techniek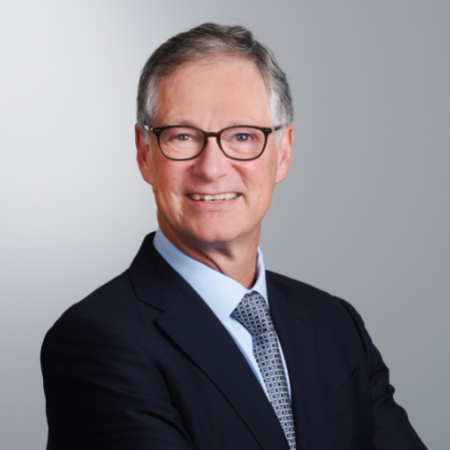 Jurgen Hoekstra
Vice President Benelux and Managing Director BASF Netherlands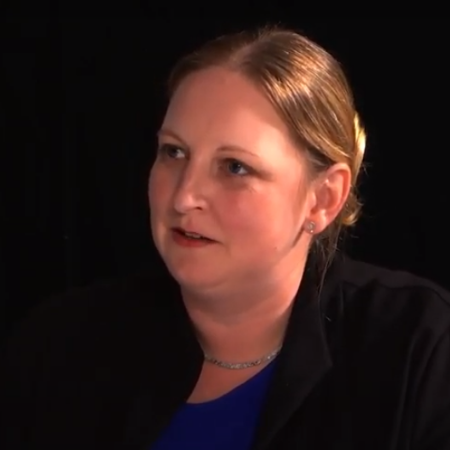 Kim Ragaert
Full Professor and Chair of Circular Plastics at Maastricht University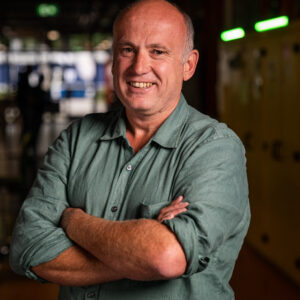 Sascha Kersten
Professor at University Twente
All in all, the day will likely be marked by candid exchanges, but with a view to forging a meeting of the minds. After all, it's only when we connect and engage that we can make meaningful change happen.
If you would like to take part in this lively event, please do join us:
And to close: some productive conviviality!
The day will be rounded out by drinks, where participants will have the opportunity both to network and to exchange views, and – who knows? – perhaps come up with new ideas and opportunities for collaboration.
Please feel welcome and share knowledge, insights, and new ideas with others who have a stake in making the energy transition happen. You can register here.

Time for a live event? An event for the process engineering community in the Netherlands? Yes, we are proud to announce to you the next Netherlands Process Technology Symposium NPS17, where the needs, challenges, and solutions for a sustainable world and the role of process engineering will be conferred. 
 
NPS17 was postponed last year due to COVID-19. But we were glad to provide a series of webinars on the theme 'sustaining the future' which created a platform to connect and exchange ideas.  In line with this, the theme of NPS17 is 'Together more sustainable'. The goal of the conference is to highlight academic research in sustainable process technology and connect it with needs from society, SMEs, and industry. Therefore, this will be a great opportunity to share and absorb sustainable ideas by meeting process engineering enthusiasts from these sectors in the Netherlands and beyond. 
Our keynote speakers have been confirmed!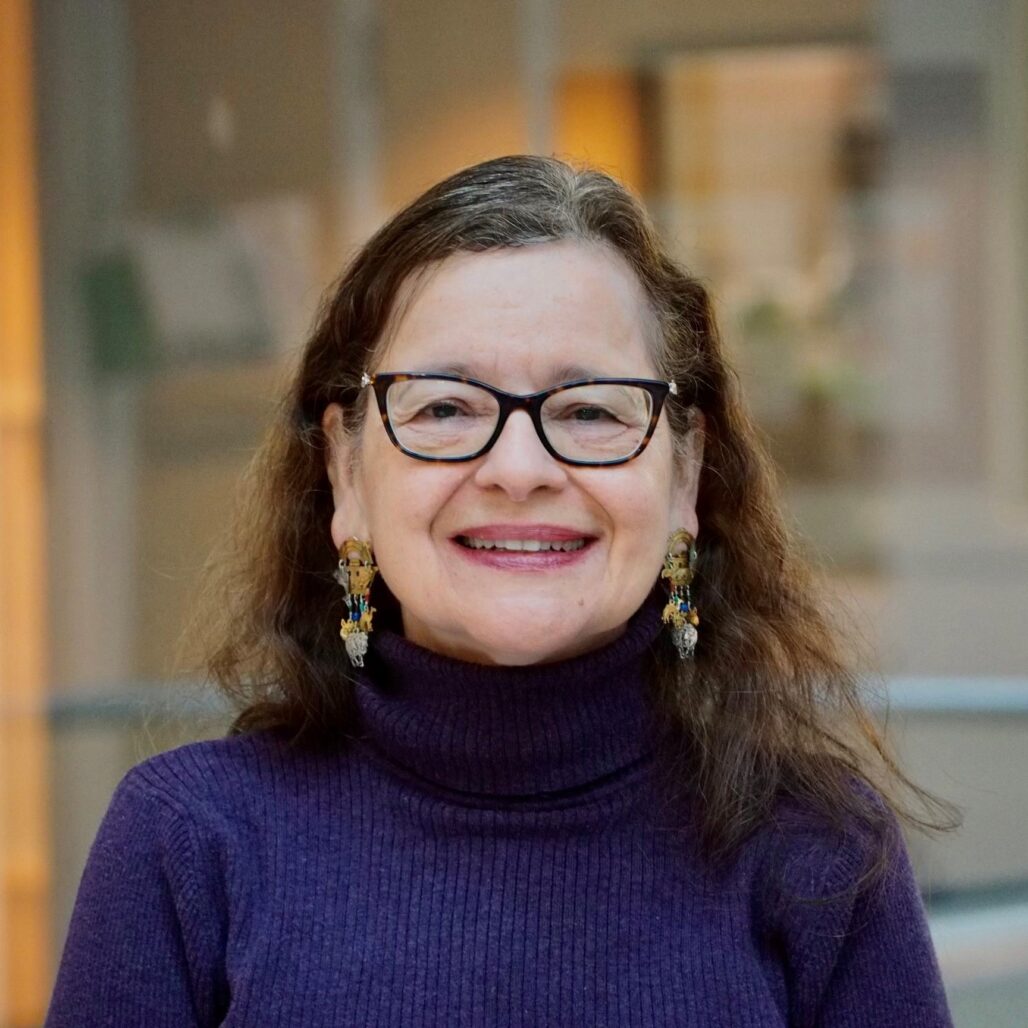 Jennifer Holmgren
CEO
LanzaTech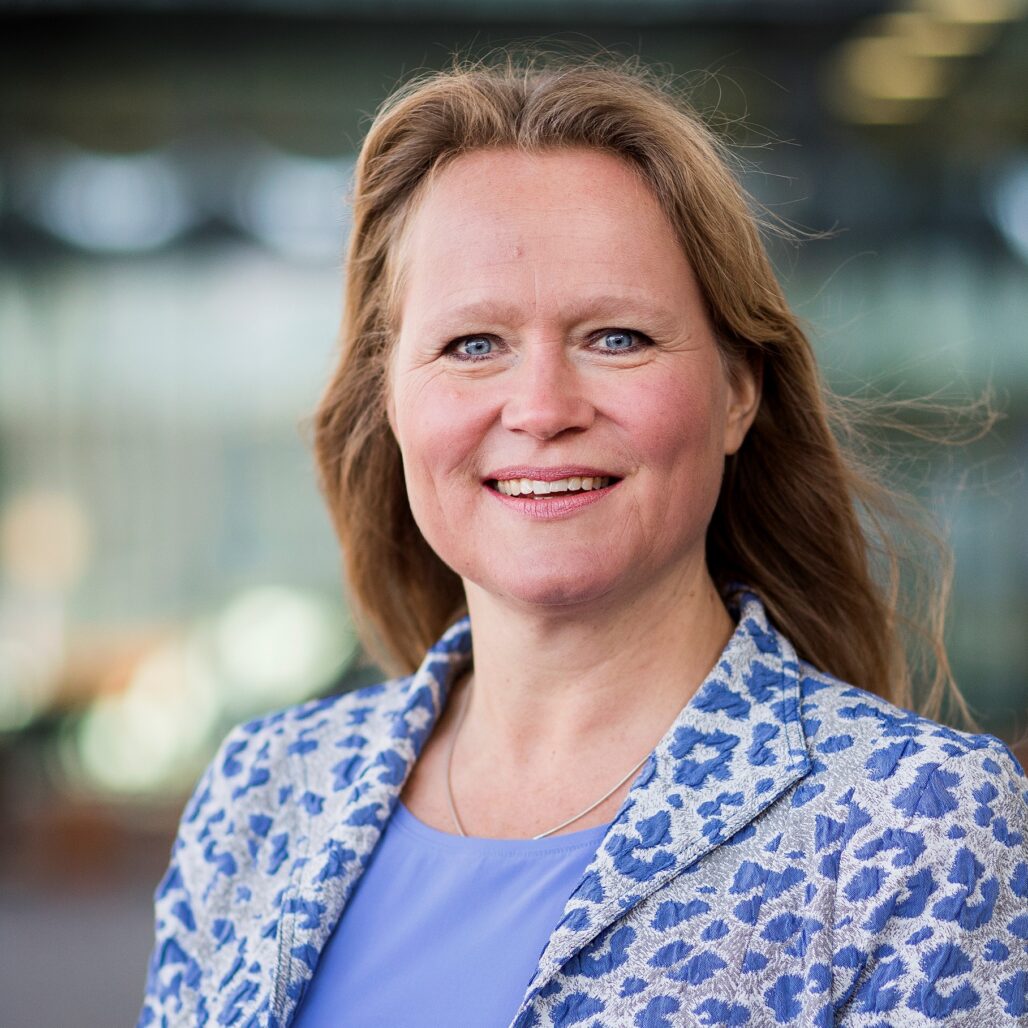 Kitty Nijmeijer
Full professor
TU Eindhoven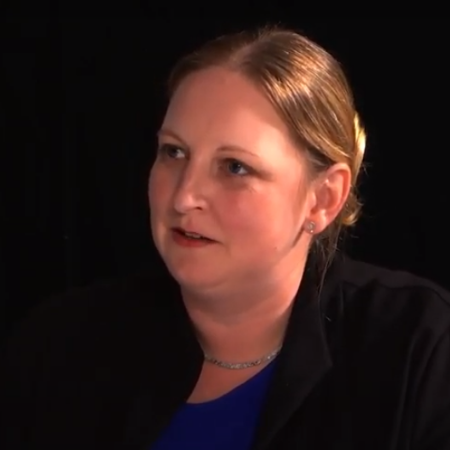 Kim Ragaert
Full professor Maastricht University
Sabine Stuiver
Founder & CMO Hydraloop Systems
NPS17 is organized by Delft Process Technology Institute (DPTI). The symposium will be held on April 4th and 5th 2022 on the campus of Delft University of Technology, Delft, The Netherlands. Save the dates now!
The industry is in transition. How can current employees find their way in a changing environment? And what is expected of the future generation of smart employees? During Deltavisie we want to gain more insight into this through talks and discussions.
At ISPT we believe that radical change can be achieved through technological innovation and cooperation. An important part of our work is supporting and promoting SMEs and startups by connecting them to the industry. This with the goal to stimulate the breakthrough innovations that are desperately needed to transform to a CO2-neutral industry.
Funding opportunities
For SMEs and startups the funding opportunities are enormous, whereas the application procedures and expectations are often unclear. To aid SMEs and startups in the process we are organizing an exclusive online workshop on the 24th of June from 11:00 – 12:00. During the workshop we will provide hands-on guidance on grant schemes and successful applications, regulations and subsidies. Experts Tjeerd Jongsma (ISPT) and Rob Kreiter (TKI) will be present for a discussion about expectations from grant providers, the ISPT network and the TKI.
How can I register?
Send an email to Dewi Mooij at dewi.mooij@ispt.eu to register. You will receive a link to participate on Wednesday June 23 the latest.
Sign up before June 18. This is a small-scale webinar and have set a maximum of 30 participants. Participation in the workshop is free of charge. No-shows are not appreciated.
ADCHEM 2021 will bring together researchers and practitioners from all over the world, to facilitate discussions of recent developments in the control and modeling of chemical, biomedical, and other process systems.
Are you a start-up or small and medium-sized company in the energy sector? And are you looking for the financing instrument that best suits your company? After several successful editions, together with New Energy Coalition, the Topsector Energy will organize another Masterclass Finance this year on Thursday April 15.
The year is almost over. It was an unusual year in which we learned that our capabilities are beyond what we ever thought.
We can simultaniously work from home, teach our children and maintain contact with our network. Admittedly, it was not easy. But it has made us realize that we are capable of more than we sometimes think.
Due to this strange time, digitization has accelerated. We started with online meetings, and shortly afterwards we initiated the online panel discussion Industrie in Gesprek. Little did we know at the time that we would be hosting many more major events later this year – all fully online.
The annual ISPT Conference, the GigaWatt webinar and the NPS17 webinar series are a few examples of how we have been able to connect with you, our network. We really enjoyed that and we want to thank you for your involvement. We hope to continue this contact in 2021 and hopefully soon there will be opportunities to see each other in person once again.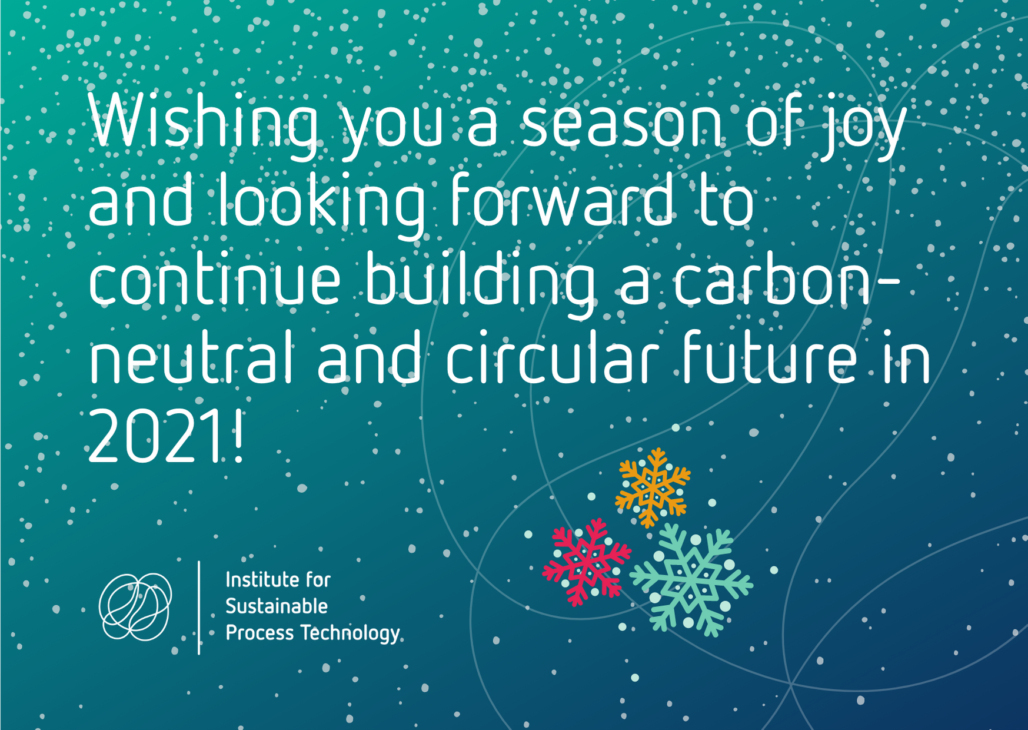 On Wednesday November 11, 2020 the NPS17 Webinar on Circularity was being held. It was the second one in a series of four webinars on the over-arching theme 'Sustaining the Future', organized by the TU Delft with support from ISPT to compensate for the physical event, that was postponed to 2021 due to Covid-19.
Moderator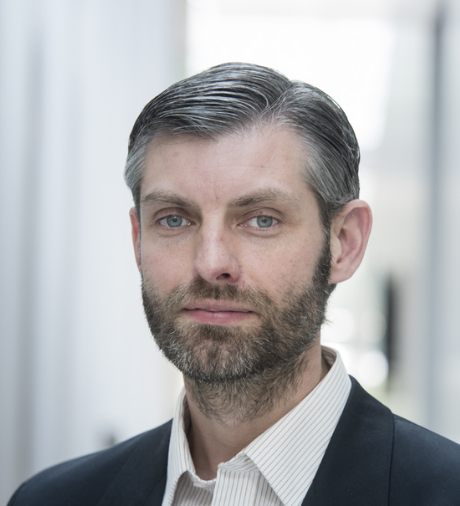 Kees Roest
KWR, ISPT
Keynote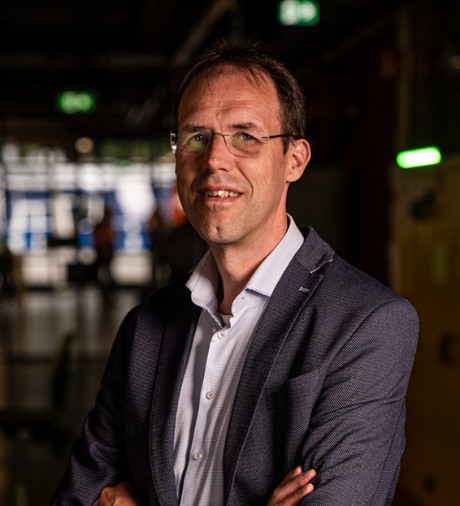 Wim Brilman
University of Twente
Circularity is a familiar concept in nature that has evolved into a guiding principle for society and industry. The webinar on circularity is moderated by ISPT's Kees Roest and the keynote speaker is professor Wim Brilman from the University of Twente.
Drivers
When do we call something circular? According to Brilman circularity is about how we sustainably use and re-use the planet's resources without compromising the biosphere. He thinks that there are two drivers for circularity, scarcity in the economy and climate change, 'and the first prerequisite is data collection. Data that is not only accurate, but also up-to-date.'
Not all industries will be able to adapt easily to renewable resources. 'In construction much can be done with biobased and recycled material, but for others we need to design for recycling. We also need to change from ore mining to urban mining.' Consumer behavior is crucial, but there are other vital aspects, 'like avoiding mixed waste, especially metals, that are very difficult to separate. That is why we need to design for more concentrated waste streams. Still, there are large differences, even within Europe, so you have to make a decision on the geographical level you want to realize your recycling system on.'
There are also huge differences in the various materials. Iron and steel, paper and glass all have a high recycling percentage, whereas plastics (19%) and indium (9%) still have large potential for gain. 'In Europe we reduced our plastic use, but worldwide the plastic production is still growing. Challenges are the collection, the sorting of mixed plastic waste, impurities, too many non-plastics or wrong plastics, because the technologies aren't good enough yet to process that.'
Direct air capture
And then there is our carbon production. Brilman's view is clear: 'We don't need all the carbon we are currently emitting, and to get away from that system we need to remove fossils from the energy mix, and store any excess carbon that we do produce.' Europe is doing well in that area, but to close the carbon cycle we need negative emissions.'
Brilman's main area of expertise, direct air capture, 'is a very intense way of harvesting carbon from the atmosphere, that also has a many other recycling applications, like greenhouses wherein direct air capture can replace fossil energy completely, or to ease the Dutch energy transition by replacing natural gas with synthetic gas.' His main question: can direct air capture solve the climate change issue? 'To capture all carbon emissions we will need an installation ten times as long as the Chinese Wall,' he says. 'We can also achieve a lot by reducing our energy use, but nevertheless, it's not impossible. A prerequisite is that all carbon dioxide must be stored.'
Panel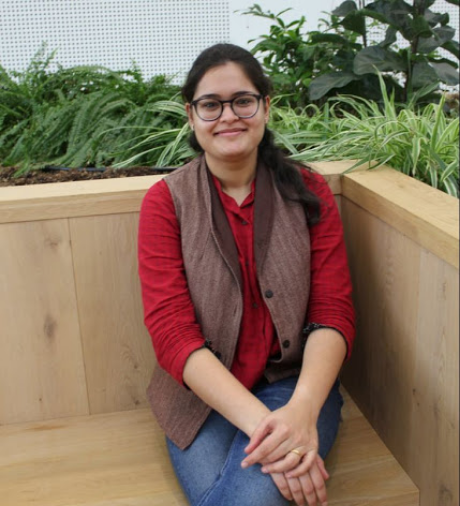 Divya Bohra
TU Delft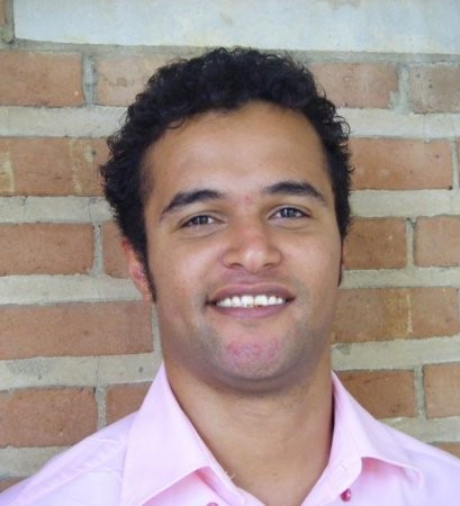 Natnael Behabtu
DuPont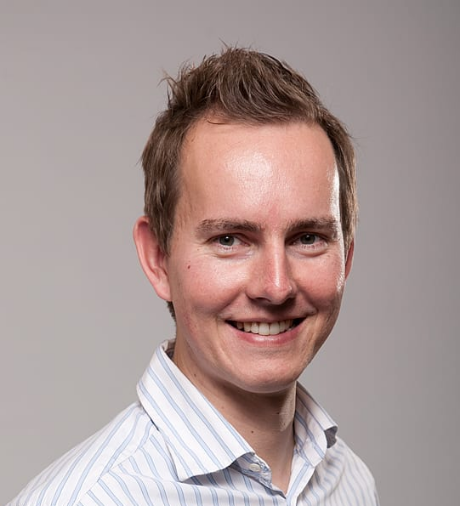 Chris Slootweg
University of Amsterdam
Panel discussion
Brilman joins the panel with Chris Slootweg (University of Amsterdam), Divya Bohra (TU Delft) and Natnael Behabtu (DuPont). They will discuss three multiple choice questions, starting with what is most important for circularity. Possible answers are biobased materials, designing reusable products, (plastic) material recycling, carbon capture and utilisation, and minimizing the use of scarce materials.
The audience chooses designing reusable products. Bohra agrees, but she also believes that not emitting carbon is even more important. Slootweg thinks that not emitting carbon is quite difficult as a society, instead he would choose a full synergy between designing reusable products and recycling of materials. Attendee Andreas ten Cate also likes to add another answer: sufficient renewable energy, 'because recycling takes a lot of energy. And we can only apply the solutions at large scale if we can power them.'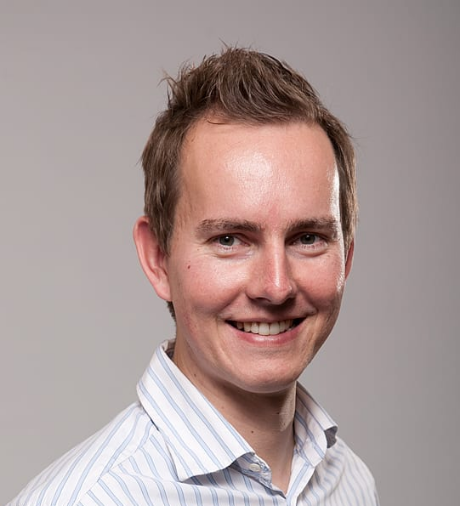 "We need to add value, then the customer will return it".


Chris Slootweg, University of Amsterdam
The second question concerns the main issue that we have to overcome in the re-use of materials. Behabtu wonders if we need to be circular in everything, because the free market hampers such an effort so much. Slootweg says that we need to be as circular as possible, 'definitely to solve global waste issues connected to carbon, and nutrient imbalances.' Attendee Onno Kramer says that we also have to look beyond industrial solutions, such as looking at how citizens behave. 'I like all answers, but it's an issue of mentality. We can see it with covid as well, it's really hard to change from a linear to a circular economy.' Moderator Roest agrees that a combination of solutions is needed. Attendee Kroeze thinks it starts with setting rules, like with bottle deposits. Slootweg answers that we need to add value, 'then the customer will return it.' Bohra pleads for an integrated recycling system.
The final question is the big one: how does a future circular economy look like? Will we have learned everything from nature? Are all stages considered in R&D projects? Do we have full transparency on the composition and recyclability of products? Is a different appearance of recycled products is fully accepted in society? Or will production meet demand, instead of driving demand? Attendee Arjen van Nieuwenhuijzen thinks we need more data to achieve any circular future. Brilman agrees, 'data will show us the right pathways, and like with the other questions we will need a combination of several answers.' He also stresses the importance of bioplastics, 'because of the accumulation of micro plastics.' Attendee Joe Zaher thinks that aiming to learn everything is too optimistic, but that bio-inspiration will guide us to learning more from nature. 'And nature does most of the things very efficiently.'
The webinar is followed by a networking session and a presentation by Nazila Yaghini (TU/ Eindhoven) on mechanical recycling of plastics. It sparks a lively discussion on where the main responsibility lies: with the consumer or the producers, 'who should just roll out the technology that is needed,' concludes Slootweg.
Watch the full webinar here
In de transitie naar een circulaire economie staan we op een kantelpunt. Om tot een doorbraak te komen moeten we nu doorpakken om deze kansen volledig te benutten en te zorgen dat de circulaire economie, dé economie gaat worden.
The ACHEMA World Forum for the Process Industries is the driving force and groundbreaker for the international process industries and their suppliers.
In an inclusive online workshop organized by the RiConfigure initiative, researchers, innovation policy makers and practitioners co-created a second policy brief on how appropriate collaborative structures can be established.
Quadruple Helix Innovation
Quadruple Helix Innovation promotes cooperation of actors from the public sector, academia and research, industry and business, as well as civil society. There is little knowledge about the drivers and barriers for these collaborative models in innovation practice.
The RiConfigure project empirically investigates cross-sector and its Quadruple Helix Innovation (QHI) cases, across Europe and South America, and aims at experimenting with new research and innovation constellations in a Social Lab process.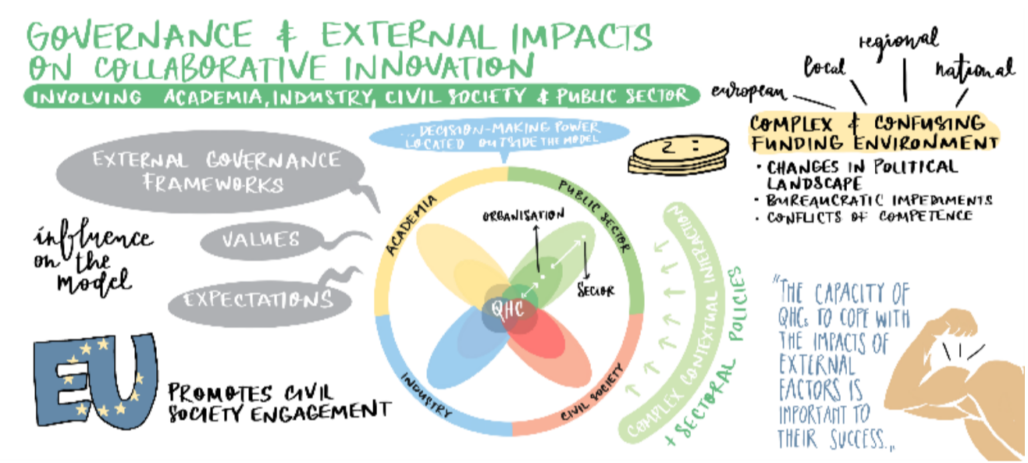 Co-creation process
The second policy brief is based on an online co-creation process, the Dialogue Days, held in early July 2020 on an online platform including more than 60 practitioners and policy makers to discuss issues of building appropriate collaborative structures, engaging civil society and QHI governance.
The online event was designed taking into consideration responsible online research and innovation (RoRI) principles. Participants co-created the input for this policy brief using interactive online tools such as Slack, Miro and Zoom. In a final round table experts from all four helices linked QHI with the current COVID-19 crisis.
Recommendations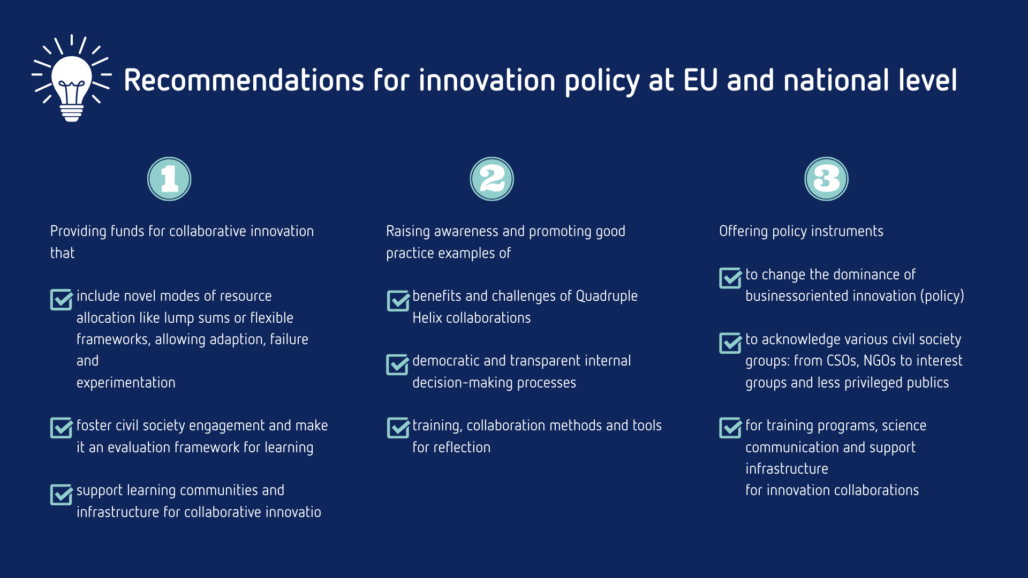 Read the full policy brief here.