To take the scope, quality and impact of data collection, data analytics and data visualization to a new level in the process industry.
Incentive
Process-control,-monitoring and predictive maintenance are well-known concepts. However, their usage must be broadened and improved to realize the near-future energy transition goals, since they can reduce energy usage in existing processes by 5-25% and their usage is currently still limited.
Corporate sustainability is a convoluted performance indicator, embedded in constraints of economic performance and consistency of production. Losses in Key Performance Indicators (KPIs), such as environmental impact, often relate to operational process anomalies: deviations in the process from the Normal Operating Conditions that harm process performance. Multivariate Statistical Process Control may observe and even predict such operational faults, but currently mostly focuses on the KPI Quality predictions.
Operational process data may however also predict other KPIs for economy, sustainability and operational consistency. Disclosing the effect of process faults on different performance indicators will enable the operator to avoid high-value process faults, leveraging indicators of economic performance with environmental impact and operational consistency. The same disclosure allows management to associate performance losses to specific historical faults in process operation, enabling avoidance of expensive future faults through process innovation.
Objectives
The consortium aims to take the scope, quality and impact of data collection, data analytics and data visualization to a new level in the process industry. We want to use human-centered design methods and replicate and exploit the insights to practitioners and scientists.
Engineering Business Intelligence (EBI) will create a new digital method to detect how sub-optimal process operation measured within the process data, affects sustainability, quality and economic value of the process to provide input in mitigation and consequently leverage economics with environmental performance. This novel method will provide detailed insight into the effects of process anomalies, both incidental faults and expected drifts in routine operation (e.g. process fouling), on environmental, economic and consistency performance losses.
The disruptive, descriptive and predictive capabilities of such new technology may be implemented as a novel information source with a specific role for the workforce. This not only requires a technological transition, but also a transition throughout the organization in which the workforce internalizes the digital technologies in order to identify process failures. These new technical possibilities, fully internalized by the workforce, may considerably reduce the environmental impact of the process industry whilst maintaining economic and operational excellence, using already existing data streams. Engineering Business Intelligence (EBI) brings a Digital Operations and Management Assistant (DOMA) to the process industry that will predict and thereby reduce the environmental impact of process faults within economically (more) profitable boundaries.
Activities
Investigating a novel context-based statistical identification and description of process anomalies that can be quantitatively explored, stored and associated with performance.
Investigating a method to develop and implement a Key Performance System that associates performance losses with process anomalies, on sustainability, economic performance and production consistency with a specific focus on environmental performance.
Investigating human-centered design methods to enable internalization of digital methods for value-based fault mitigation by and with the workforce. For this, we will also develop specific social guidelines to create the appropriate work floor/ boardroom boundary conditions for the digital solutions to have optimal effect.
Investigating the operational validity of the developed methods in industrial case studies, among others related to predictive cleaning of heat exchangers, as well as studying infrastructure approaches for integration of data collection, analytics and visualization into the existing industrial infrastructures.
Define Key Performance Indicator sets and visualization approaches that are intuitive, concise and complete.
Exploit results by using innovative dissemination approaches.
Results
This project results in a generic and novel digital technology, DOMA, that will be disseminated to practitioners and scientists. The industrial case studies illustrate the potential and diversity of the developed methods: for each relevant case study, we co-develop an integration policy and workable visualization methods for data, enabling their workforce to internalize the digital solution.
Our technology providers will innovate their value propositions and enlarge their customer and knowledge base. The industrial users can use the DOMA approaches and insights to improve their efficiency, lower costs and make new steps in their digital process routes.
Op de InnovatieExpo 2021 zie je wat ons land allemaal in huis heeft, word je creativiteit geprikkeld en ontmoet je toonaangevende spelers die jouw idee verder helpen.
Vakbeurs Energie is hét jaarlijkse zakelijke live evenement voor professioneel betrokkenen bij duurzame energieopwekking en -besparing.
The year is almost over. It was an unusual year in which we learned that our capabilities are beyond what we ever thought.
We can simultaniously work from home, teach our children and maintain contact with our network. Admittedly, it was not easy. But it has made us realize that we are capable of more than we sometimes think.
Due to this strange time, digitization has accelerated. We started with online meetings, and shortly afterwards we initiated the online panel discussion Industrie in Gesprek. Little did we know at the time that we would be hosting many more major events later this year – all fully online.
The annual ISPT Conference, the GigaWatt webinar and the NPS17 webinar series are a few examples of how we have been able to connect with you, our network. We really enjoyed that and we want to thank you for your involvement. We hope to continue this contact in 2021 and hopefully soon there will be opportunities to see each other in person once again.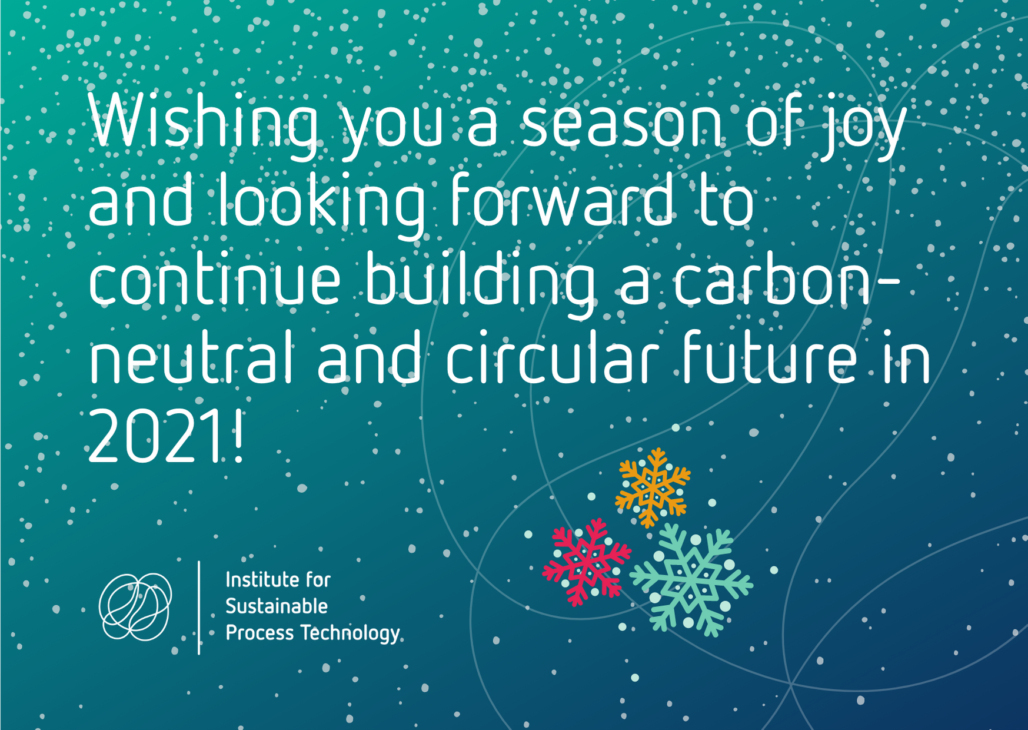 The ACHEMA World Forum for the Process Industries is the driving force and groundbreaker for the international process industries and their suppliers.
In an inclusive online workshop organized by the RiConfigure initiative, researchers, innovation policy makers and practitioners co-created a second policy brief on how appropriate collaborative structures can be established.
Quadruple Helix Innovation
Quadruple Helix Innovation promotes cooperation of actors from the public sector, academia and research, industry and business, as well as civil society. There is little knowledge about the drivers and barriers for these collaborative models in innovation practice.
The RiConfigure project empirically investigates cross-sector and its Quadruple Helix Innovation (QHI) cases, across Europe and South America, and aims at experimenting with new research and innovation constellations in a Social Lab process.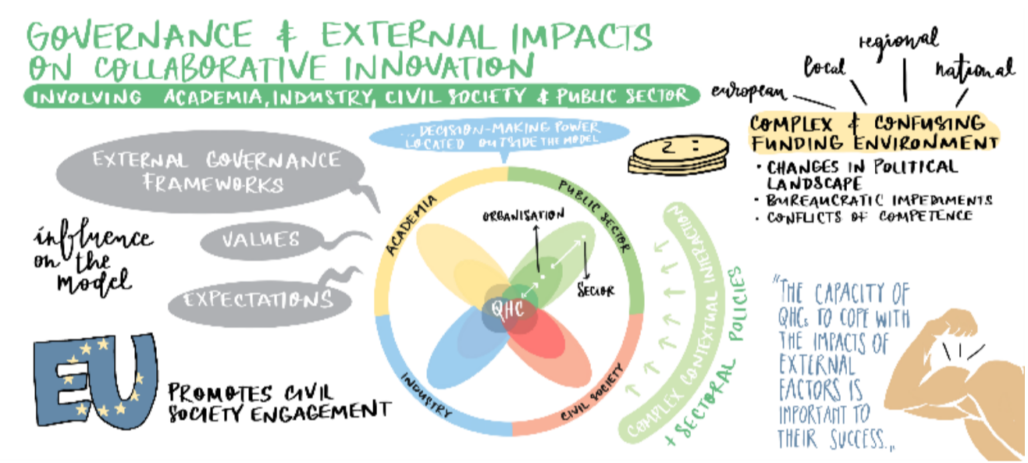 Co-creation process
The second policy brief is based on an online co-creation process, the Dialogue Days, held in early July 2020 on an online platform including more than 60 practitioners and policy makers to discuss issues of building appropriate collaborative structures, engaging civil society and QHI governance.
The online event was designed taking into consideration responsible online research and innovation (RoRI) principles. Participants co-created the input for this policy brief using interactive online tools such as Slack, Miro and Zoom. In a final round table experts from all four helices linked QHI with the current COVID-19 crisis.
Recommendations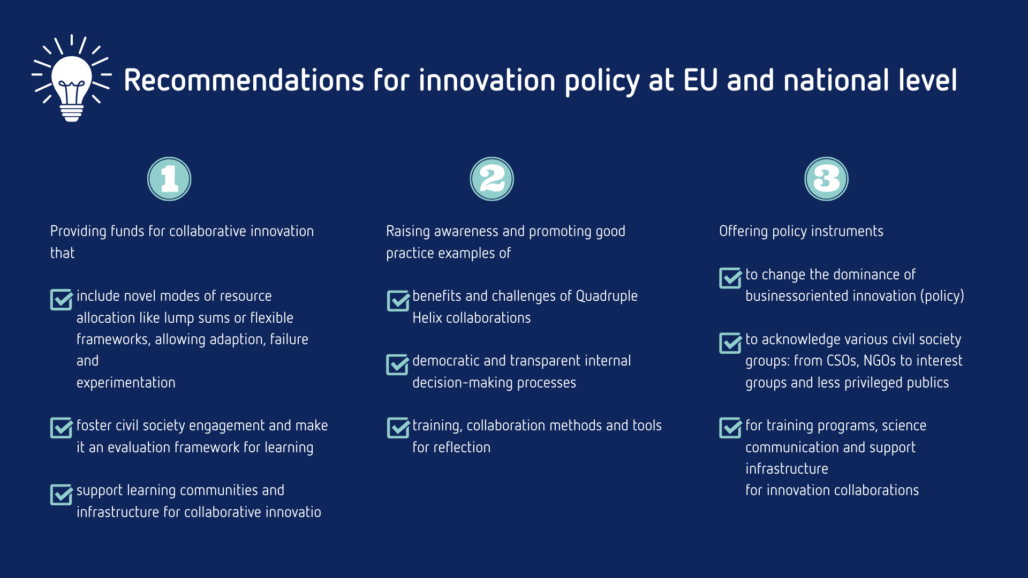 Read the full policy brief here.
ISPT Conference 2020 session on industrial processes and societal ecosystems
What is the role of the industry in the current society under transition? Enabler, innovator, driver of transition, source of the problem or solution to the problem?
Carolien Gehrels was clear on this one: 'Let's not forget that the Dutch industry is the engine of our economy. We have strong captains of industry who are very aware of their responsibilities to create a more sustainable industry. Industry is part of the solution, not the problem and we can share good examples of that.'
System integration is key
Andreas ten Cate, Program Director System Integration at ISPT, agreed: 'We need to comprehend what the industry means for society, what it actually takes to make things, and how to do that in a sustainable way.' According to Ten Cate system integration is the key to everything. 'The start of everything is a transition of power supply. For that industry will benefit from decision support tools to gain insight in the impact of their decisions, on their own company, on the region, on the country and even globally.'
The role of data
To provide such tools, data are needed. Frans van den Akker, ISPT Program Director Industry 4.0, Social Acceptance and PTTP, added: 'In the new infrastructure for a sustainable industry a data infrastructure should be included. Data enable us to integrate systems. And we need to use new data to base the new world upon.'
According to Gehrels the most important step to take – before the Dutch elections in March 2021 – is to make a list of no regrets with 10 decisions to be made by governments. For example: more room for technical engineering students at universities. Ten Cate stressed the importance of trial and error. 'Industry needs room for experimentation, to try things. The government should make this possible by regulations and financing.' Experimentation and sharing knowledge is already happening in learning communities. Van den Akker: 'For this transition we need well educated people and we need to learn together.'
With the Dutch National Growth Fund, a large fund is (finally) available again for knowledge development, innovation and infrastructure. This offers great opportunities for green hydrogen and chemistry, but a thorough approach with attention to leadership and focus is crucial.
Click here to read this article in Dutch.
On Thursday, October 15, three panel members, led by Frans Nauta, the founder of Climate Launchpad, and more than 50 participants talked to each other during the online event Industry in Conversation, which ISPT organized. This time the National Growth Fund was the central topic. This fund, also known as the 'Wopke-Wiebesfonds', was launched during 'Prinsjesdag' last September. 20 billion euros will be available over the next five years. An independent committee will assess the proposals. The most important criterion is that the submitted projects must contribute to the Dutch GNP. Who will take on the challenge? And how are we going to make this a success?
ICES-KIS
The National Growth Fund brings back memories of ICES-KIS, says Nauta. 'This money came from natural gas revenues and was mainly spent on infrastructure projects in the 1990s such as the Betuwelijn, the expansion of Schiphol and Maasvlakte 2. Later, the knowledge component, KIS, was added.'
Gertjan Lankhorst is chairman of VEMW, was Director-General Energy at the Ministry of Economic Affairs at the time, and then CEO of GasTerra. He talks about the evaluation of ICES-KIS. 'The spending of the money became diluted with other budget expenditures and there was fragmentation; few concrete results were achieved because the objectives were not clearly operationalized. However, good networks emerged from the projects and some achieved good returns.' Three success factors were found, according to Lankhorst: leadership, focus and cohesion. 'There is cohesion in the new fund, but you should emphasize leadership and focus to make it a success.'
Green hydrogen and chemistry
Six projects have already been submitted, says Nauta, for example on artificial intelligence and quantum technology. Paulien Herder, professor of Energy Systems Engineering at TU Delft is involved in a proposal on green hydrogen and green chemistry. Herder: 'We wrote a proposal with the three top sectors Energy, HTSM and Chemistry and a large number of writers from industry, government and knowledge institutions. We are requesting 750 million euros, of which 500 million is intended to develop devices such as electrolysers for hydrogen. We want to convert the existing industry and build new industries.'
Lankhorst: 'I think it's a great program, and I think it's extremely important that we can permanently connect parties. Scientific and industrial activities must constantly interact with each other.' According to Herder, a 'sandpit procedure' could help, in which the parties determine the course together after intensive consultation, for instance by spending a week in a country house together.
Matching
An important criterion in the Growth Fund is the so-called 'matching'; the contribution from the government must be matched with an equal contribution from private and university funds. Tjeerd Jongsma, director of ISPT, is concerned about the private contribution. 'Due to the economic downturn and the low oil price, I suspect that it will be very unprofitable for companies to match this money.'
Lankhorst is more positive. 'The industry also has to put in effort to meet the requirements of the Dutch Climate Agreement; by 2030, CO2 must be reduced by 50% and by 2050 we must be CO2 neutral. You won't get there without investments. Matching may be difficult in the short term, but in the long term something has to be done.'
Jongsma agrees completely. He also sees many opportunities for ISPT to take up a role in consortium formation. 'Hydrogen is inevitably coming and offers great economic opportunities. Now all hydrogen initiatives are very fragmented, so more conformity is certainly needed.' The Dutch industry could also form consortia and submit plans for other themes, the participants suggest, such as electrical cracking, the chemical recycling of plastics and 'circular carbon', to preserve carbon in the process chain.
The scope of the hydrogen proposal is 'un-Dutch', Nauta concludes. Jongsma: 'Due to its size, it is now marked on the political agenda, which is a positive development. I also see that the Netherlands dares to take on the challenge, and dares to excel. We have the right track record to do so.'
About this series
During the online event 'Industry in Conversation', the Institute for Sustainable Process Technology (ISPT) will discuss current topics such as innovation, AI and infrastructure with partners from the industry. Keep an eye on our website for more information.
Wednesday 4 November, 15.00-16.30
The NPS17 Webinar on Energy creates a platform for experts from various sectors and young process technology researchers to discuss the energy transition, challenges, opportunities and an outlook on the production processes in the Netherlands and worldwide to 'Sustain the Energy Future'!

Energy keeps the world moving and is an integral part of our existence. Our long time and major dependency on fossil resources for energy are questioned in these times due to the faster decline of these resources, associated climate issues and increasing capacity of the renewable resources, among others. This makes the fossil-based resources loosing their position as a sustainable asset for energy on a long run.
There are various approaches such as switching to renewable and low carbon energy resources, improving the energy efficiency of current production processes and other energy consuming sectors, and mitigating the carbon emissions in the conversion and usage of energy to address this scenario.
In the Netherlands, the government announced their plan to gradually shut down various fossil-based facilities including coal-fired power plants and the Groningen natural gas field in near future. This poses challenges for a timely transition to a different picture of energy exploration, conversion and usage to meet the growing energy demands in the Netherlands.
Being the largest energy converter cum consumer, the process industries have a major role in addressing these challenges by improvising their state of the art technologies and by adopting the technology breakthrough in the renewable energy sector. New technological innovations are arriving faster than ever before and are supporting or competing with one another to win this race of providing safer, reliable and affordable energy.
Program NPS17 Energy webinar
15.00 – 15.05 | Introduction
This first NPS17 webinar will be introduced by Valeria Garbin (NPS17 Organizing Committee) and Annita Westenbroek (Moderator).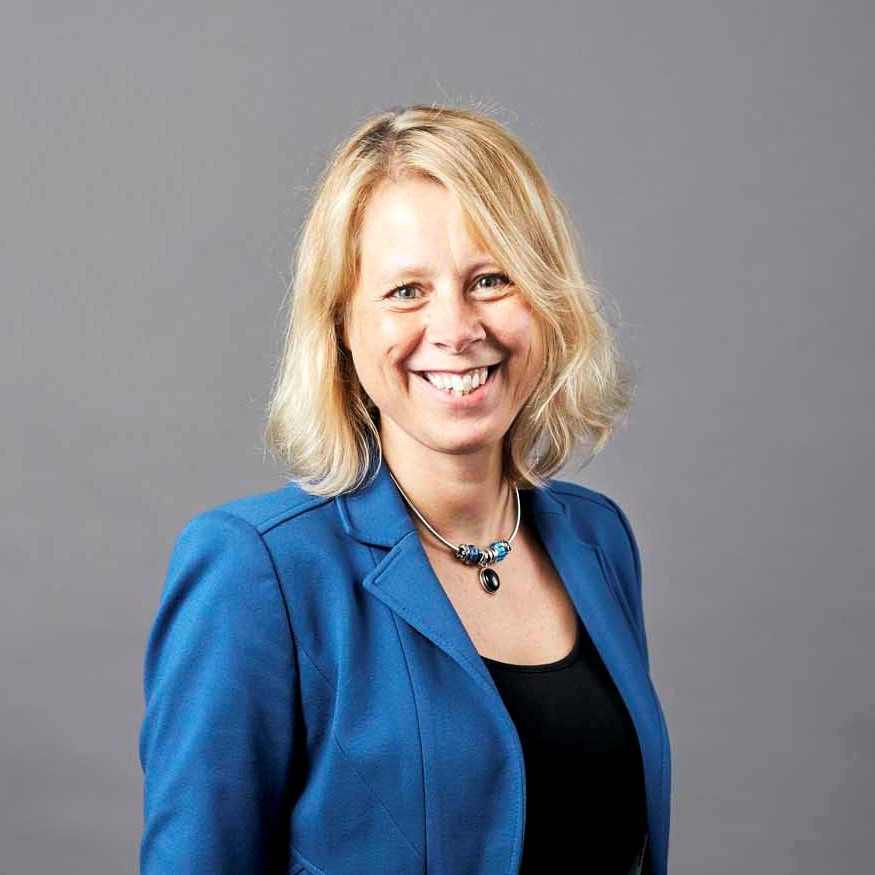 Annita Westenbroek
Institute for Sustainable Process Technology (ISPT)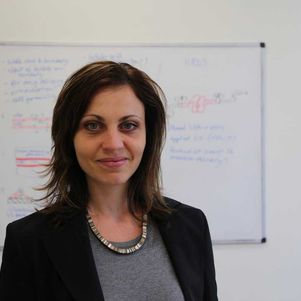 Valeria Garbin
TU/ Delft
15.05 – 15.30 | Keynote lecture with Q&A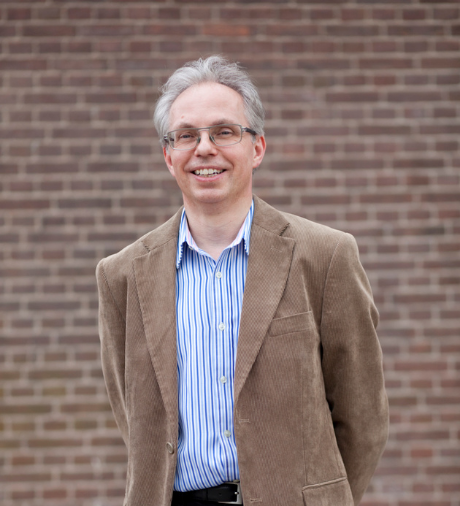 Adrie Huesman
Shell, TU Delft
15.30 – 15.55 | Panel discussion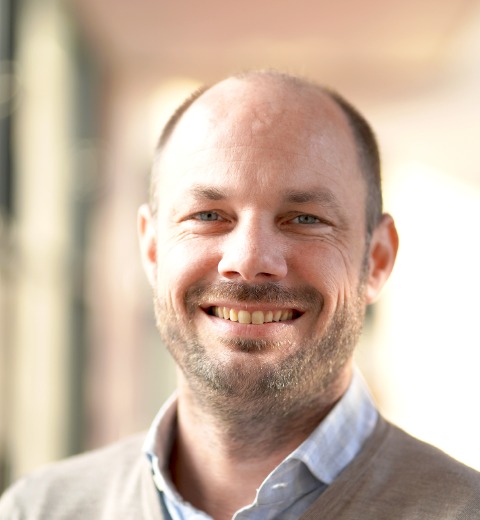 Simon Jager
Semiotic Labs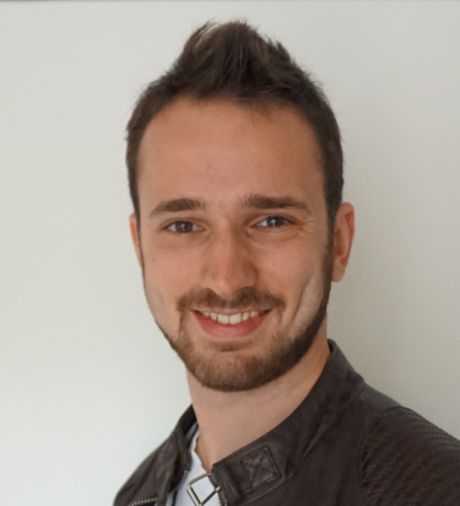 Tim Offermans
Radboud University Nijmegen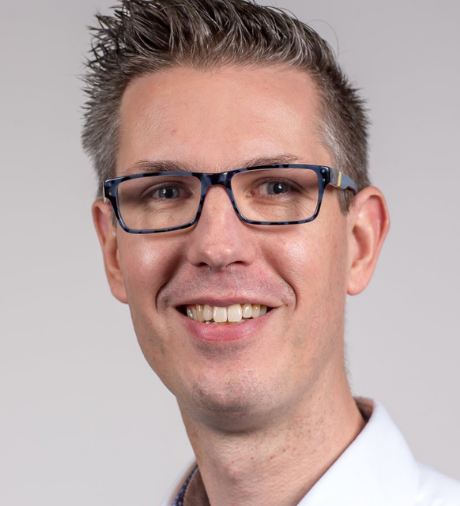 Niels Deen
TU Eindhoven
16.00 – 16.30 | Networking
During this optional part of the webinar, the session will be divided into three breakout sessions in which one or more PhDs will present their research. Your expertise is valuable! So stick around, share your thoughts and maybe even your contact details!
This conference will be covering topics related to chemistry and physics (and anything in between) of food manufacture, preparation and consumption, including measurement, model building and model validation.
Welke kansen zijn er voor de industrie?
Donderdag 15 oktober – 15u00
Investeren in plaats van bezuinigen, zodat Nederland stappen kan maken op weg naar 2030. Dat is de insteek van het Nationaal Groeifonds, ook wel het 'Wopke-Wiebes-fonds' genoemd. Inzet: maar liefst 20 miljard euro. Wie pakt de bal op waar het gaat om innovatie in de industrie? Welke initiatieven lopen er al en hoe nu verder? Praat hierover mee op donderdag 15 oktober.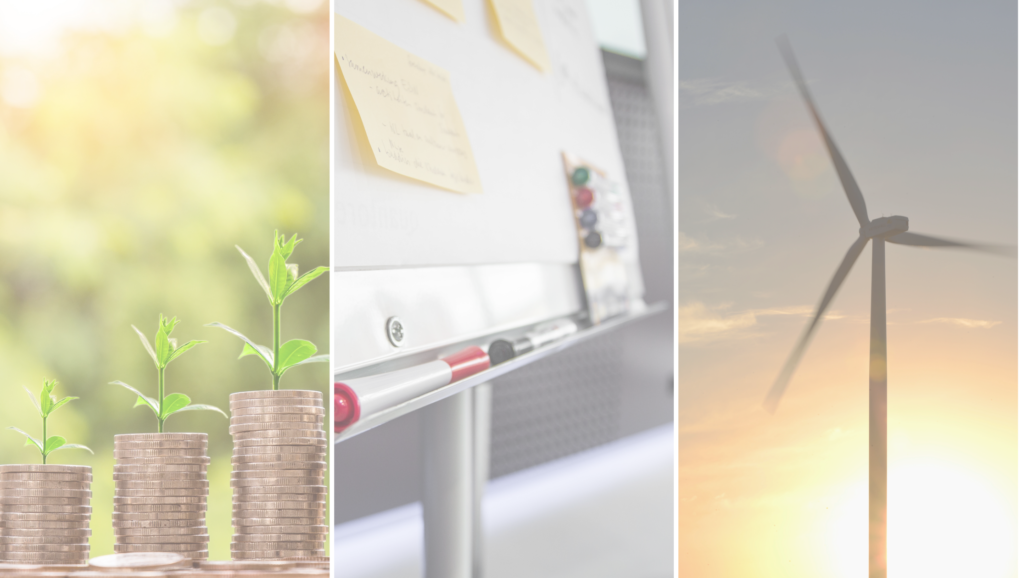 Investeren in plaats van bezuinigen, zodat Nederland stappen kan maken op weg naar 2030. Dat is de insteek van het Nationaal Groeifonds, ook wel het 'Wopke-Wiebes-fonds' genoemd. Inzet: maar liefst 20 miljard euro. Wie pakt de bal op waar het gaat om innovatie in de industrie? Welke initiatieven lopen er al en hoe nu verder?
Moderator
Frans Nauta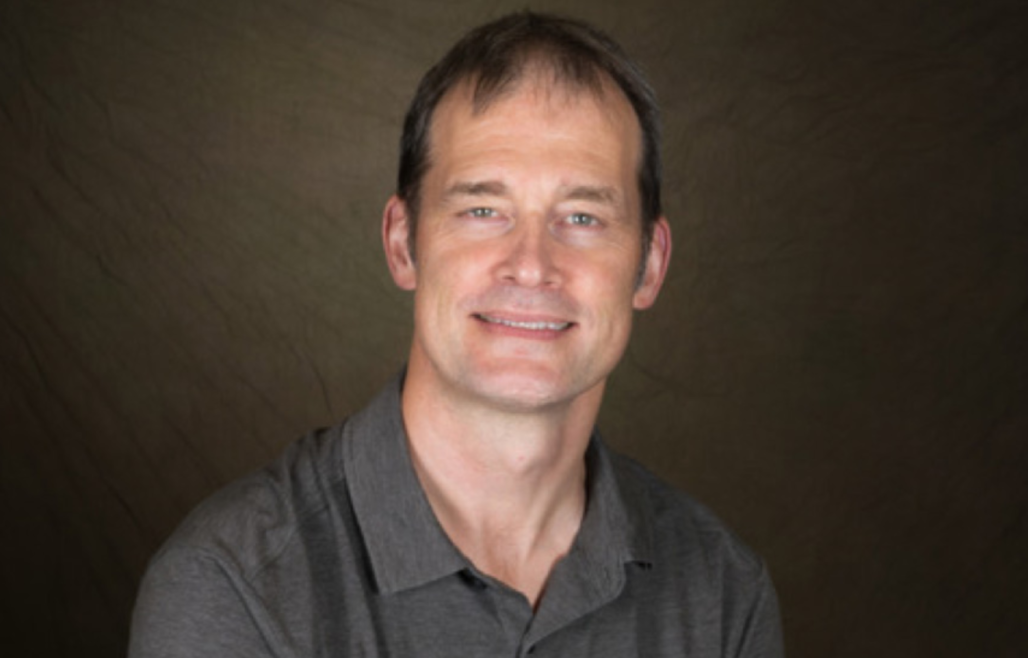 Panelleden
Frans Nauta is de founder van ClimateLaunchpad, 's werelds grootste competitie voor business ideeën die klimaatverandering gaan oplossen. Daarnaast werkt hij als visiting scholar aan de Haas School of Business UC Berkeley in Californië en hij is verbonden als fellow aan het Copernicus Instituut van de Universiteit Utrecht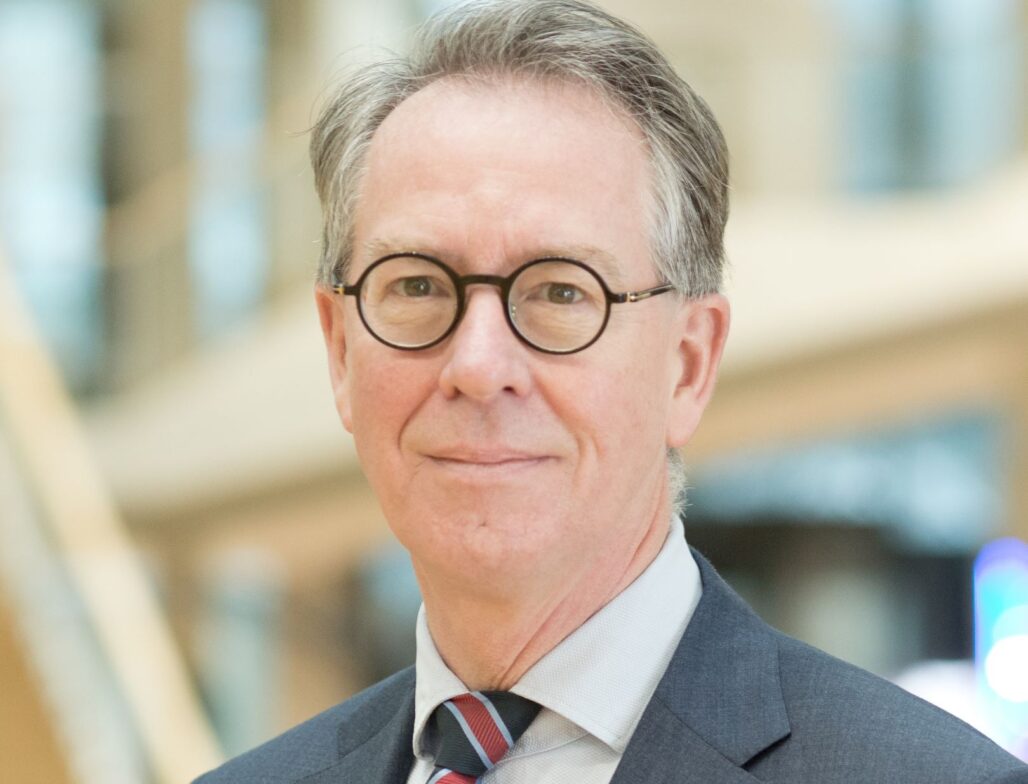 Gertjan Lankhorst
Voorzitter, VEMW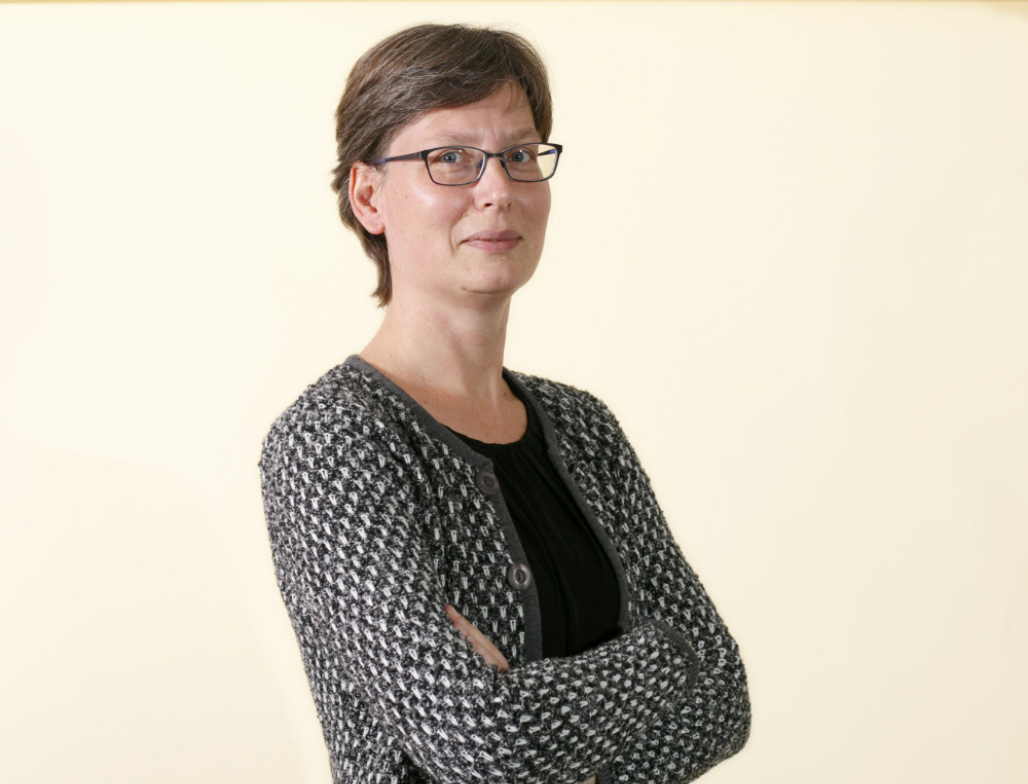 Paulien Herder
Professor Energy Systems Engineering, TU Delft
Tjeerd Jongsma
Directeur, ISPT
ISPT gladly offers start-ups and SMEs access to its broad network in sustainable process technology. In this way, good ideas get more resonance and innovation more potential. A good example is Semiotic Labs from Leiden. It developed a unique method for condition monitoring of electric motors, the data of which can also be used to identify energy-saving potential. ISPT introduced the company to the market and helped to obtain TKI subsidy to develop the concept further.
About three years ago, Semiotic Labs' founder Simon Jagers took the plunge. He picked up his phone and called ISPT director Tjeerd Jongsma, who was immediately captivated: "Simon was able to grab me in a sentence and a half. And he had a very concrete request: he was looking for partners willing to think along and develop his idea further. We're talking about large companies here, where it's difficult to get a foot in the door unless you have a good introduction. At ISPT we can play an important role in that".
Jagers agrees: "What struck me was that Tjeerd immediately understood our technology and its potential application for energy reduction. This was at a time when we did not yet have a lot of field experience. We had a nice story, but could present only limited evidence. At that stage, credibility is enormously important. With ISPT as a 'mutual friend' and 'trusted advisor', we quickly found the right potential partners. That was incredibly valuable."
Potential for energy savings
Semiotic Labs has been working since 2015 with a system that can assess the maintenance condition of components such as pumps, compressors and conveyor belts by analysing electrical signals. This prevents unplanned downtime, according to Jagers: "With our approach, we see about 90% of all failures well in advance. With traditional solutions, you only achieve 50 to 60%. Or maybe 70%, but then you have to spend lots of money. Our method is more accurate and gives fewer false positives. What's more, we work from the control cabinet: no interventions are needed on the component itself. We don't use sensors that are placed directly on the asset". The Semiotic Labs approach stands out by the use of Artificial Intelligence, in which self-learning algorithms interpret the electrical data.
The reason to contact ISPT was the realisation that the electrical data also contains information about the efficiency of the components. "This enables you to discover potential energy savings and reduce costs," says Jagers. "But such an idea can only be substantiated by applying it in practice. So we were looking for partners who wanted to stick their necks out and investigate this concept with us. At ISPT, we found not only enthusiasm for our concept, but also people who could provide knowledgeable feedback".
Effectively facilitate development
Jongsma: "The case of Semiotic Labs is a textbook example of a valuable concept that has been well developed and is being marketed by enthusiastic people. We can very well bring this to the attention of our network. We know people who matter, often at the CTO level. You also see that companies are sensitive to the fact that we, as ISPT, support the concept, so that we can effectively facilitate development."
While Jongsma mobilized the relevant partners, Jagers developed a proposal for further joint development of the savings concept. After a successful presentation for ISPT member companies, it came to a concrete project financed by TKI Energie. Jagers appreciates the central role of ISPT in this process: "Managing stakeholders, bringing multiple parties together in a joint project and formulating it in such a way that the government wants to subsidize, that is really valuable." Jongsma adds: "In these types of projects, ISPT ensures that those who contribute the knowledge also acquire the right of use. We thus offer assurance that one of the project partners does not walk away alone with the knowledge. Over the years, we have shown that creating this trusted environment is important in establishing a successful cooperation."
Getting things done
With the ERGO project, over the next three years, Jagers hopes to be able to demonstrate that the approach of Semiotic Labs can result in energy savings of 10 to 35%. "If you consider that industrial electric motors account for approximately 35% of the total electricity consumption in the Netherlands, we are talking about a substantial potential energy reduction". For Jongsma, the project fits well with ISPT's mission: accelerating innovation in the field of sustainable process technology. "It also demonstrates our value to – potential – member companies. We scout technology and facilitate developments that are of relevance." This is precisely why ISPT is always interested in start-ups and small companies with a good idea, Jongsma adds: "We are open to everything and do not immediately ask for a financial contribution. Of course, we have to be critical and selective in what we pursue in our network. But if we are enthusiastic about something, then we can get things done".